Wenda Gu
Art from Middle Kingdom to Biological Millennium
Upper Gallery, June 12 – October 10, 2004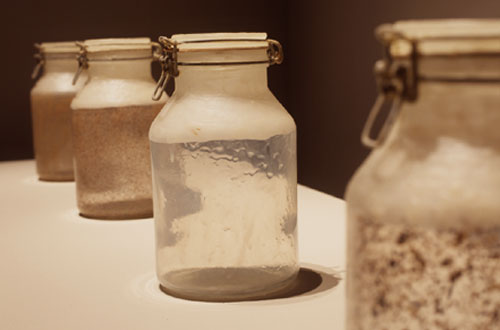 Wenda Gu's work is timely in its ambitious attempt to address in artistic terms the issue of globalism that dominates discussions of contemporary economics, society, and culture. The enormous scope of his vision – conceiving of his artwork as existing over time and space and not constrained by convention, language or national boundaries – is remarkable. He collapses the ancient into the future, going back to time honored traditional methods. At the same time, his installations present work in unexpected forms. Words, languages, human hair, glue, calligraphy, and stone carving are just some of the components of his installations that catalyze discussion and broaden awareness among viewers. The exhibition consists of two original installations, two smaller existing installations, a performance, and the first major scholarly publication on the artist.
united nations -kilometers, a new installation will number twenty in his continuing united nations series. The series, an ongoing worldwide art project Gu began in 1993, consists of site-specific installations or "monuments" made of human hair collected from barbershops across the globe, which he presses or weaves, into bricks, carpets, and curtains. These monuments blend hair collected from different nations as a metaphor for the mixture of races that he predicts will eventually unite humanity into "a brave new racial identity." In addition, many of the monuments incorporate invented text that, by frustrating the viewer's ability to read them, "evoke the limitations of human knowledge" and help prepare them for entry into an "unknown world." For united nations -kilometers, Gu will construct a "temple" using thin and colored human hair braids. The structure will be architectural in scale inviting viewers to pass through and under as well as residing briefly within the piece. The artist will stage an accompanying performance, united nations – we are united, in which community and students may participate.
A second original installation, a new chapter in his series called forest of stone steles is a retranslation and rewriting of Tang Dynasty poetry. forest of stone steles will consist of six carved stones presented in an elegiac manner. Gu carves mis-translations of ancient writings, especially translations from Chinese to English and back to Chinese, on one-ton stone slabs from which he produces ink rubbings on rice paper. The stone slabs, displayed like coffins, and rubbings mounted on the wall will constitute one forest. Gu's idealistic intimation of the ultimate unity of humanity in body and spirit will be evidenced in the spacious, ascendant architectural structure – a "temple" of hair, whereas the somber steles convey poetic gibberish to frustrate viewers' attempts at securing their fundamental meaning and coherence. The artist embraces mistakes and "misunderstandings," finding both absurdity and unexpected beauty in the acceptance of illogical "retranslations."
Small altar-like installations of Gu's recent Ink Alchemy (1999-00) and Tea Alchemy (2002) projects, along with video documentation presented on tiny monitors built into black wood presentation tables, will complete the primary exhibition. The conversion of words and materials to different meanings and usages are part of Gu's ongoing agenda. Ink Alchemy presents glass vials of ink created from human hair. The Shanghai Cao Su Gong Ink Factory in China manufactured the glass vials. Biological ink (ink from hair) unifies the materials of subject (commonality of humanity) and medium (ink for paintings) for the artist. In Tea Alchemy, Gu combines traditions of making rice paper and tea into an amalgamation of tea/paper that he uses to produce books, bales, and tea 'snow.'
The exhibition is curated by Mark H.C. Bessire, Diana Block, and Raechell Smith and was organized by the Institute of Contemporary Art at Maine College of Art, the H & R Block Artspace at Kansas City Art Institute, and the University of North Texas School of Visual Arts. The exhibition is generously funded by the The Andy Warhol Foundation for the Visual Arts and the National Endowment of the Arts.  It is accompanied by an MIT Press publication and is presented in partnership with the Institute of Contemporary Art at Maine College of Art.