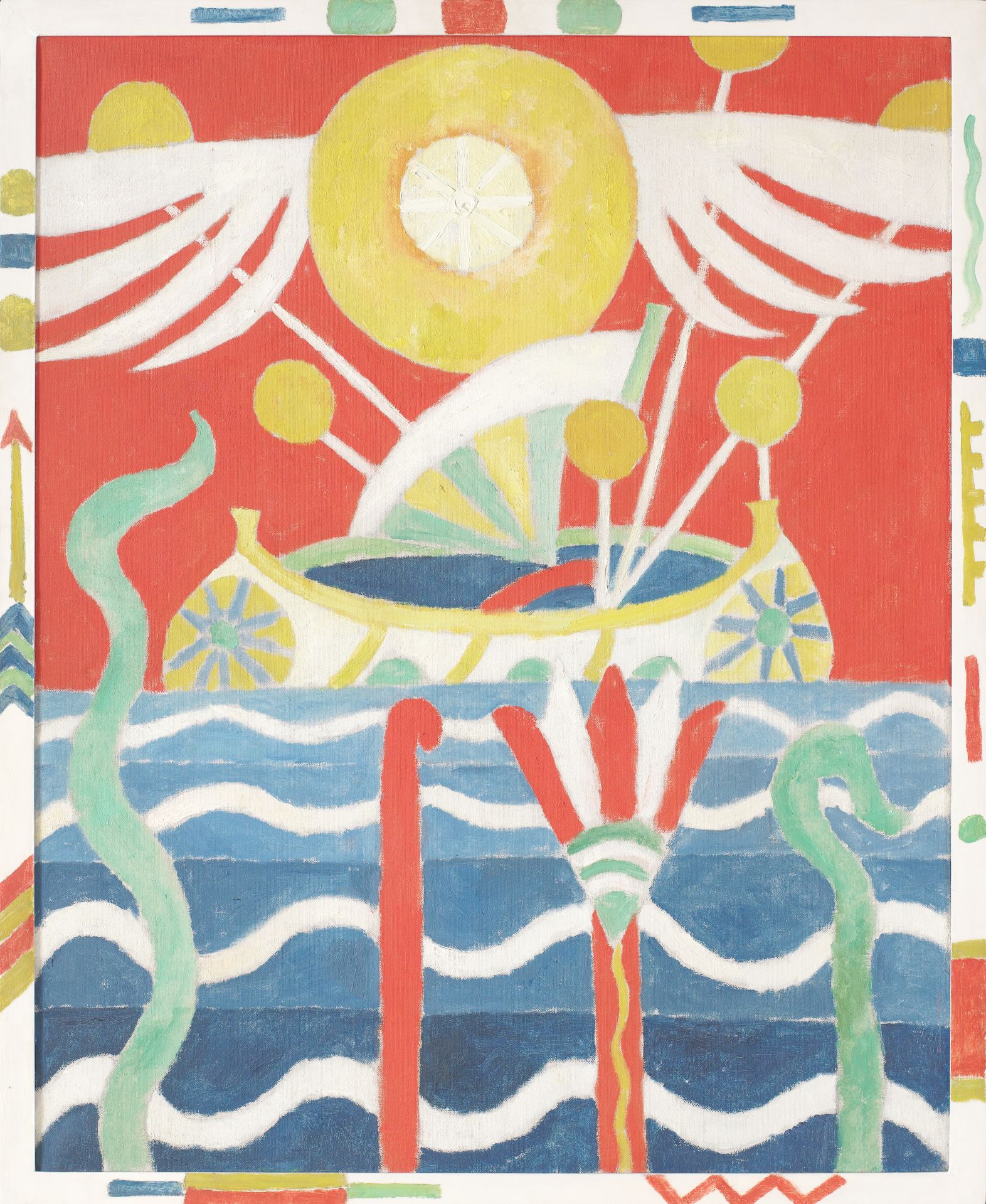 Marsden Hartley: Adventurer in the Arts
September 20 – November 19, 2021
During the fall of 2021 The Bates Museum of Art will present a major exhibition of works by Lewiston, Maine, native and celebrated Modernist painter, Marsden Hartley. Marsden Hartley: Adventurer in the Arts will open at the Museum on September 20, 2021 and will be on view through November 19. The exhibition will travel to the Vilcek Foundation, in New York City.
The exhibition, developed in collaboration with the Vilcek Foundation, brings together over 35 paintings and drawings spanning 36 years of the American Modernist artist's career and will feature all 22 Hartley works in the Vilcek Collection, including Schiff, 1915, a landmark painting created during Hartley's stay in Germany and which will be shown in the U.S. for the first time. Artworks from the Vilcek and Bates collections will be exhibited alongside a selection of Hartley's personal effects—mementos from his travels, snapshots, and keepsakes—the remarkable assemblage adds intimacy and depth, as well as a deeper understanding of his art, life, and wanderlust.
Marsden Hartley (1877–1943)—the self-proclaimed "painter of Maine"—spent much of his life traveling far from his Lewiston and New England roots. As a lifelong wanderer, the places he lived and the objects he collected took on enormous significance for him. Certain locations, from Paris to Berlin, New York to New Mexico, served as touchstones throughout Hartley's life. He returned to some and never really left others; vivid recollections fill his writings, his reminiscences strengthened by the postcards and pressed flowers he kept. The exhibition and its accompanying catalogue trace Hartley's lifelong search for inspiration and invention.
An exhibition catalogue is available from Merrell Publishers, featuring 200 illustrations of Hartley's work and personal possessions, reproductions of previously unpublished materials, as well as essays that delve into Hartley's life and art. In his preface, Dan Mills, Director of the Museum of Art, highlights the contributions the catalogue adds to Hartley scholarship: "This selection of artworks and personal objects, coupled with the insightful essays by Bates College Museum Curator William Low, Vilcek Foundation Curator Emily Schuchardt Navratil, and Vilcek Foundation Director, Rick Kinsel, further an understanding of this important aspect of Hartley's life."
---
The Marsden Hartley Memorial Collection at Bates College Museum of Art holds over 100 drawings, several paintings, and an incredible array of Hartley's possessions, including objects from his studio, books, souvenirs, cultural objects from his travels, and other memorabilia. The extensive collection also features 160 books from Hartley's library, original manuscripts of poems, photographs from throughout his life, and postcards from his travels.
The Vilcek Foundation was established in 2000 by Jan and Marica Vilcek, immigrants from the former Czechoslovakia. The mission of the foundation, to honor immigrant contributions to the United States, and more broadly, to foster appreciation of the arts and sciences, was inspired by the couple's respective careers in biomedical science and art history. The foundation awards annual prizes to immigrant biomedical scientists and artists, sponsors cultural programs, and manages the Vilcek Foundation Art Collections. To learn more, please visit vilcek.org.