Upcoming Events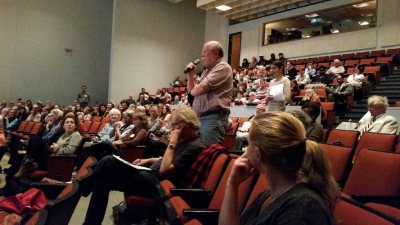 FEBRUARY 2018
Wednesday, February 28
7:30pm
Muskie Archives
MATTHEW DUNLAP, Maine Secretary of State, speaks on his work as a member of President Trump's Voter Fraud Commission, which the President disbanded after Dunlap sued the Commission for allegedly violating the Federal Advisory Committee Act
MARCH 2018
Wednesday, March 7
7pm
G65, Pettengill Hall
Theory into Practice Policy Forum: CHARTER SCHOOLS with John Kosinski, Government Relations Officer, Maine Education Association (MEA)
Want to learn more about the major policy issues taking place in the Lewiston community, the Maine State House, and the US Congress on issues that are important to you?  Want to learn how you can have a voice on these issues?  Join the Harward Center as it presents a series of evening programs on major policy challenges and opportunities.
Thursday, March 8
12-1pm
Commons 221-222
Public Works in Progress Luncheon: "Pests, Parks, and Carbon Offsets: Community-Engaged Environmental Studies"
Enjoy student presentations on diverse capstone projects:
Increasing Crop Quality and Production on a Somali-Bantu Lewiston Farm (Drew Perlmutter, Dylan Thombs, Julia Nemy)
Greenhouse Gas Offset Programs for Bates Study Abroad (Sarah Sachs, Caitlin Keady)
Healthy Neighborhoods: An Inventory and Assessment of Street Amenities and Vacant Lots in Downtown Lewiston, Maine (Joe Tulip, Dacota Griffin, Noah Morasch)
Faculty, staff, and off-campus guests may charge their Bates Dining Commons lunch to the Harward Center and bring their lunch upstairs for a brief and engaging presentation and discussion.  All are welcome.
Wednesday, March 14
7pm
Muskie Archives
"The Trump Administration's War on Climate Policy: A View from a Whistleblower Who is Speaking Out"
JOEL CLEMENT, former director of the Office of Policy Analysis and top climate change policy official at the U.S. Department of the Interior, who was recently demoted along with other climate policy experts.  Clement was also a whistleblower on the Trump administration's policy of reassigning employees to encourage them to leave government.
Cosponsored by Maine Conservation Voters, the Natural Resources Council of Maine, and the Conservation Law Foundation.
Wednesday, March 28
7:30pm
Room 221, Commons, 136 Central Avenue
"The Struggle for Human Rights from Syria to Maine"
MARIAM JALABI, Representative of the Syrian Opposition Coalition at the UN
Cosponsored by the University of Maine School of Law's "Justice for Women" Lecture Series and the President's Office at Bates College