Election Engagement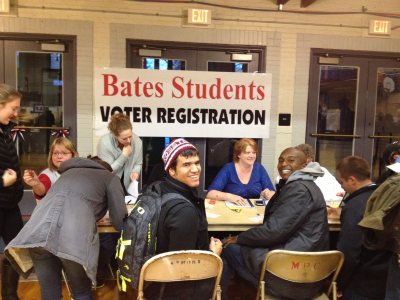 For more information on election related activities and programming, please contact Peggy Rotundo.
2018 Election Information
The Harward Center hopes to cultivate student participation in election 2018 through several means, including active support for initiatives led by others on campus.
If you are a Bates student living on campus, voting takes place at the Lewiston Memorial Armory, 65 Central Avenue in Lewiston.  Everyone else, including Bates faculty, staff, and students living off campus, can find their polling location HERE.
CLICK HERE to access legislative candidate profiles from the Sun Journal for those candidates running in Androscoggin, Franklin and Oxford Counties.  Please note that Bates dormitories fall within House districts 59 and 60 and Senate district 21.
CLICK HERE to access a sample ballot for House district 59 and Senate district 21.
CLICK HERE to access a sample ballot for House district 60 and Senate district 21.
CLICK HERE to access a sample ballot for the 2018 State Referendum questions.
CLICK HERE to access the Maine League of Women Voters' Non-Partisan Voter Guide, which provides information on the Gubernatorial, US Senate, and 2nd Congressional District races, as well as ranked choice voting and ballot initiatives.
Resources
Writing a Letter to the Editor
Communicating with Legislators
Campus Election Engagement Project's Nonpartisan Guide to Brett Kavanaugh's Supreme Court Nomination
Ongoing Programmatic Electoral Engagement Efforts
In addition to the information provided above, the following three programmatic efforts related to Election Engagement are either already underway or are in development:
Student Choices, Student Voices (SCSV)
This is a program sponsored by the Project Pericles that encourages colleges and universities to develop innovative projects on campus and in the community to engage voters in the election process and government. SCSV seeks to increase voter registration and voting for students and community members. SCSV encourages and facilitates thoughtful engagement of students in the political process- learning about candidates, understanding issues and championing knowledgeable opinions.
SCSV works directly with designated students on campus (through virtual means), connecting them to students with similar issue area interests at other campuses, and providing them with ideas and encouragement for engaging their peers in the political process.
To date, seven Bates students have participated in this program: Amanda Brea '20, Arthur Churchwell '19, Patricia Crimmins '19, Megan Currie '19, James Erwin '18, Oliver Farnum '19, and Brian Pansius '18.
The Campus Election Engagement Project
This program is sponsored by Maine Campus Compact and works with campus administrators, faculty, staff, and student leaders, providing the support needed to engage students in local, state, and federal elections. The program taps into resources drawn from colleges and universities throughout the country (e.g., nonpartisan election guides) and adds personalized coaching, guiding campuses on how to use these resources to navigate students through ever-changing barriers to voting.
The Harward Center hosts the college's participation in this project, which includes voter registration drives on campus and residence hall programming.
#College Debate 2016
Hosted by Dominican University of California, Bates was a voter education partner for this initiative, which used technology and social media plus a nationwide network of diverse student delegates to energize students to be active in our democracy.
Partner institutions like Bates nominated students to apply to serve as 2016 College Convention Delegates. Delegates attended a delegate training at Dominican University on June 2-3, 2016 and gathered again for the Convention on September 9-10, 2016 (travel, meals, and accommodations provided). At the first gathering, delegates attend seminars and workshops equipping and inspiring them to return to their campuses to engage voters and promote involvement in the election process. As part of the Convention in September, a 90-minute moderated Town Hall meeting was streamed live to watch gatherings at the delegates' home campuses across the country. Peers engaged virtually. The final product of the evening was a memo to the moderators of the Presidential Debates that suggested the key issues the College Delegates wanted the candidates to address. Megan Currie '18 represented Bates.
NOTICE TO MICHIGAN, TENNESSEE & NEW HAMPSHIRE VOTERS*
New laws in your home state have made it much more difficult for students to vote absentee this fall.  If you are thinking of voting in your home state, please read this note carefully.
Michigan:
Tennessee:
New Hampshire:
NH voters cannot register online, and the forms aren't available to download & print. Only your local election official can give you the required forms. It's easiest to do this in person.
If you need to update your address (check your registration), or register for the 1sttime, then you should contact your local election official ASAP (look up your local official).
If you are already registered AND your address is up to date, then you will still need to request an absentee ballot. Complete this form and send it in to your local official.
What to expect next
For new/updated registrants who are voting absentee, the election clerk will mail you: 1) an "absentee registration affidavit", 2) the actual voter registration form, and 3) an absentee ballot request form.
Once your registration is complete/up-to-date, you can track the progress of your absentee ballot request.  The ballot will be sent in October.
Filling out the registration form: You will need to prove your citizenship as well as identity, age & domicile.  This means you must present BOTH a driver's license/state ID, AND ALSO a birth certificate or passport.  You can complete the process without proof, by signing another affidavit, and YOUR VOTE WILL BE COUNTED, but you will still have to provide the proof when the state follows up (and they will).  Do not allow uncertainty about ID to prevent you from voting!
What If I Wait? 
Voters can register ON election day, but every town has a blackout period near election day where new voter registration can't happen. It varies by town, 6-13 days.  If your initial outreach is within this window, then the clerk will send all forms (affidavit, etc) AND the ballot to you together.
You MUST then return it all by election day for your ballot to count.  Your registration will be processed on election day, along with your ballot.
What to do after the paperwork
NH's state Primary Election is Tue, 9/11/18. The General Election is Tue, 11/6. NH allows same-day voter registration. See what's on the ballot, and then vote!
Remember that you can also vote in Maine if you so choose (see Maine voter registration information below).
*With grateful acknowledgment to colleagues at Bowdoin College who developed this information.