Election Engagement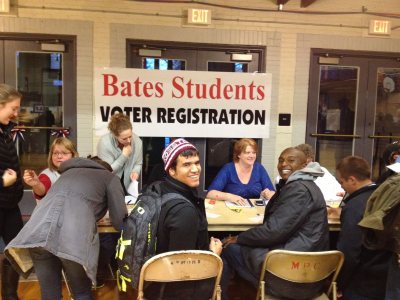 The Harward Center hopes to cultivate student participation in election 2017 through several means, including active support for initiatives led by others on campus.
2017 Election Information

Mayoral Run-Off Election Voting Information:
Tuesday, November 12, 2017
7am-8pm
Longley Elementary School
The Harward Center will be providing transportation to and from the polls every hour on the hour between the hours of 8am-7pm from the back of Commons.
Absentee ballots may also be cast through December 7, 2017 at 4pm.  Voters wishing to cast an absentee ballot may do so in person at the City Clerk's Office, 2nd Floor of City Hall, 27 Pine Street.  Voters who would like to have an absentee ballot mailed to their home can call the City Clerk's Office at 207-513-3124.  Requests must be received before 4pm on Thursday, December 7, 2017.
Candidate Profiles:
Mayoral Candidates: Shane Bouchard and Ben Chin
Broadcast of the Mayoral Debate:
Great Falls TV will broadcast the Mayoral debate held at the Lewiston Public Library on November 27 on GFTV channel 11 at 10am, 2pm, and 7pm every day through December 11.  It is also available on demand at greatfallstv.net under the "Election 2017" folder.
2017 Voter Registration Information
For non-partisan information on registering and voting in Maine, please  go to the website of the Maine Secretary of State.
Ongoing Programmatic Electoral Engagement Efforts
In addition to the information provided above, the following three programmatic efforts related to Election Engagement are either already underway or are in development:
Student Choices, Student Voices (SCSV)
This is a program sponsored by the Project Pericles that encourages colleges and universities to develop innovative projects on campus and in the community to engage voters in the election process and government. SCSV seeks to increase voter registration and voting for students and community members. SCSV encourages and facilitates thoughtful engagement of students in the political process- learning about candidates, understanding issues and championing knowledgeable opinions.
SCSV works directly with designated students on campus (through virtual means), connecting them to students with similar issue area interests at other campuses, and providing them with ideas and encouragement for engaging their peers in the political process.
To date, seven Bates students have participated in this program: Amanda Brea '20, Arthur Churchwell '19, Patricia Crimmins '19, Megan Currie '19, James Erwin '18, Oliver Farnum '19, and Brian Pansius '18.
The Campus Election Engagement Project
This program is sponsored by Maine Campus Compact and works with campus administrators, faculty, staff, and student leaders, providing the support needed to engage students in local, state, and federal elections. The program taps into resources drawn from colleges and universities throughout the country (e.g., nonpartisan election guides) and adds personalized coaching, guiding campuses on how to use these resources to navigate students through ever-changing barriers to voting.
The Harward Center hosts the college's participation in this project, which includes voter registration drives on campus and residence hall programming.
#College Debate 2016
Hosted by Dominican University of California, Bates was a voter education partner for this initiative, which used technology and social media plus a nationwide network of diverse student delegates to energize students to be active in our democracy.
Partner institutions like Bates nominated students to apply to serve as 2016 College Convention Delegates. Delegates attended a delegate training at Dominican University on June 2-3, 2016 and gathered again for the Convention on September 9-10, 2016 (travel, meals, and accommodations provided). At the first gathering, delegates attend seminars and workshops equipping and inspiring them to return to their campuses to engage voters and promote involvement in the election process. As part of the Convention in September, a 90-minute moderated Town Hall meeting was streamed live to watch gatherings at the delegates' home campuses across the country. Peers engaged virtually. The final product of the evening was a memo to the moderators of the Presidential Debates that suggested the key issues the College Delegates wanted the candidates to address. Megan Currie '18 represented Bates.
Resources
Writing a Letter to the Editor
Communicating with Legislators