Understanding our Community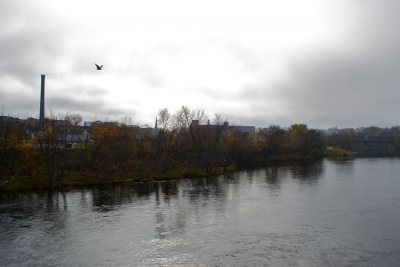 The community of Lewiston/Auburn, Maine provides a vibrant context for a small liberal arts college, and at Bates we are proud to be part of this community. From the Abanaki people who hunted and fished on the shores of the Androscoggin to multiple waves of immigrants who built mills, schools, hospitals, parks, cultural centers, and houses of worship, Lewiston/Auburn comprises diverse individuals, groups, and organizations working together to be a community worth living, working, playing, and investing in.
Bates College is an active member of the Lewiston/Auburn community. The fifth largest employer in Androscoggin County, many Bates faculty, staff, and students are deeply involved in the off-campus community. Like others in this community, Bates employees and students are workers, customers, athletes, entrepreneurs, board members, parents, public servants, artists, investors, and volunteers. Bates provides students with a rich and rigorous living-learning experience that would not be possible without Lewiston/Auburn and the many opportunities, mentors, projects, and collaborators it offers.
At Bates, we celebrate our location as integral to our identity and to the world-class education we offer. We invest in community in myriad ways each year, including hundreds of free, publicly-available arts, cultural, and athletic events; the use of local and statewide companies/vendors for food service and other college business; and the extensive work of the Harward Center for Community Partnerships, which cultivates mutually beneficial collaborations between college and community. Whether Bates students are working with the City of Lewiston to analyze data on recycling rates of residents, providing academic tutoring and enrichment activities at an after-school program in Auburn, partnering with a local organization to research best practices in re-entry programs for incarcerated individuals, or volunteering at a downtown health clinic, the Harward Center provides information, insight, and connections in support of public engagement that addresses community-identified needs while respecting the dignity and independence of all. H
The Harward Center at Bates embodies these commitments in the following ways:
For academic courses that include a community-engaged learning component, Harward Center staff conduct in-class orientation sessions that introduce students to Lewiston, the core principles of community engagement, and the importance of respect, professionalism, and equal partnership.
Harward Center staff consult with faculty who are teaching Community-Engaged Learning courses or advising independent studies and thesis projects to ensure that student research will have a community benefit and be accessible to the partner.
Harward Center leadership programs and co-curricular activities include regular reflection activities and meetings that encourage students to consider and critically evaluate the impact of their work in the community.
For community-based research projects, we work with students and faculty advisors to ensure responsible conduct of research and to assess the potential impacts of the research on the off-campus community.
Harward Center staff offer one-on-one consultations with students, faculty, staff, and community partners interested in exploring questions, possible projects, or concerns related to community-engaged learning or research.
In the years ahead, we will be working to add to these offerings and enhance our ability to prepare students for their community-engaged learning experiences by offering online resources that will help to build their self-awareness and enhance their cultural competency. Our growing resource base includes personal reflection activities, annotated bibliographies, literature reviews, and research projects conducted by our students, faculty, Harward Center staff, and community partners. We invite you to explore our current online resources below and to contact us with suggestions for resources and information you would like to see included.
Resources for Understanding Lewiston-Auburn
Immigrants, Refugees, and Asylum Seekers
Immigrants have played a central role in the history of Lewiston-Auburn. Beginning in the mid-nineteenth century, large numbers of French-Canadians began arriving in search of stable employment and higher wages in the booming textile mills and shoe factories that provided the economic lifeblood of the area. Many of them lived in densely settled multi-family units along the Androscoggin River,  in an area that came to be known as "Little Canada." Today, more than 50% of the local population can claim Franco-American ancestry, and one can still find many residents who grew up speaking French at home. Irish, Greek, Lithuanian, Polish, Italian, and Albanian immigrants also contributed to the economic development and population growth of Lewiston through the mid-twentieth century.
Beginning in the 1950s, the textile mills gradually began to close, and the department stores that had lined the streets downtown followed suit as people and jobs left town.  By the 1990s, many of Lewiston's homes, storefronts, and factories were vacant. These trends began to reverse course beginning in 2001, as Somali refugees in search of good schools, lower crime rates and cost of living and a better quality of life began to relocate to Lewiston from cities where they had originally been resettled. Members of the Somali Bantu ethnic minority group began to arrive several years later. Most recently, asylees and asylum seekers from nations including the Democratic Republic of Congo, Burundi, and Angola, have started to settle in both Lewiston and Auburn. Although exact figures are hard to come by, estimates place the total number of African immigrants, refugees, and asylum seekers in Lewiston-Auburn at approximately 7.000-8,000 (as of 2016). The arrival of these groups is one of the reasons why our community is one of the few in Maine that has both a growing population and a declining median age.
The resources below can help you to gain a more complete understanding of the history of immigration and the various ethnic groups in Lewiston-Auburn.
The University of Southern Maine's Lewiston-Auburn College is home to the Franco-American Collection, one of the premier collections of archival material relating to Maine's Franco-American population. Resources available online include oral histories, digitized documents, virtual exhibitions, and audio-visual materials.
A list of online resources and research related to the arrival and integration of Somali refugees in Maine, created by  Bates Professor Elizabeth Eames and students in her community-engaged learning courses.
An annotated bibliography on the Somali community in Lewiston, developed by Bates Student Maddie Santizo '16 as a Short-Term Action/Research Team (STA/RT) project. Includes maps, online resources, and analysis of articles, books, and films on the Somali refugee experience.