Curricular Programs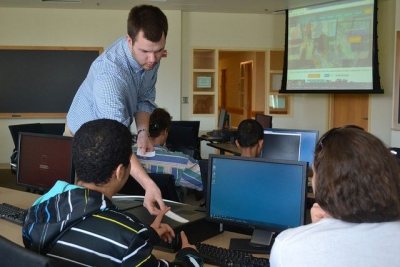 Community-Engaged Curricular Programs are designed to encourage and equip students and faculty to integrate civic engagement and social responsibility into their academic work.
Our primary focus is the building of partnerships among students, faculty, and community agencies in which all parties serve, learn, and teach. Students who participate in community-engaged learning (CEL) courses at Bates report that their community-engaged experience increases their mastery of course content, their investment in their own learning, and their knowledge of themselves and the wider world.
CEL takes place through a variety of venues at the college. It can be found in diverse courses, student research, independent study courses, and senior thesis work. Faculty across all disciplines engage their students in CEL. These courses typically include a combination of community-engaged and classroom work; the co-creation of projects or experiences with off-campus partners; and reflection exercises that help students understand and explore the complexities of the social and ecological conditions their community work engages. Most CEL courses offer students options that encourage them to explore individual interests and make interdisciplinary connections.
The Harward Center welcomes conversations with faculty and community partners about ways to integrate community-engaged learning with Bates courses and other types of learning at the college.