Academic Support
The work of the Biology Department is enhanced by academic support staff, peer writing tutors, and campus-wide support programs.
---
CARNEGIE SCIENCE ACADEMIC ADMINISTRATIVE ASSISTANT

Sylvia Deschaine provides able administrative assistance for the science departments in Carnegie Science Building. The building reception office contains a computer, faculty and student laser printers, a vintage IBM Selectric typewriter, two photocopiers, faculty and staff mail boxes and postal supplies, and a kitchenette.  Sylvia hires and supervises the student workers who staff the office.
Carnegie Reception Desk (207) 786-6490
Carnegie Science Building FAX: (207)786-8334
---
CARNEGIE ANIMAL AND GREENHOUSE CARE, BUILDING SAFETY and IACUC COORDINATOR
Mary Hughes coordinates ongoing occupational health and chemical safety training and waste handling practices in Carnegie Science. Working closely with the Bates Campus Safety Department personnel, Mary assures that chemicals are handled, used, and disposed of in compliance with Federal (EPA, OSHA) and State DEP regulations. In addition, Mary works with faculty in Biology, Neuroscience, and Biological Chemistry in the development of protocols and experiments involving animals or people as part of the Institutional Animal Care and Use Committee (IACUC). In this capacity, Mary provides annual training for students, faculty, and staff using animals for research or teaching.
Mary Hughes, 207-753-6942
Carnegie Science Hall, Room 410
Email:  mhughes-at-bates.edu
---
WRITING AT BATES PROGRAM

The Writing at Bates Program within the Academic resource Commons is staffed by professional writing specialists who assist students, staff, and faculty with writing problems and program development.
Dr. Stephanie Wade, the Natural Science Writing Specialist, provides direct support of writing in the Natural Sciences, trains the Technical Writing Assistants (TWA's), and supervises and trains the Peer Assisted Learning (PAL) leaders.

Stephanie Wade (Ph.D., Stony Brook University)
Assistant Director, Writing at Bates (Natural Sciences and Interdisciplinary Studies)
(207) 786-6955, swade-at-bates.edu, Coram Library, Room 224
Make an appointment with Dr. Wade by emailing your request to: writing@bates.edu
---
TECHNICAL WRITING ASSISTANTS (TWA)
For over 25 years, the Technical Writing Assistants, based in the Academic Resource Commons Writing at Bates Program, have provided much needed peer-peer scientific writing assistance for students in the writing-intensive biology core curriculum. Select STEM students in are trained as peer tutors (TWAs) by Stephanie Wade, the Natural Sciences specialist in the Writing at Bates Program. hold weekly evening help hours in the ARC to assist students on a drop-in basis.. Application to become a TWA is made to the  Academic Resource Commons (ARC).
---
ACADEMIC RESOURCE COMMONS (ARC)

The Academic Resource Commons (ARC) is a community of learners, designed to empower Bates students to succeed and excel in their studies. ARC offers high-quality, student-focused peer tutoring (including Technical Writing Assistants, or TWAs) and other support services in a welcoming, inclusive, environment.The ARC is located in Ladd Library.Contact Us
Academic Resource Commons
Ladd Library
AcademicResourceCommons@bates.edu
207-786-6106
---
LADD LIBRARY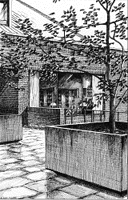 The George and Helen Ladd Library offers many resources useful to our majors. Peter Schlax, the Science Reference Librarian, provides introductions to the library's science resources including Research Guides and On-Line Research Literature Tools for students and courses on an as-need basis. Peter is a tremendous resource for learning how to effectively search and use bioinformatics databases.
---
MATHEMATICS AND STATISTICS WORKSHOP
The Mathematics and Statistics Workshop (part of the ARC) provides individual tutoring and assistance for students in introductory courses having a quantitative component as well maintaining various resource materials.
For more information or to make an appointment please contact:
Grace Coulombe, Director
Voice: (207) 786-8374
email: gcoulomb-at-bates.edu