Senior Thesis
Thesis research in biology offers an opportunity to bring your knowledge and skills to bear on a challenging question under a faculty mentor's guidance.
Biology 457, 458
Doing a thesis in Biology is optional for students majoring in Biology. Theses are almost always experimental and may occupy one or two semesters. Preparation for the thesis may begin in the junior year with an Independent Study (360 or s50). While every senior is encouraged to do a thesis project, opportunities in certain fields may be limited by equipment or faculty load. Whenever possible, students should try to integrate interests with one of the Seminar and Research courses (470's) and use the thesis as a means of continuing this work. When the student's interest does not coincide with a Seminar and Research course, a one or two semester thesis can be used to pursue this interest. If this is the case, consult with the faculty member whose interests are closest to yours and determine if he or she is willing and able to advise your project. You must submit a one page proposal in early January of your junior year (see Capstone Requirement) for approval by your thesis adviser and by the Department. Formal, referenced, thesis proposals are generally due early in the semester in which you begin thesis enrollment; the specific due date is set in consultation with your adviser. Some advisers may require a proposal to be submitted the prior semester. By College policy, thesis work must be done in residence (the Biology department includes field locations of Faculty members). Students may do research projects at other locations, but if they wish to incorporate it in a thesis, they MUST make prior arrangements with a Bates faculty member to oversee this work (see Thesis Credit Policies.)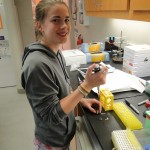 Thesis research can be laboratory, field or library research done in one or two semesters. A thesis includes original research; a thesis is not a term paper. The thesis topic must be approved by a Biology faculty adviser. Such discussions should be started no later than the semester prior to when you hope to begin the thesis work. The Department requires a written proposal, and the adviser may suggest a second faculty reader of the proposal and the final thesis. Theses may be done with members of other departments serving as the major adviser, with Biology Department approval.