News from the Harward Center for Community Partnerships – Winter and Spring 2016
In This Issue
---
Dear Friends,
Greetings from Bates! I am delighted to share the most recent newsletter from the Harward Center for Community Partnerships, where my colleagues and I have been busy working with Bates faculty, staff, and students to support community-engaged learning, research, leadership, and volunteer experiences that are co-created with community partners to address community-identified needs. During the recent festivities in honor of the graduating Class of 2016, I was struck by how many times I heard graduating seniors or their family members talk about the significant impact of community-engaged experiences on students' intellectual, social, and vocational development. Even though there is no civic engagement requirement at Bates, it is the rare student whose way of seeing and being in the world has not been affected by learning experiences made possible by our location and its myriad partners, challenges, and opportunities.
This newsletter shines a light on a representative handful of such opportunities, with themes ranging from mass incarceration to climate change to youth resiliency. It also invites us into the reflections of two extraordinary civic leaders—a graduating senior and a celebrated Maine public servant. Finally, you will not want to miss the great articles whose web links are at the end of the newsletter. These articles highlight exciting community projects and partners, student reflections, local media coverage of Bates in the community, national stories about Lewiston, and more. Thank you, on behalf of the Harward Center, for your interest in Bates and its long-standing commitment to the cultivation of informed civic action and responsible stewardship of the wider world. We welcome your questions, suggestions, and support.
Darby
---
What Real Community Looks Like
Alexandra Morrow, Class of 2016

It's 10pm. I'm on a bus with five girls from Lewiston High School, and we're on our way back to Lewiston from Portland, Maine. It's been a long night; the girls presented poetry at a restaurant in Old Port. It was a fundraiser for the 21st Century after-school program. Let me just say, they kicked butt. Smart, confident, intelligent – these girls exude a light that can't be dimmed. Jenn Carter, my community partner, is at the wheel. This will have been her second trip from Portland to Lewiston today, and she'll be driving back once more to Portland after dropping each girl at her home in Lewiston. The girls are sitting in the back singing Justin Bieber; Jenn is smiling, hands at the wheel. This is a good night. It is a tired night, but it is a good night all the same.
I am filming this scene as it takes place as part of my senior thesis. My hands shake as I laugh, sing, smile at this moment. But as I look back at footage of the night, with sunken feelings I realize my filming in no way does justice to the moment. To the swell of hearts and the expanse of smiles, to the wide eyes of hopes and dreams, to these young women making their way through a harsh world and coming out strong. I want to capture this moment, but I don't. It's not the same watching it play out on a pixelated screen with the hiss of uncalibrated audio, and microphones I did not set up correctly. I want people to feel the way I felt in this moment, but it seems the moment has passed us by.
You see, I came to Bates wanting to be a teacher, then thought I wanted to produce public radio. For a hot second I thought about applying to grad school, toyed with the idea of working abroad, before finally shifting to focus on documentary film. In many ways my engagement with Lewiston, too, has followed this trajectory. I started as a teacher's aide, moved into 21st Century as an afterschool instructor of youth radio, before working with area organizations to develop short videos about their programming.
In a lot of ways my focus on film has been inspired by the people I've met in this community. Their resilience and drive to create positive impact – to do so on a shoestring budget, with limited staffing, and without recognition. These people have been my teachers. This has been my education. The resilience of community partners, administrators, and organizational staff in this community is unprecedented. I hope someday I'll do them justice by documenting their stories.
I'll forever be grateful to the Harward Center for connecting me with community partners, to the Bonner Foundation for ensuring I'm financially able to do so, to Lewiston for showing me what a real community looks like, and to community partners for teaching me that resilience and hard work trumps all. Thank you.
---
NeCSA Takes Off: Networking for Coastal Science, Learning, and Engagement
Laura Sewall, Director of BMMCA & the Shortridge Coastal Center

The Northeastern Coastal Stations Alliance (NeCSA) is taking off! Under the leadership of Caitlin Cleaver (Hurricane Island Foundation for Science and Leadership) and myself (Laura Sewall, Bates College), NeCSA held its third planning meeting on March 28th and 29th, at the Darling Marine Center. Twenty participants from colleges and universities, state and federal agencies, and independent marine laboratories discussed the nuts and bolts of collaborating to track ecosystem changes in the Gulf of Maine's near-shore. A pilot program is slated for this summer, involving 8-10 field sites, including the Bates-Morse Mountain Conservation Area. As a "proof of concept," the project includes deploying temperature loggers, documenting biological conditions in the intertidal zone, and testing methods for sharing and integrating data collected at stations ranging from Bowdoin's Kent Island in New Brunswick to Shoals Marine Lab in New Hampshire.
The Gulf of Maine is changing significantly, as evidenced by having the world's most rapid rate of warming (99% faster than all other marine waters, according to the Gulf of Maine Research Institute), and by dramatic changes in both biological conditions and ecosystem services. NeCSA's overarching mission is to coordinate research and monitoring to fill in data gaps with respect to these changes; to provide field-based training for a range of students in a number of disciplines; and to help coastal communities adapt to new environmental conditions.
It is as if NeCSA is on the doorstep, or in flight school. We are developing a strategic plan and learning to collaborate, with a vista of opportunities before us. Collaboration takes time, but the rewards are many. NeCSA offers opportunities for synergies between research programs, disciplines, habitat types, and innovative methods for experiential learning and community engagement. We are eager to take flight!
We thank the National Science Foundation for funding our planning efforts.
---
The Meaning and Depiction of Suffering: Mass Incarceration in the Spotlight
Sam Boss, Assistant Director of Community-Engaged Learning and Research

This semester marked the fourth time that Professor Cynthia Baker included community-engaged projects as a central component of her Religious Studies course, "Human Suffering," and students were once again emphatic about the meaningful impact this work had in enriching their learning. Complementing their close readings and discussion of the meaning and depiction of suffering in the biblical books of Job, Revelation, and Genesis, class members collaborated with partner organizations that are working to end mass incarceration and improve the lives of prisoners and those who are re-entering society. The efforts on this issue carried on the conversations initiated by the Martin Luther King Jr. observances at Bates, which focused on the disproportionate effect of incarceration on minorities, while also responding to community members' growing concerns about increasing rates of addiction and juvenile incarceration.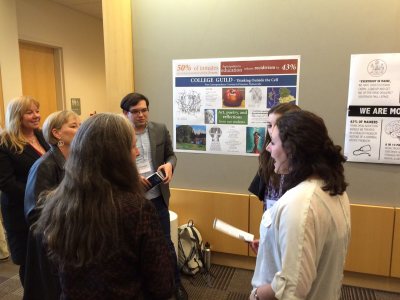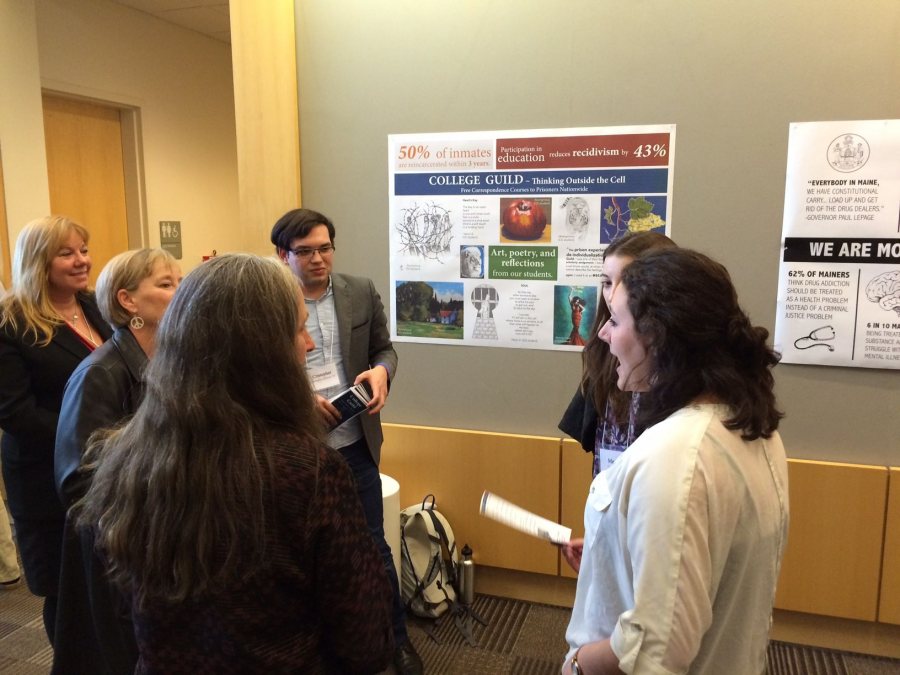 Working in small groups, students in "Human Suffering" supported the work of their partner organizations through both action and research-based projects. Cristopher Hernandez Sifontes, Megan Lubetkin, and Wendy Goldman offered detailed feedback on essays written by students in the College Guild's correspondence education program for prisoners. Based in Brunswick Maine, the College Guild offers courses on a wide variety of subjects for prisoners from around the country, operating on the motto that "Respect Reduces Recidivism." In reflections about their work with the College Guild, Cristopher, Megan, and Wendy noted the remarkable level of organization and dedication demonstrated by the members of the College Guild, which is staffed exclusively by volunteers. They also spoke highly of the written work submitted by students in the program, while acknowledging the complicated struggle between hopefulness, resilience, and anguish that came through in their poems and creative essays. In order to carry on their work and offer courses and feedback to more of the hundreds of prisoners who are eager to participate in the College Guild program, these students are planning to establish a club on campus next year to recruit more volunteers.
Other projects for the course laid the groundwork for sustained collaborations as well. Responding to concerns within Lewiston's New American community about increasing rates of juvenile arrest and detention, Ahmed Sheikh, Alex Tritell, and Ezra Oliff-Lieberman researched culturally competent programs to educate immigrant youth and prevent them from entering juvenile corrections. Their findings will support the efforts of Maine Immigrant and Refugee Services (MIRS) to enhance their own programming. Another student, William Cleaves, mentored students in the Police Activities League (PAL) Center in Auburn, which aims to foster positive relationships between youth and law enforcement in an area of Auburn that has a high rate of juvenile crime. William continued his work at the PAL Center during Short Term and plans to recruit more volunteers for next year and establish greater connections with the Bates athletic teams. For his class project, Joshua Moise-Silverman made a comprehensive list of addiction recovery services in Androscoggin County and is working to bring the information together into a mobile app that will provide a resource for law enforcement and justice department personnel seeking to offer alternatives to incarceration. Students Kelsey Pearson and Sasha Grodsky developed social media accounts and strategies to support efforts by the Center for Wisdom's Women to establish a house for women re-entering society after incarceration.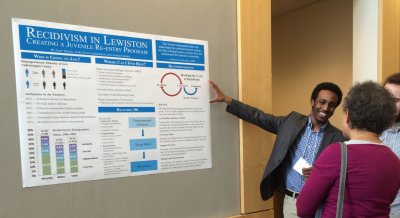 For their final project, each student group developed poster presentations that brought together their analysis of biblical texts and their work in the community. They shared their results at the public symposium, "Chaos or Community: Conversations on Criminal Justice Reform in Maine," which was organized by the Harward Center in conjunction with Professor Michael Rocque, Lecturer Christopher Petrella, and Professor Baker. Among a list of speakers that included formerly incarcerated individuals, two U.S. Attorneys, and law enforcement, corrections, and justice officials from around Androscoggin County, one of the highlights of the day was a short film by "Human Suffering" students Alexandra Morrow, Alexandra Berman, and Caleb Perlman, which featured four people in treatment at Grace Street Recovery Services responding to Governor Paul LePage's call for vigilante violence against drug traffickers. Many in the audience were moved to tears by the personal narratives shared in the film, and the piece served as a powerful testament to the role that collaborations between community members and Bates students have for transforming perceptions of issues of social injustice.
---
Bates Students and Math Department Win Statewide Recognition
Darby Ray, Director
Bates students and faculty were well represented at Maine Campus Compact's 15th annual awards ceremony, which was held in the Hall of Flags at the State House in Augusta, Maine. Receiving the President's Campus Leadership Award for Bates was the Mathematics Department, which was recognized for its successful efforts to integrate community-engaged learning into its curriculum and for its support of students' community-engaged research.
Of particular note is the department's work to connect Bates calculus students to local youth in need of algebra tutoring. The successful completion of algebra is one of the gateways to college acceptance and success, but few high schools are able to offer the differentiated instruction and personalized learning environments necessary for diverse students to succeed. In response to this challenge, Bates math professors Katy Ott and Henry Boateng have developed community-engaged learning projects within their college calculus courses that pair their students with algebra students at Lewiston High School and various after-school programs. At the same time as Bates students improve their chances of success in calculus by shoring up their algebra skills, local high school students receive one-on-one tutoring in algebra, enhancing their likelihood of completing a college-bound curriculum.
In addition to the Math department, two Bates students received Student Heart and Soul Awards for their exceptional leadership both on campus and within their community. Mathematics major Camden Bock '16 was recognized for his stellar work as a Harward Center Community Outreach Fellow, a role in which Camden recruited and supported over 50 of his fellow students as volunteers for the Big Brothers/Big Sisters program in our area. Camden's work supported seven site-based programs, including three he established during his leadership tenure. As a result of his efforts, there are now Big Brothers/Big Sisters programs in five out of the six elementary schools in Lewiston. Camden also established a successful robotics after-school program at Farwell Elementary School to reinforce Common Core standards in math, and he successfully completed a year-long, community-engaged honors thesis. In the coming year Camden will join the Ph.D. program in Math Education at the University of Maine in Orono.
Also completing a year-long honors thesis with community impacts was Heart and Soul Award winner Matthew Gee '16, who was recognized for his extraordinary work as Community Outreach Fellow for Blake Street Towers, a Lewiston Housing Authority residence for low-income elderly and younger disabled people. In this role, Matt worked with the resident services director and the tenant council to plan activities aimed at bringing residents together and avoiding isolation. Each week for four years, Matt organized and recruited Bates student volunteers to cook and serve Sunday brunch at Blake Street and to socialize with its residents. He planned menus, wrote grants, shared healthy recipes with and provided leftovers to residents, and became a much-loved member of the Blake Street community. Matt also organized and recruited his fellow bates students to be volunteers at mid-week game nights and other community-building activities. During his junior and senior years at Bates, Matt expanded this program to another Lewiston Housing Authority residence for senior citizens, recruiting volunteers to help with more meals and activities. Matt's next move will be to serve as Assistant Director at Bowdoin College's McKeen Center for the Common Good.
---
A Growing Relationship with our Adopt-A-School Partner, Lewiston Middle School
Bethel Kifle, AmeriCorps VISTA
Bates has been bustling with Lewiston middle-schoolers this year! Thanks to a growing partnership between the Harward Center and the college's Residential Life (ResLife) program, a five-part community engagement series highlighting themes of nutrition, fitness, literacy, recreation, professional development, and college aspirations took place during Winter Term, with ResLife student staff members partnering with teachers and staff at Lewiston Middle School. The events included Dinner and a Movie, Mock Job Interviews, Snacks & Smoothies, Literacy Night, and Physical Education and were hosted on both the Bates and Lewiston Middle School campuses.
Lewiston Middle School also held their first annual "Reading Across America" week in early March. For that, thirty Bates students volunteered at a Scholastic Book Fair and shared their favorite middle school novel with students and their families. During "Bates Day," staff and students from the Admissions office, Ladd Library, and the Office of Intercultural Education provided short tours of reading spaces and shared other functions of those areas. In the evening, Lewiston Middle School students and their families were invited to the Harward Center for an evening of reading, literacy games, cookies, and chai. ResLife student staff members and other student volunteers joined them for a great night of literary fun!
During the college's spring Short Term, the entire eighth grade came to Bates for a full day of "college aspirations" programming. The class was divided into three groups of 125 students, with each group spending a different Friday on the Bates campus. The weather cooperated beautifully! Organized by neuroscience major Grace Huang and featuring the volunteer efforts of the Short Term Action/Research Team, the Alpine Ski Teams, and numerous other Bates volunteers, the middle schoolers enjoyed a campus scavenger hunt, conducted "man/woman on the quad" interviews with college students, played games and had discussions about their hoped-for futures, and feasted on lunch in Commons (always the most popular part of the visit). Formal surveys of participating teachers and students backed up what the anecdotal evidence from the day demonstrated, which is that both middle schoolers and their teachers were delighted with the information, insight, and positive energy offered by the day.
---
Living with Infinite Hope: Remarks upon Receiving the Harward Center's Carignan Lifetime Achievement Award
Peggy Rotundo, Director of Policy and Strategic Initiatives at the Harward Center and Celebrated Public Servant

I am deeply grateful to my colleagues at the Harward Center for this extraordinary honor. This award is deeply meaningful to me. First, to be selected by my wonderful peers for this honor and second, to be recognized by an award named for Jim and Sally Carignan, who have not only been friends and inspiring mentors to me, but have been central to my professional life and public service. Not only did Jim Carignan hire me twice to work at Bates—first in Career Services and then at the Center for Service-Learning, but he also strongly supported my public service, making it possible for me to serve in Augusta while continuing to work part time at Bates.
Jim was in many ways larger than life. He was filled with enormous optimism, good cheer, and faith in people's capacity to do the right thing. Martin Luther King, Jr. once said that "we must accept finite disappointment, but never lose infinite hope." Jim never lost hope.
He was passionate about building community and was a crusader for greater social justice. He understood that civility and respect were the cornerstones of a vibrant democracy, and he modeled those qualities in his public life as well as in his work at Bates. There is not a day that goes by at the Harward Center when I don't hear Jim's booming voice joyfully singing, brimming with hope and possibility, and there is not a day at the State House when I don't feel his presence and hear his voice, reminding me to be just a little more patient or try a little harder to find common ground with those on the other side of the aisle.
People often ask me what got me started in public service. I tell the story of being invited twenty-five years ago to serve on a committee the Lewiston School Board put together to try to figure out why we had such a high dropout rate, and a conversation I had in connection with that work with a Longley School kindergarten teacher named Lynne Adams. During my interview with Lynne, she told me that within a few weeks of the start of every school year, she could pick out those kindergartens who would probably not make it to high school graduation. In other words, for many of these five year olds, the race had already been run in their lives.
It was the injustice of this that motivated me to run for office—first for the School Committee and then for the State Legislature. And it is this injustice that continues to motivate me every day as I have worked with others in the State House to push not only for equitable educational opportunities for all Maine children, but for all those other things that those children and Maine families need in their lives to thrive: affordable and safe housing, livable wages, access to health care, clean air to breathe and safe water to drink. . . the list goes on and on.
When I worked in Career Services at Bates, I encouraged students to look at patterns in their lives to give them direction as to what they might want to do in life. I would urge them to think about how they might build a life around their values and their interests. We never called it "purposeful work," but that's what we were encouraging students to think about. I have lead a charmed life because I have had the privilege of living what for me has been a very purposeful life—working to advance those values that give my life profound meaning; opening doors for others and helping them find and develop the strength and gifts that lie within them. I have had the opportunity to work with wonderful colleagues and students within an institution whose mission since its founding has been to open doors for all. I have had the opportunity to work with dedicated and talented community partners and legislators whose focus has been to enrich the lives of all who live in Maine. And I have had the honor, as an elected official, to be the voice of people I care deeply about, like the children in Lynne Adams' kindergarten class.
I have a legislative colleague, Rep Craig Hickman from Winthrop, who once said on the floor of the house, that his purpose in serving in the legislature was to be a voice for those who cry in the night. I, too, have had the privilege of being a voice for those who cry in the night. And I have been the beneficiary of the generosity of others who were there to open doors for me. My life has been filled with a series of opportunities created by others in the many different communities in which I have lived during my life—people who loved and nurtured me, taught me, sacrificed for me. . . teachers, mentors, friends, colleagues, neighbors, and of course, family. Thank you, Danny! I feel profound gratitude to all, and many of you are sitting in this room today, because without you, without these opportunities, my life would have been very different.
For me, this reflection has been an important reminder of the preciousness of community and the role we all play in the lives of one another.
Today as we celebrate the magnificent work that has been done by Bates students, faculty, staff, and community partners, let us remember our interconnectedness and the critical role each of us plays in the lives of everyone in this community. Our celebration today is our opportunity to recommit ourselves to the work of strengthening the lives of our neighbors. While there are extraordinary challenges we face in our work, we can't walk away because the work is hard. We must support each other, for we are the voice of the children in Lynne Adams' class, and we are the voice of those who cry in the night. They are depending upon us. We must never give up. We must live with infinite hope.
Thank you again for this extraordinary honor.
---
What It Means To Be Human: "Question of the Animal"
Sam Boss, Assistant Director of Community-Engaged Learning and Research

What do animals mean to us, and how have views of animals changed over time? How do people who work with animals relate to the creatures they rely on for food, companionship, and labor? To answer these questions, students in Professor Jane Costlow's "Question of the Animal" class met with farmers, veterinarians, hunting guides, game wardens, and conservationists in Lewiston-Auburn and around Androscoggin County. By talking and working with individuals who depend on animals for their livelihood, the students gained a greater understanding of the ethical and practical considerations that determine how societies define what it means to be human. They also developed an appreciation for the joys and challenges of working with animals, day in and day out, from birth to death.
Reflecting on their experiences and conversations with community partners, students in the class commented on the lifelong memories and relationships they forged while visiting and helping out on farms. Stephanie Jones '16, recounted witnessing the birth of a lamb on Double Z's Land and Livestock farm in Turner after receiving an early morning text message from farm co-owner Kate Abbruzzese:
"Kate greeted me with afterbirth- and-iodine-soaked knees and a bright smile, though she had only slept two hours the previous night due to other births. When I got there, the first newborn lamb was trying to stand, wobbling a little less with each attempt. Eventually though, the lamb was stable enough to learn to suckle. Amid this process, the second lamb was on its way. The ewe, Rose, lay down and with the first few pushes the front hooves became visible, and with the next few, the nose, and then suddenly, a pure white lamb slid out, still encased in the amniotic sac. Rose almost immediately got up to inspect her new baby, while her first was already nudging for more milk. Alternating between babies, Rose licked and licked them clean. When all was said and done, both babies were likely exhausted, but healthy with stomachs full of warm milk. I also got to help Kate feed a few bottles to a set of twins whose mother only had one functioning teat, ensuring that they were getting enough milk. Using a low stool and an upturned bucket, we sat in the pen and held the two lambs on our lap to drink from the bottle. Overall, it was a wonderful experience, one that I will not soon forget. I am grateful to Kate who was so willing and enthusiastic to include Bates students in this part of her life."
Not all of the animals the students worked with during the course were of the cute and cuddly variety. Sadie Mae Pelletier traveled to Happy Hive Farms in Hartford to meet with Al Borzelli, who sells honey and a range of other apiary products, as well as furs and skulls. Sadie said of Mr. Borzelli:
"I was astounded by how many things that man could do with his hands! Not only does he build his hives, his own honey-extracting device, and make his own bee-feed, but he also raises different animals from year to year, hunts, and cooks. He has thoroughly and diligently adopted the mentality that if it can be built or made on your own, there is no reason to buy it. Seeing this mantra practiced in all facets of living but especially in honey production was very grounding to me. I appreciated that he got involved in the honey business just out of curiosity and interest and then stayed with the practice after recognizing that he could make a small contribution to the pollinator decline by doing what he does best, building things and diligently watching over them. I was so pleased at the opportunity to experience local people making local products."
Allie Armstrong was similarly impressed by Steve Burger, co-owner of Winter Hill Farm in Freeport, which produces milk and cheese from rare Randall cows, and pork from Berkshire pigs. She was surprised to learn of the ethical considerations that drove him to enter the dairy and meat business:
"To my surprise, he told me that before he owned his own farm, he was actually a vegetarian. He didn't want to eat meat unless he knew exactly where his food was coming from, which is why he started raising his own animals to eat. This allowed him to be fully aware of the process it takes to bring a piece of meat onto the plate, which he said was the only way that he would feel okay about eating meat again. This concept interested me because before I would have thought that participating in the meat-raising industry would have the opposite effect. I am so glad that I was able to have this discussion with a farmer in the community because it made me think about animal ethics issues in an entirely different light than I had before."
These accounts from the field reflect the powerful impact students' conversations with community partners had, not only in advancing their understanding of animals, but in giving them an appreciation for the complex motivations of people who work with animals for a living. Students in the course blogged about their experiences, and as part of their final project for the course, they developed educational materials that drew on their readings and their conversations in the community, in order to promote awareness about the role of animals in Maine society.
---
Community-Engaged Research Blitz: The 2016 Short Term Action/Research Team
Ellen Alcorn, Associate Director of Community-Engaged Learning and Research

The Harward Center closed out the 2015-2016 academic year with the 6th iteration of our Short-Term Action/Research Team (STA/RT). This year, we were fortunate to work with eleven talented Bates students (selected from a competitive pool) who brought their diverse research skills to bear on a wide range of projects designed to meet the needs of our community partners. Students spent about twenty hours per week working individually with their community partners on projects, and also worked as a group to host three "Aspirations Days" on the Bates campus for 400 graduating 8th graders from Lewiston Middle School. In addition to these Friday "Aspirations Days," STA/RT projects included:
• The analysis and dissemination of survey information collected by the Maine Health Needs Assessment & Planning Process (SHNAPP), a collaborative of several health care agencies formed to better understand the health needs of individual communities in Maine.
• The development of a conversation tool aimed at helping education providers better understand the barriers to parent engagement.
• A study of the impact of public preschool attendance on rates of misbehavior in the Lewiston Public Schools.
• A Bates alumni survey measuring the impact of community-engaged work during college on post-graduate work and life.
• A study of Lewiston residents' current recycling practices, as well as the development of proposals to improve recycling rates.
• The creation of cultural competency materials, including an annotated bibliography, to be housed on the Harward Center website for use by the Bates and Lewiston communities.
• The creation and dissemination of a survey on behalf of "We the People," an initiative of the Rural Community Action Ministry aimed at increasing the number of people from poor and marginalized communities in Maine interested in running for public office.
• A two-part project that involved the collection of data to help health officials better understand the means by which new Mainers (immigrant and refugees) access health information, as well as the gathering of information aimed at helping health care providers create more welcoming décor for patients.
• The cataloguing of approximately 170 silk screens once used in the Lewiston mills to create bedspreads and other textiles, as well as recommendations about how best to store the silk screens.
• The development of a proposal for an alternative suspension program appropriate for immigrant and refugee youth.
---
In The News
---
Want to know more about something in this newsletter, or have questions about the Harward Center or the civic mission of Bates College? Please contact Kristen Cloutier or visit us online.