Summer fellowships in Lewiston create a deeper sense of community
On a recent Wednesday evening, nine students who are living and working in Lewiston this summer gathered at the Harward Center to share dinner and conversation. What's it like to live in Maine during the summer? And how does full-time nonprofit work feel? Over ravioli, salad, and the ever-favorite garlic knots from DaVinci's, students got to know each other and shared their early experiences with diverse summer projects. Harward Center staff and several recent grads who are currently living in Lewiston joined the lively conversation.
Student projects cover a wide range of areas from working with youth, to coordinating monthly art walks, to helping with community food and nutrition needs. Many students work in the community during the academic year, but summer fellowships allow students a deeper experience, working full time for eight to ten weeks. They learn firsthand about area non-profits—how they are structured, the issues they address, and the clients they serve. Students gain experience in fields that interest them, and they form friendships with local residents. They also come to appreciate the Lewiston/Auburn area in new ways.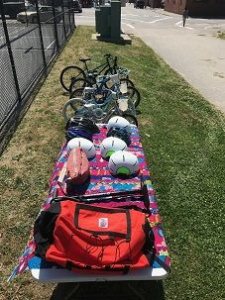 Eliot Chalfin-Smith, who recently completed his first year at Bates, stayed in town to run the Lewiston Summer Biking Program, which he designed to focus on the development of bike riding, maintenance, and mechanical skills for low-income Lewiston youth. Describing his experience to date, Chalfin-Smith states, "The program, which is designed to teach mechanical and technical biking skills to Lewiston youth, has really opened my eyes to the strength of the local immigrant community and their desire to give their kids as many opportunities as possible. It has been really rewarding working with a group of kids who are so smart and energetic when it comes to problem-solving mechanical issues with bikes." Having run a similar project in his hometown of Gainesville, Florida before coming to Bates, Eliot reached out soon after he arrived on campus to the Maine Cycling Club and John Grenier, owner of Rainbow Bicycle in Lewiston. They, along with the Lewiston Public Library and the 21st Century program for youth, became enthusiastic partners. The MCC provides donations of gears, bikes, and volunteers who act as co-instructors with Eliot. They have also promised to continue to fund the program during the school year. Eliot's overall goal, he says, is to "provide the opportunity for kids to learn how to mountain bike and care for a bike, and then apply their newfound skills and excitement about the sport in their day-to-day life."  Eliot hopes that someday there will be a fall mountain biking program in the community and local public schools. Given the interest that the LA community has developed in biking, thanks to the work of Lewiston native, actor Patrick Dempsey, and the Dempsey Challenge annual biking events, Eliot's vision could well become a reality. Just as the popular lacrosse programs in the local schools started as a joint project of the Harward Center, former Bates Men's Lacrosse Coach Al Brown, and local community members, Eliot's biking program could become another Bates contributor to the health and wellbeing of young people in Lewiston.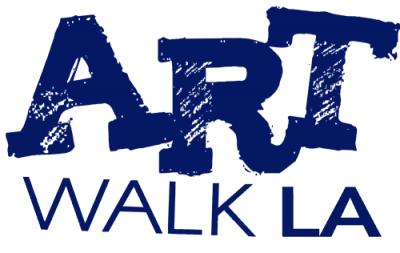 Another student who is working full-time in Lewiston this summer is Christine Cho '19, a music and mathematics major from California who is coordinating the summer art walks for L/A Arts, Lewiston-Auburn's art agency. Funded through a Harward Center Summer Civic Fellowship, Christine's responsibilities include marketing the monthly walk through both social media and more traditional forms of communication; developing systems for matching artists and performers to downtown venues;  coordinating with local businesses and governments; and reaching out to new community audiences to increase the community-building impact of Art Walk LA. According to Jim Parakilas, Bates Professor Emeritus of Music and chair of the board at L/A Arts, "These are skills that everyone involved in the arts — either as an artist or as arts manager — needs to acquire, and Christine Cho, who is both an accomplished violinist and an experienced visual artist, is in a perfect position to be learning by doing them." In addition to her work with the monthly Art Walk, Christine is helping to coordinate a new initiative for L/A Arts: the Youth Filmmaking Project, which involves teaching documentary filmmaking skills to youth from the local Tree Streets neighborhood and then supporting them in creating their own short films about their neighborhood. In these and other summer projects, Christine's enthusiasm for and experience in the arts — combined with her organizational acumen, work ethic, and ebullient spirit —  are making a significant contribution to her host agency and the broader Lewiston/Auburn community.