A Harward Center Harvest
On a cold and windswept day in mid-October, many Bates students are breaking out their heavy coats and trudging off to take their last mid-term exams before fall break. But for others, the chill in the air means it's time to get to work at local farms and gardens, gleaning any remaining produce vulnerable to the first expected frost. With each passing year, more and more students are seeking and finding opportunities to gain experience in agriculture in Lewiston-Auburn. Harvesting vegetables, building cold frame greenhouses, and loading produce into cold storage units are among the many tasks they take on as winter approaches. Those most involved in that work cite the joys and challenges of getting their hands in the dirt, working as a part of a team, and harvesting the fruits of their labors. While agricultural work can be both hard and fun, the benefits students gain from their experiences working with local farms extend beyond the welcome respite that hands-on tasks provide from lectures, papers, and exams.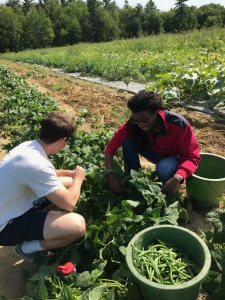 How can you pay farmers a fair price while also addressing the high rates of food insecurity and malnutrition in the Lewiston-Auburn area? How do you get fresh food to areas where residents live miles from the nearest store and lack convenient transportation? Why does one farmer opt to grow their crops conventionally, while another chooses to use organic methods? How can Somali Bantu farmers adapt their traditional growing methods and diets to match the Maine climate and market? Students have the opportunity to examine these questions and deepen their understanding of the underlying issues through the wide range of partnerships Bates has developed with farms, gleaning groups, food pantries, refugee-led organizations, and public health non-profits.
Many of these partnerships first developed through projects undertaken as part of academic coursework. The Community-Engaged Research in Environmental Studies course, for example, regularly includes one or more student groups that support local farms by conducting research to help them become more sustainable or better meet market needs. One of the most frequent collaborators for this course is Kim Finnerty, the manager of Whiting Farm in Auburn. As ownership of Whiting Farm has transitioned from the Whiting brothers, Elmer and Buster, to John Murphy Homes, which serves autistic and special needs youth, Kim has spearheaded efforts to make the farm both a center for agricultural education and a model of sustainability. Student groups have worked with Kim to develop proposals for solar installations, rainwater collection mechanisms, cold storage, and waste disposals. Deciding on a proposal and securing the funding takes time, but the work of Bates students in this area has provided a valuable resource that Kim regular calls on as she looks to maximize the farm's potential.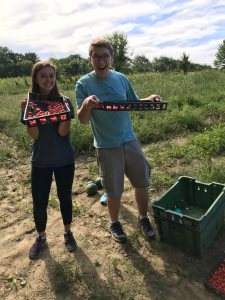 As the research partnership between Bates and Whiting has grown, more students have been helping out with day-to-day operations on the farm. Before the fall semester started, several new student orientation trips helped harvest produce including green beans, tomatoes, cucumbers, and squash, which were donated to local food pantries such as St. Mary's Nutrition Center. The Bates Gleaning Club, started last year by Hermione Zhou '21, in collaboration with professor Francis Eanes' Urban Food Systems course, has developed an ongoing partnership with Whiting Farm and the Androscoggin Gleaners. They now have several gleaning events throughout the fall to harvest produce for donation to local food pantries. Describing her work with Gleaning Club so far, Zhou remarked on the joys of early morning gleaning trips, and "starting the day with friends, and the fresh air in the fields." The collaboration has significant community benefit as well: not only does the produce they glean help to address food insecurity, but it also helps to reduce waste and clean-up work on the farm by limiting the volume of food that spoils in the fields.
In addition to helping out at Whiting and other, more rural farms, Bates students have had important roles in building access to fresh, locally grown produce in the Lewiston downtown. St. Mary's Nutrition Center, which developed through the efforts of Bates graduate Kirsten Walter '00 as a continuation of her senior thesis, is a regular partner for Bates. Student volunteers, community engaged learning classes, and summer interns help out with everything from the Lots to Gardens agricultural education programs to cooking classes featuring international cuisine. Bates thesis students have followed in Kirsten's footsteps by researching topics such as best practices for promoting racial inclusivity at the Farmer's Market and strategies for improving the reach of the Good Food Bus, a mobile market that brings local food to locations with limited food access around southern Maine. The longstanding partnership has been a boon for both Bates and St. Mary's Nutrition Center, and has played a significant role in supporting the local food movement and food access in Lewiston and surrounding communities.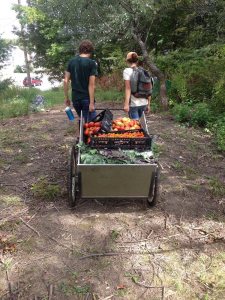 Bates has enjoyed a similarly productive partnership with local farmers from our refugee community. Many of the collaborative projects from past years have born fruit this fall. Last year, Bates students in professor Elizabeth Eames' Production and Reproduction Anthropology class conducted market research to support the brand new Isuken Co-Op, a cooperative venture of Somali Bantu farmers that features the produce they grow in traditional Bantu cuisine. After a successful kickstarter campaign in the spring, Isuken opened their food truck to customers for the first time at the Lewiston Farmer's Market in early October, marking a satisfying conclusion to the hard work that Mohamed Dekow and others put into finding a market for the produce grown at the New Roots Cooperative Farm. Over the summer, Muhidin Libah, Director of the Somali Bantu Association, implemented a plan for raising goats that began to first take shape through the work of Environmental Studies students last year. For the first time this fall, members of the Somali Bantu community will be able to provide a source of locally grown halal meat, a staple of a Muslim diet.
Back on campus, the new Bates Garden, known simply as "The PLOT," yielded its first harvests over the summer after years of collaborative planning between students, Bates Dining Services, and Tom Twist from the Sustainability Office. While the produce from the PLOT will mainly be used in the Bates Dining Commons, the club leaders of the Bates Garden Club, Katharine Gaillard '19 and Isa Moise '19, hope to produce enough in future years to donate to local food pantries. Gaillard and Moise are also reaching out to community organizations to support ongoing conversations about how their work connects to "the complicated web of issues tangled in our local and national food systems." As the local food economy in Lewiston-Auburn continues to grow, these promise to be rewarding conversations both for our students and our partners. Here at the Harward Center, we are looking forward to seeing the collaborations that emerge from them, and the exciting agricultural initiatives they yield.