Shifting Priorities & Enduring Commitments in the Wake of COVID-19
In a normal year, Shawn Boyd would be spending a Wednesday afternoon in May helping a small group of kids get ready to sell jams, jellies, and pickles at the Auburn Farmer's Market in Festival Plaza. This Wednesday, however, when I asked Shawn if he had a few minutes to talk about how his work has been impacted by COVID-19, he kindly texted to ask if he could call me back. It was a hot day, and he still had more groceries in the back of his car waiting to be delivered to local families in need. The response was a fitting reflection of the rapid shift Shawn has made to help the community he serves as Coordinator of the Auburn Police Activities League (PAL) Center.
Established in 2013, the PAL Center provides academic support and a wide range of enrichment programs to kids who live in one of Auburn's lowest-income neighborhoods. The Center was developed in response to data indicating that nearly a quarter of all juvenile crimes took place in an area of approximately half a square mile. Bates students support the PAL Center programs as volunteers and through work-study positions and community-engaged learning placements and projects. Food is both a draw and a focus of programming at the PAL Center, as many of the kids who come for afterschool programming struggle with significant and persistent food insecurity. Shawn always makes sure that all the kids who arrive after school get something to eat, but he also makes sure they have opportunities to learn how to grow and cook food of their own. With a full commercial kitchen located on site, Shawn works with Master Gardener and Preserver Dennis Connelly to run a gardening and canning program that gives the kids lifelong skills in growing fruits and vegetables and selling value-added products.
COVID-19 forced the PAL Center to close its doors for afterschool programming on March 13, which put a halt to the canning, preserving, and gardening programs just as they were getting ready for the spring season. But the closure did nothing to diminish Shawn's dedication to the kids and families who have come to count on him. With schools shutting down and many wage-earners facing furloughs or layoffs, the City of Auburn had to act quickly to provide food for families struggling with hunger. Shawn emerged as an immediate leader in those efforts. Working in collaboration with members of the Auburn Recreation Department, Shawn quickly converted the PAL Center kitchen space into a staging area for grocery deliveries. Along with his son, he has been making regular deliveries of two weeks' worth of groceries to forty-eight households, serving more than 200 individuals.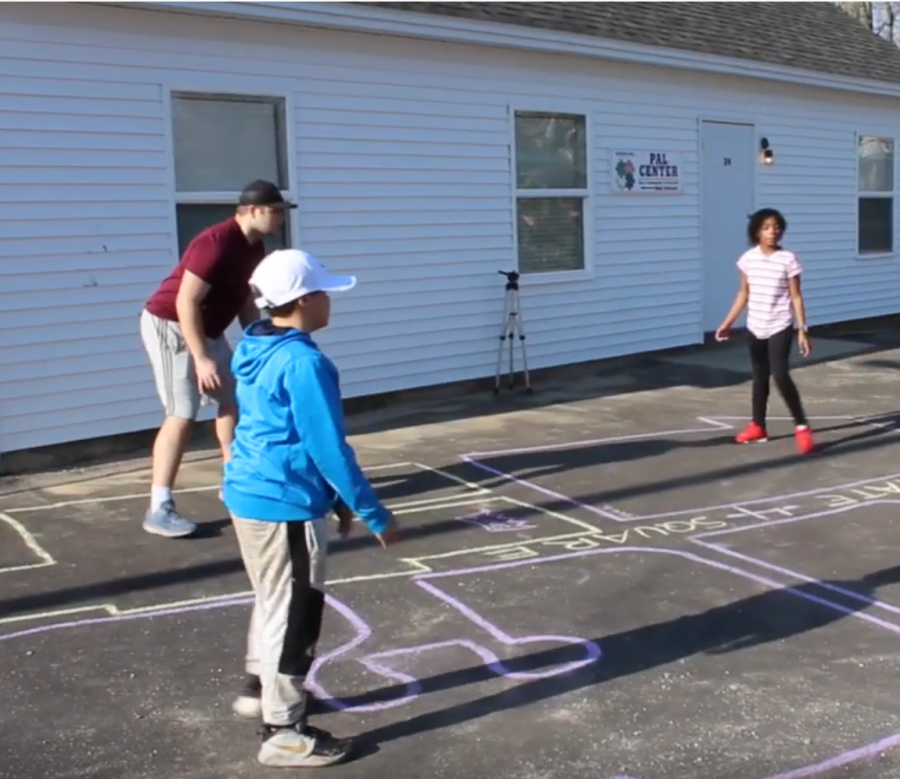 For years, Shawn's commitment to the kids he works with has been a source of inspiration for the many Bates students who have volunteered at the PAL Center. Two recipients of this year's Harward Center awards — Priscilla Guillen and Matt Golden — earned their accolades thanks to their tireless work at the PAL Center during their four years at Bates. When I spoke to Shawn this week in between delivery runs, he mentioned how moved he was that Matt had recently asked his family and friends for donations to the PAL Center in lieu of birthday gifts, a selfless gesture that brought in nearly $300 to go towards the purchase of new computers. While this act of kindness is a reflection of Matt's character and innate kindness, it also captures the spirit of the quiet, selfless leadership that Shawn embodies and cultivates in the Bates students who serve at the PAL Center.
Click here to learn more about the PAL Center and its mentoring activities and enrichment programs for Auburn youth.