Documenting a Pandemic
Few of us will forget the experience of living through a pandemic, but as time progresses we may lose track of key details about what transpired in our daily lives and communities during this momentous period in history. A coalition of Maine libraries is rising to the challenge of documenting the ways COVID-19 has impacted our state. Supported by funding from the CARES Act and the Institute of Museum and Library Services, librarians around Maine are working with the public to collect materials ranging from poems and photographs to oral histories and films that will preserve stories of the pandemic for future generations.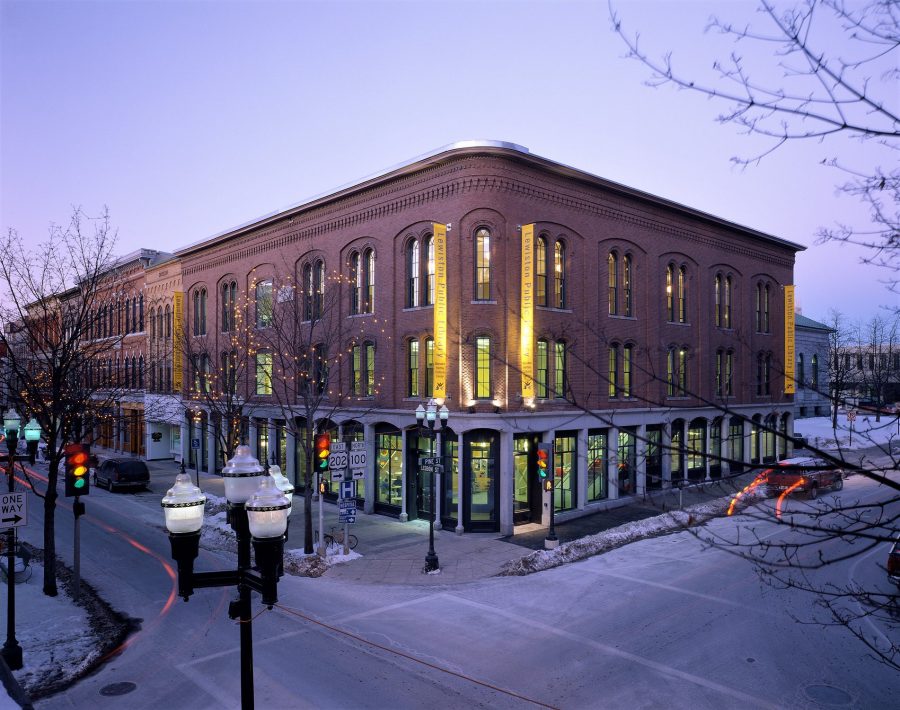 The Lewiston Public Library is a proud participant in this initiative, and I was honored to work with an outstanding group of Bates students who contributed their work as part of the first-year seminar I taught during the fall. The course, "Lewiston: A Local Lens on Global Issues," engages debates on topics such as immigration, economic development, sustainable agriculture, environmental degradation, and racial inequities in the legal system by giving students a closer look at the Lewiston-Auburn community and its rich history. As I was adapting the syllabus last summer, I knew it would be important for us to address COVID-19 head on, not least because I wanted first-year students to have an opportunity to talk about the challenges they were facing as they adapted to college life under such extraordinary circumstances.
My work at the Harward Center has also given me a close-up look at just how much COVID-19 has exacerbated longstanding hardships in our community such as food insecurity, substance use disorders, and racial inequities in healthcare and education. The response to these challenges has underscored the remarkable resilience of our community and the determination of our local leaders. When we orient students to Lewiston-Auburn, we are always working to strike the right balance as we talk about assets and adversity in our community, and I knew that conversations with people who were working on the front lines of the local response to COVID-19 would bring that balance into focus in a way that no lecture, activity, or reading assignment could. So as the final assignment for the class, students met via Zoom with leaders from local businesses, non-profits, political groups, and schools who graciously agreed to contribute oral histories to the Lewiston Public Library's COVID-19 archive in order to shed light on the unique challenges facing their organizations and the populations they serve.
On the last day of class, we watched excerpts from each oral history, and reflected on what we learned. The conversations brought to light many fascinating details — from the nuances of finding new markets for potatoes that had been destined for sale at cancelled fairs, to the difficulties of adapting substance-use disorder and mental health counseling to virtual mode, to the fact that the Bates-branded masks students were wearing had been produced by a local sewing program that brings women from different cultures together to learn and apply their sewing skills. Across the board, students commented that they had been inspired by the commitment, adaptiveness, and determination of their partners. For my part, I was proud to see the inquisitive and respectful way students engaged with their partners as they facilitated their oral histories. My hope is that the collection of oral histories the students gathered will encourage them to remain engaged in the community throughout their time at Bates, while inspiring others to contribute their perspectives on the impact of COVID-19 for the Lewiston Public Library's archive. I am so grateful to Marcela Peres, Steven Bouchard, and Wendy West from Lewiston Public Library for making this project possible, and to all of the partners who shared their stories and wisdom with our students. I hope you will take a moment to check out the recordings of their conversations on the LPL YouTube channel at the links below.
COVID-19 Oral History with Klara Tammany, Sophia's House resident & former Director of the Center for Wisdom's Women
COVID-19 Oral History with Heritier Nosso, Health Promotion Coordinator at Healthy Androscoggin, Community Organizer, and Attorney-at-Law in Democratic Republic of Congo
COVID-19 Oral History with Bruce King, Workforce Development Specialist at Community Concepts, currently Executive Director of Maine Inside Out (link coming soon)
COVID-19 Oral History with Adam Platz, President of Baxter Outdoors and Operations Manager at Baxter Brew Pub
COVID-19 Oral History with Chris White and Noah Riskind of Rosati Leadership Academy, a youth soccer and leadership training program
COVID-19 Oral History with Mohamed Dekow, Director of the Sustainable Livelihoods Relief Organization, and member of Isuken Co-Op, and New Roots Farm
– Sam Boss, Assistant Director, Community-Engaged Learning and Research Program