The Right Move
When Hamza Abdi accepted the position as the Harward Center's new Assistant Director of Volunteer Programs and Community Partnerships, he just knew it was the right move. At the heart of his decision was one specific goal – to work with students.
"I think there's a lot you can do with students," Abdi said. "I like to have interactions with students all the time. Even if I'm doing something else that might be a priority, I really enjoy talking and being with students because I know that if a student comes to my office, they're coming to me as a resource." He continued, "My goal is to give attention to students and share all the resources I have with them, giving them time to learn."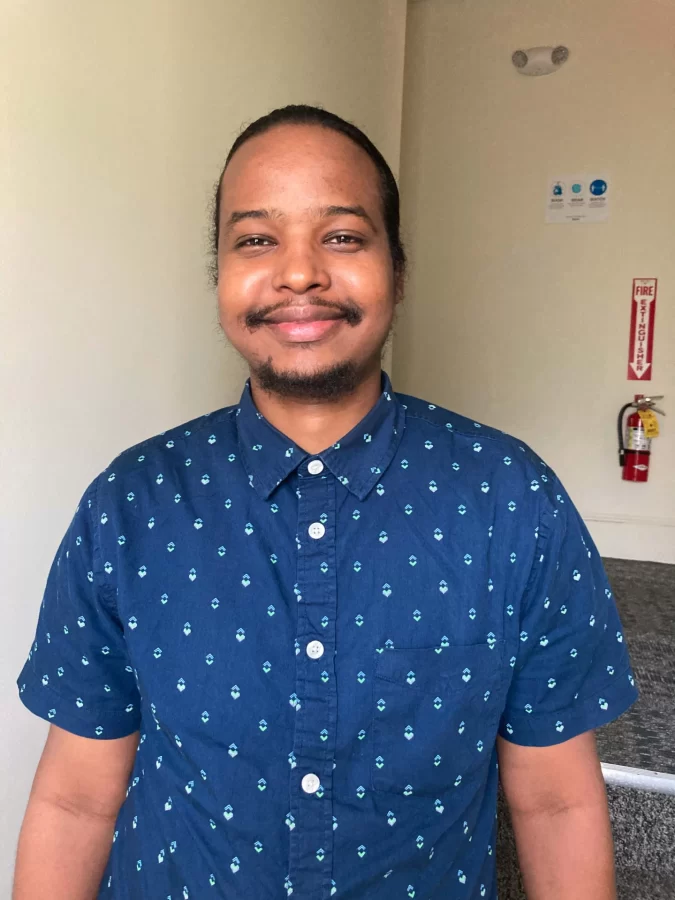 Prior to working at the Harward Center, Abdi was an Academic Administrative Assistant at Bates in Roger Williams Hall for three years. His main job there was to support language departments–a good fit for someone who is fluent in English, French, Somali, and Arabic. Some of his responsibilities included managing and overseeing department budgets and assisting with faculty candidate recruitment. While that job was primarily "faculty facing," his new job is student oriented, with a volunteer-based focus.
"I enjoy working with students who want to engage with the community outside of the formal academic curriculum," Abdi said. "Usually, students either just want to volunteer in the community or they want to become involved in different ways. My job is to manage volunteer programs, coordinate the Community Work Study program, support our student leadership programs, and strengthen community partnerships."
Abdi's goals include making community engagement work at Bates something every student knows about and has easy access to. He also hopes to make them curious about life outside of the Bates "bubble."
Abdi's passion for community engagement was sparked several years ago when he had the opportunity to work with several Bates students and engage with Harward Center staff. Although he didn't take community-engaged classes while in college, he came to appreciate their value when he worked in downtown Lewiston as the Skills Development and Language Services Manager for the Immigrant Resource Center of Maine (IRCM), where he developed skills development and ESL programs and managed language services for the organization. In that capacity, he wound up interacting with Bates faculty member Danny Danforth, as well as several Bates students who volunteered at the Center.
"That's how I came to learn about community engagement. I had many Bates students who were volunteering with my programs." In 2018, the Harward Center recognized Abdi with the Community Partner Award for Outstanding New Initiative for his work with Bates student Julia Nemy. Those positive interactions motivated him to apply for the Academic Administrative Assistant position at the college, which he enjoyed for several years.
Understandably, one of Abdi's favorite parts of his new Bates job is working with the Harward Center team. "The Harward Center is really a very supportive team, so the work environment is extremely, extremely great," Abdi said. "I knew them before, but now we're working together in the same office. I mean, when you have a very supportive team, I don't think there's anything you need to worry about."
The support of the team and his excitement about working with students have reaffirmed his belief that he's made a great choice. "Of course, I wish things were a little different than they are now with all the COVID restrictions," Abdi admitted, "but I'm definitely looking forward to everything that my new job entails."