Gallery Talk by Dan Mills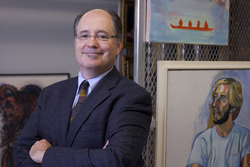 Friday, September 23 at 7:00 p.m. in the Museum of Art
Dan Mills, the Museum of Art director and "Tale Spinning" exhibition curator presents a gallery talk, followed by the opening reception. Mills will discuss the curatorial premise, provide some background on the artists, and the works in the exhibition.
Tale Spinning presents the work of six extraordinary artists who come from widely varied backgrounds and make work with a strong narrative component. Although the artists use different media and pursue different conceptual and aesthetic strategies, the artists share a penchant for story telling. The tales each "tell" through their work incorporate aspects of their personal stories and cultural stories.
During his career, Mills has curated exhibitions for institutions throughout the US, including New York, Chicago, and Los Angeles. Thematic exhibitions have included "Epic Painting," Regeneration: Contemporary Chinese Art from China and the US, "Issues of Identity in Recent American Art," "LOOK AT ME! The Performative Impulse in Recent Chinese Photography," and The Enduring Presence: Recent New York Abstraction."
Mills is also an accomplished artist whose work, in a variety of media, explores themes and imagery including cartography, humor, imperialism, cartoon characters, landscape and portraiture. Since 2008, he has had solo exhibitions at Sherry Frumkin Gallery in Santa Monica, Calif., the Tianjin Academy of Fine Arts Museum in China and at several academic institutions. The Perceval Press, actor Viggo Mortensen's publishing company, produced a hardcover book based on his "US Future State Atlas" series of drawings in 2009.
Mills earned his bachelor's degree in fine arts at the Rochester Institute of Technology and his master's at Northern Illinois University. He previously directed the Samek Art Gallery, Bucknell University, the Gibson Gallery at the State University of New York, and served as curator for the art program at the First National Bank of Chicago.