Daisy: Collections Management Intern
As a Collections Management intern, my main tasks include registering museum pieces into the database embARK. I am gaining exposure to artists and finding new favorites every time I come in. I added a piece to the museum record a few weeks ago by David Maisel. Born in New York in 1961, Maisel graduated from Princeton University. His classmate was Emmet Gowin, a photographer whose work I've seen before who focused on intimate photos of his wife. That's another exciting part of this internship – connecting artists I'm learning about with their peers and artistic movements.
David Maisel is a contemporary American photographer whose work typically explores vast expanses and saturated landscapes. From an aerial vantage point, he observes his subjects from a low-flying aircraft. The resulting images often have no vantage point or horizon and take on an almost medical, compartmental quality. These landscapes are often scenes of pit mines, cyanide leaching fields, water reclamation projects, and urban scrawl. Disconnected and distorted, the abstracted terrain shows an unusual perspective on the environments affected by humans.
Another one of Maisel's collections I admired is the Library of Dust. The photographs are of copper canisters containing unclaimed remains of psychiatric patients from a hospital in Oregon. Because of chemical corrosion from the remains, the canisters are uniquely and vividly colored. I took two chemistry courses last year and we did a lab with copper and different chemicals to observe unique reactions. I remember the vivid colors of some of the chemical combinations and thinking about how these could be employed in an artistic context. When I see the images from Maisel's collection, I can only begin to grasp the desolation of the thousands of forgotten patients from this and many other psychiatric hospitals. Each canister is a beautiful chemical portrait atoning for an anonymous body, an anonymous memory.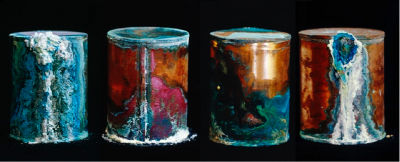 I also catalogued a print recently by Shoji Miyamoto from Osaka, Japan. Their work was collected by the museum in 2010 as part of a group of Japanese printmakers who adventurously push the boundaries of traditional printmaking. When I see this work, I feel a pull towards analyzing the colors and forms of food that I normally wouldn't. The print is cohesive and is satisfying to look at. Through this internship, I'm learning more about different media like multiple block prints and getting the opportunity to study pieces like Miyamoto's closely.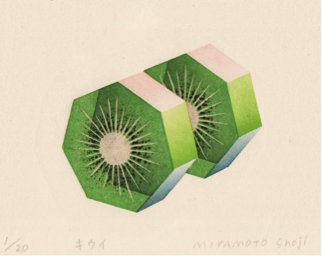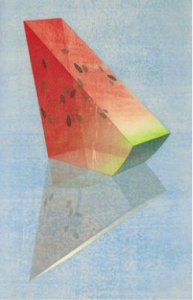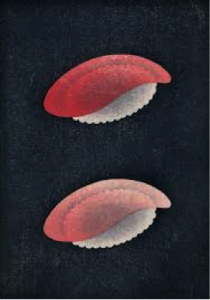 By registering these and many other works of art in the database, I'm gaining exposure to artists I wouldn't otherwise see. From processing vast deaths to finding the beauty in everyday life, the pieces collected by the Bates museum are diverse and thought provoking.
By
-Daisy Diamond
Studio Art & Math