Exploring the Great State of Maine – Artists of the Jane Costello Wellehan Collection
Our first internship weeks were marked with an extensive research project on approximately 50 artists, many who have some relationship with Maine. Their objects were generously donated to the Bates Museum of Art's permanent collection by the prominent Maine collector and Bates alumnus, Jane Wellehan, '60. The Wellehan collection features various media and works from 19th-century to contemporary. Throughout our research, we explored online resources, such as the records of various museums, galleries, educational institutions, and publications.
Indeed, our work is not yet complete. As Educational Curator, Anthony Shostak, colloquially notes: the archivist's work is never done. Our first-stage conversations with Corie Audette, the Museum's Collections Manager and Registrar, supplant this, as – even after weeks of research – there are many information holes we haven't yet filled! With the assistance of Museum Director, Dan Mills, who oversaw the transfer of this collection to the Museum, we gathered additional information regarding the provenance of specific pieces.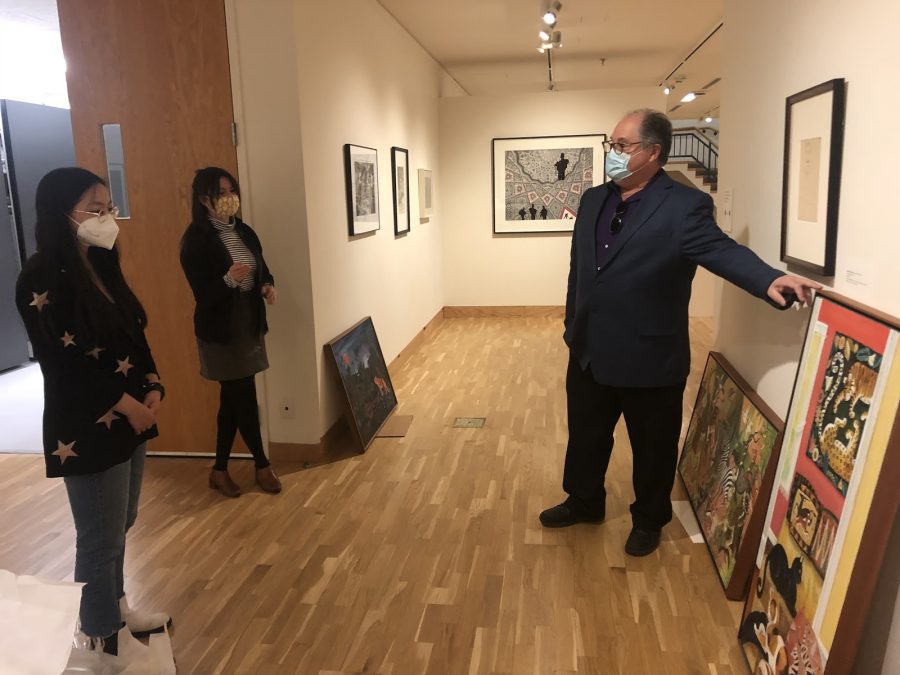 Here, we individually delved into how these projects were personally resonant.
Anna
My role in this rather extensive project has fed my budding interest in and appreciation for modern art. There are several artists whom I have especially enjoyed learning about. The late David Driskell's paintings stood out as fantastic expressionist works. Much of his objects may be inspired by his longtime home, the variated Maine landscape. Other vibrant, imaginative, pseudo-Cubist pieces bring to mind the folksy style of Dahlov Ipcar (and works by her parents, Marguerite and William Zorach), whose scenes often transcend place-based specificity. These objects evoke a certain nostalgia akin to lively picture books, which I just adore. This comparison is especially timely, given the work of children's book author and fellow Mainer, Ashley Bryan, is now featured in a solo exhibition at the Museum.
I excitedly anticipate viewing the objects from the Wellehan collection in person. I particularly can't wait to view the painterly strokes by Driskell, Ipcar, and the other artists in the collection up close. Endearingly, this element is a more intimate perspective on the artists' life experiences and vital primary source for our research. Beyond the paintings, it will be especially fun to view the ceramic pieces alongside Laila, whose senior thesis work is in clay. It's been fantastic to collaborate together on this project, as listening to her creative process and artmaking experiences not only contributed to my research on ceramicists, but also complement my studies in Art History and Criticism. The artist's experience, after all, exists at the core of the aesthetic product.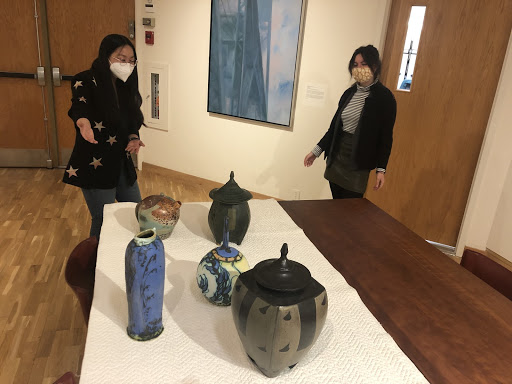 Laila
As a senior, currently conducting my thesis work, it was very interesting and valuable to be exposed to a variety of work of mediums and styles. Since I use clay to throw vessels and sculpt objects, I was immediately drawn to ceramicists such as Warren MacKenzie, Sequoia Miller, George Pearlman, and Paul Heroux. Although the work from these artists are widely varying, their vast collective knowledge and mastery of the craft is apparent and inspiring. Like Anna, I am very excited to see and hold the ceramic works from the Wellehan donation in person. Ceramics is absolutely a medium that requires in-person interaction because so much information (like size, surface details, texture, the presence of an object, etc.) is easily lost or skewed in pictures.
Aside from the ceramic works in the collection, the rest were mostly paintings. It would certainly be easier for me to analyze and draw from them if I were a painter and knew the techniques and skills of painting on canvas. However, learning about the artists' methods and inspirations are still valuable! Many artists look at works from other styles, periods, or even mediums to use as inspiration for their own work, and several of the paintings from this collection made me think more deeply about what I am creating.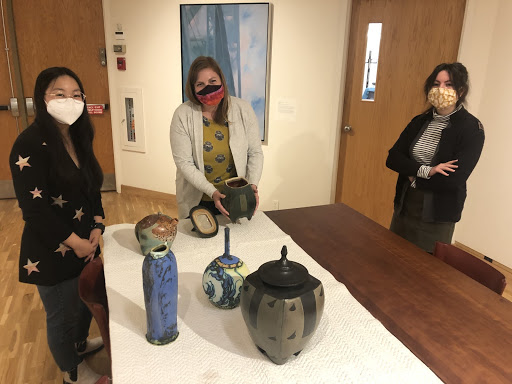 We look forward to uncovering more information about these artists which we have been researching and studying in the coming weeks of our internship.
We would like to thank the Wellehan family for their generous contribution of this collection, and for their continued support in the process of preparing for the upcoming exhibition of the pieces in this collection.
Anna Greenspan '22
Art History & Economics
Laila Stevens '21
Art & Visual Culture (Studio) with a minor in Asian Studies