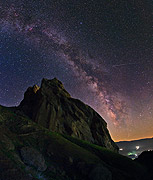 Astrophotography Workshop at West Branch Pond Camp
Wednesday, October 17, 2012 — 12:00am

West Branch Pond Camp
Kokadjo, ME
,
show map
Journey to Maine's Moosehead Lake region to image the stars as seen in dark skies in a workshop led by Babak Tafreshi, founder of The World at Night (TWAN).  Tafreshi specializes in photographing the night skies in the context of familiar landscapes, and his work stunningly captures the evocative power of the stars.
TWAN Earth-and-Sky Astrophotography Workshop
Earth-and-sky imaging can be fast and easy, making it a fun introduction to astrophotography.  It also offers rewarding challenges for artists making more demanding astrophotos using advanced techniques.  Earth-and-sky astrophotography also gives the artist flexibility with regard to weather; even when deep sky imaging is not possible due to a bright full moon or mostly cloudy skies obscuring the stars, there are great chances for creating powerful images that capitalize on the contributions of weather to the night sky.  And, since the secret to success is to be "in the right place, at the right time" and the photographer must be out and traveling for starry adventures, working with the weather is an important skill.
Night photography techniques and advance planning based on knowledge of skygazing are important elements to successful astrophoto sessions. Besides weather, factors such as geographic location, altitude, temperature, local topography, and light pollution must be considered in preparing for a photo session. The main topics of the workshop include:
Basic of Earth-and-sky photography
Guide to the best equipment
Analog vs. Digital, advantages and disadvantages in sky photography
Secrets of landscape astrophotography: exposure, illumination, etc.
Long-term projects in sky photography (planetary motions, Analemma)
Making Digital star trails
Making time-lapse videos of sky
Creating panoramas and virtual realities of night sky photos
Basics of processing your astrophotos.
About the Workshop Leader
Babak Tafreshi is a science journalist known throughout the world as an advocate and educator about the night sky.  As the founder of TWAN, he has presented some of the most breathtaking images of the starry sky at conferences the world over.  He is the co-recipient of science's most prestigious imaging honor, the Lennart Nilsson Award.  Babak has had several of his images featured on NASA's Astronomy Picture of the Day, and he is one of 37 artists featured in Starstruck: The Fine Art of Astrophotography.
West Branch Pond Camp
West Branch Pond Camp features an impressive view of  Mountain. across West Branch Pond with drive-in convenience.
What is provided:
Lodging in cabins at West Branch Pond Camps.  Cabins sleep 4-8 people.  A limited number of single-bed cabins are available for an additional fee.  Cabins have generator-provided electricity during limited hours, wood stoves and firewood.
Buffet breakfasts, bag lunches, and sit-down dinners
Hot showers
Use of canoes and kayaks
Access to hiking trails
Participants must provide:
Appropriate outdoor clothing and personal basics (toiletries, RED flashlight, regular flashlight, extra batteries, etc.)
Photography equipment—camera(s), tripod(s), computer.
Extra batteries and chargers for all devices
Sleeping bag (linens are provided, but for an October trip, this extra layer is important)
Safety-orange hunting clothing (two articles per person). The immediate 30 acres is posted "No Hunting," but hunting is popular and precautions are prudent.
Not essential, but recommended:
Binoculars
Telescope(s), mount(s), etc.
Solar telescope or filters
Planisphere
Star Charts
Thermal insulating bottle
Backpack
Transportation
Participants must provide their own transportation to West Branch Pond Camps.  Carpooling is encouraged and will be coordinated.
Number of Participants
Space is available for up to 15 participants.
The trip will take place regardless of weather, offering artists the opportunity to photograph Maine's wilderness, or just a chance to relax.
Cost
A non-refundable fee of $300 for adults/$200 for Bates Students holds a reservation.  A balance of $200 for adults/$100 for Bates Students is due October 15.  No refunds will be made after October 15.