Exhibition Opening and Reception
Friday, June 10, 2016 — 7:00pm

Bates Olin Arts Center,
Museum of Art
75 Russell Street
Lewiston
,
ME
04240
show map
Join the Museum of Art to celebrate the opening of two new exhibitions, Robert Indiana: Now and Then and Jay Bolotin: The Book of Only Enoch and, continuing through August 27, David Driskell: The Doorway Portfolio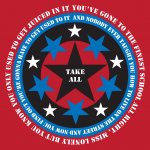 ROBERT INDIANA: Now and Then follows the career of this seminal Pop artist. Featured are over 70 works, including his icons, EAT, LOVE, and HOPE, THE ALPHABET, and his latest series, the extraordinary Like a Rolling Stone, in which he creates dynamic visual works with the lyrics of this Bob Dylan song. The twelve works in this series merge the work of two of the most iconic American pop culture figures of the 1960s, Bob Dylan and Robert Indiana. This series will be exhibited for the first time in the Bates exhibition.  This extensive exhibition presents works showcasing Indiana's unique method of working on paper, canvas, print, and in three dimensions with the same image. One of America's most celebrated living artists associated with Pop Art, Indiana is a long-time resident of Maine.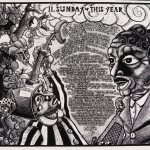 The Book of Only Enoch is a portfolio of 20 woodcut and relief etchings, and selected plates used to create the prints. Through these media, Bolotin tells the story of Only Enoch, a sensitive Jewish boy from Kentucky who is named after an apocryphal book left out of the Hebrew Bible. The earlier Enoch, Noah's great-grandfather, is thought to be the only human able to reach into heaven and spy on the angels. In Bolotin's story, Only Enoch explores an ever-changing dream world in search of spiritual clarity and self-awareness. Through this and his other fantastical amalgamations of Judeo-Christian creation stories and personal mythologies, Bolotin examines and comments on the human condition.