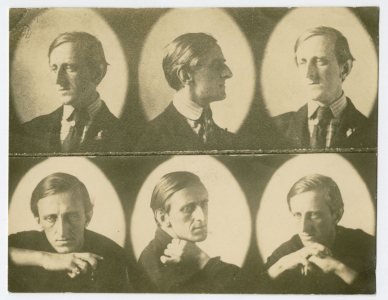 The Painter of Maine:
Photographs of Marsden Hartley
From the Marsden Hartley Memorial Collection
June 12 -October 24, 2015
Marsden Hartley (1877-1943), a native son of Lewiston Maine, is recognized as one of the great American modernists, so it is befitting that one of the Museum of Art's most notable collections is the Marsden Hartley Memorial Collection and Archive. The museum has often exhibited objects from this collection, especially selections from our extensive holdings of Hartley drawings. This exhibition focuses on photographs of rather than art by Hartley.
The Painter of Maine begins with photographs of Hartley as a young man, including images taken during his travels in Europe and the U.S., and ends with informal images in Corea, Maine from the early 1940s at the end of his life. For most of this group, the photographer is unknown. The exhibition also includes a fine and pensive portrait of Hartley taken c. 1940 by Alfredo Valenti (1899-1973), who is best known for photographing Broadway actors and actresses. The other focus of this exhibition is an extraordinary series of images taken shortly before Hartley's death in 1943 by photographer George Platt Lynes (1907-1955). One has become the iconic and frequently reproduced image of Hartley at the end of his life. However, Lynes took over two dozen photographs with Hartley in a number of poses and with a variety of props, most of which are rarely exhibited. These photographs chronicle this portrait session, the last in Hartley's life.
The Marsden Hartley Memorial Collection and Archive includes the last remaining effects from Hartley's Corea, Maine studio and home, given by his heirs to Bates in 1951. Four years later, Hartley's niece, Norma Gene Berger, made an additional gift of the artist's belongings to the college. The collection continues to grow, and, together with select additions, now holds over 100 Hartley drawings, two small early paintings, memorabilia such as souvenirs from his travels, ephemera including letters and exhibition programs, personal effects, and many photographs.
The Hartley collection is an important and invaluable part of the artistic and cultural heritage of the state of Maine, and is an actively studied research field for students and faculty of Bates, and also scholars and artists around the world. One of Lynes' Hartley photographs was a prominent part of the 2011 Smithsonian exhibition HIDE/SEEK: Difference and Desire in American Portraiture, the first major US museum exhibition to focus on sexual difference in the making of modern American portraiture, which was presented at the Brooklyn Museum and Tacoma Art Museum. The archive was used extensively for the 2014 exhibition Marsden Hartley. Die deutchen bilder (The German Paintings) 1913-1915, organized by the Neue Nationalglalerie, Berlin, and which traveled to Los Angeles County Museum of Art, and many collection drawings and photographs were reproduced in the exhibition catalogue. Several artworks from the collection including photographs of and a drawing by Hartley, as well as art he owned by fellow Maine-connected artists, are on view in the Portland Museum of Art exhibition Director's Cut: The Maine Art Museum Trail from May 21 – September 13.
Curated by Dan Mills
All works from the Marsden Hartley Memorial Collection
PRESS:
The Times Record, June 12, 2015
Opening Reception for Contemporary Works