Jay Bolotin: The Book of Only Enoch
June 10 – October 8, 2016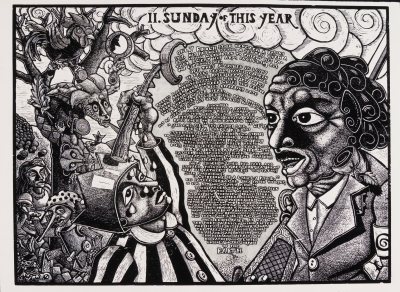 Artist Jay Bolotin (American, born 1949) crosses many disciplines, including visual art, theatre, film, literature, and music, but he is first and foremost a storyteller who interweaves universal and personal mythologies to better understand and to comment on the human condition. Bolotin creates epic stories, realized through major projects that often take him many years to complete, and that require the invention of new techniques and processes. His interdisciplinary approach often results in projects that also take the forms of motion pictures, operas, and concerts/performances. But Bolotin's driving force is the prints, and he is a master of drawing and woodcut.
Bolotin's previous major project, The Jackleg Testament Part I: Jack & Eve (2004-05), centered on a woodcut portfolio of both narrative images and pages of image parts: figures, furniture, pieces of architecture and scenery, all of which he used to illustrate his rewritten account of The Book of Genesis. The Jackleg Testament tells the "little known story" of a Jack-in-the-box that unsuccessfully courted Eve away from Adam. Bolotin digitized the prints—image parts—put them together, and animated them in the world's first feature length woodcut motion picture, for which he wrote the story and music, was director and producer, and performed one of the voices. The film won Best Animation Prize at the 2007 Santa Fe Film Festival.
This exhibition focuses on The Book of Only Enoch, a portfolio of 20 woodcut and relief etchings, and selected plates used to create the prints. Through these media, Bolotin tells the story of Only Enoch, a sensitive Jewish boy from Kentucky who is named after an apocryphal book left out of the Hebrew Bible. The earlier Enoch, Noah's great-grandfather, is thought to be the only human able to reach into heaven and spy on the angels. In Bolotin's story, Only Enoch explores an ever-changing dream world in search of spiritual clarity and self-awareness. Through this and his other fantastical amalgamations of Judeo-Christian creation stories and personal mythologies, Bolotin examines and comments on the human condition.
The large, highly detailed prints of Only Enoch each combine woodcut images and etching text passages. The title page states, "The Book of Only Enoch, The Formerly Lost Manuscript of Benjamin Weil, Havana, Cuba, circa 1955, as Drawn and Cut By Jay Bolotin, 2011-2014". The viewer is encouraged to enter his world with awe, trepidation, and prepared for a journey through an invented world inhabited by people, flora, fauna, and heretofore unknown forms and spaces. And in ways that may remind us of epic story-tellers including William Blake and Lewis Carroll, Bolotin combines words and images to create worlds with their own logic, in order to tell captivating, bizarre and dreamlike stories.
Bolotin was born in rural Fayette County, Kentucky, near Lexington in 1949. He studied art at the Rhode Island School of Design, then as an apprentice with sculptor Robert Lamb. In the early 1970s, he pursued his interest in music, working as a songwriter with Kris Kristofferson, Merle Haggard, and Dan Fogelberg. After working in a variety of media, Bolotin began making prints in the early 1980s at the suggestion of his friend and long-time gallerist, Carl Solway. Delighted with the directness of print media, Bolotin has since made printmaking his primary method of making images. Bolotin has exhibited extensively. He has had solo shows at institutions including the Samek Art Gallery, Bucknell University; Contemporary Art Center, Cincinnati; Joslyn Art Center, Omaha; Museum of Contemporary Art San Diego; Vanderbilt University, Nashville. His work is in numerous collections including Australian National Museum; Cleveland Institute of Art; Museum of Contemporary Art in San Diego; Museum of Modern Art, New York; New York Public Library; and Seattle Art Museum.
This exhibition is organized by the University of Richmond Museums, and curated by Richard Waller, Executive Director, University Museums, in collaboration with the artist.
Drawn and cut by the artist, 2011-2014, each print in the portfolio is a combination of woodcut and relief etching on Arches cover paper. Published in 2015 by Carl Solway Gallery, Cincinnati, Ohio, the portfolio was printed at Clay Street Press, Inc., Cincinnati, Ohio, by Mark Patsfall and Emily Sites (six early prints were proofed by Rachel Herberling).