At Home and Abroad: Works from the Marsden Hartley Memorial Collection
June 9 – October 7, 2017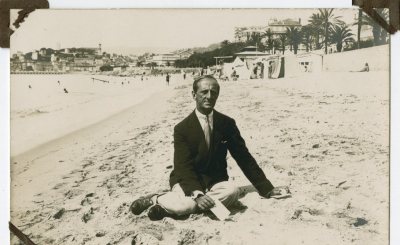 Drawn from the museum's renowned Marsden Hartley Memorial Collection, as well as select loaned works, the exhibition At Home and Abroad explores aspects of Hartley's life and artwork, from his childhood in Lewiston, Maine and some of the influences from his youth, to his time spent in Europe, particularly his visits to Germany and France, between 1912 and 1930. These were important years for Hartley, during which he absorbed the influences of numerous artists, artistic movements and expatriates.
Born in Lewiston, Maine, in 1877, Edmund (Marsden) Hartley is considered to be one of America's most important modernist painters. Although he left Lewiston in his teenage years and lived an itinerant life, Lewiston was integral to the artist's identity, manifesting itself in his travels, art, and writing. Maine remained a touchstone for Hartley, who declared himself "the painter from Maine" shortly before his death in Ellsworth, Maine, in 1943.
In 1951, the heirs of the Marsden Hartley estate left as a gift to Bates College, in compliance with his wish, the last remaining effects from Corea, Maine, where he lived and kept a studio. In 1955, Hartley's niece, Norma Berger, made an additional gift of the artist's work to the College. This gift included ninety-nine drawings from two sketchbooks, considered the largest collection of the artist's work in this medium. The entire collection, over 400 objects, includes early oil sketches by Hartley, works by other artists in Hartley's personal collection, Coptic, Mexican and Asian textiles, a variety of cultural objects such as pre-Columbian pieces, Luristan bronzes and antiquities, photographs, the artist's personal library, and ephemera. The variety of the collection is part of what makes it significant, allowing comparisons among artworks, textiles, objects, and written works and providing opportunities for insight into this important American modernist. The Marsden Hartley Memorial Collection has enormous value to the artistic and cultural heritage of the State of Maine and the collective body of American Art.
At Home and Abroad is the result of first steps in a project supported by the Henry Luce Foundation, which is generously supporting efforts to digitize the Marsden Hartley Memorial Collection and to create a publicly accessible online database of it. This exhibition is also supported by a grant from the Coby Foundation, providing funds for conservation of the fragile textiles that Hartley collected and treasured.