Rona Pondick and Robert Feintuch: Heads, Hands, Feet; Sleeping, Holding, Dreaming, Dying
October 27, 2017 – March 23, 2018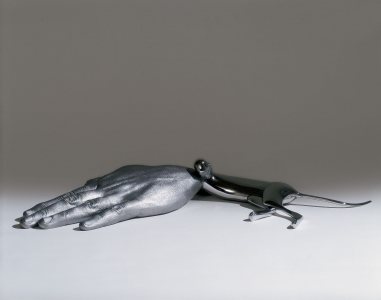 A couple since the mid-1970s, when they met in school, sculptor Rona Pondick and painter Robert Feintuch share interests in making work that uses the body to pursue psychologically suggestive meanings. Each uses their self, though neither makes traditional self-portraits. This remarkable exhibition, the first to present a substantial body of each of their work together, includes nine sculptures and a series of prints by Pondick and twelve paintings by Feintuch. After premiering at Bates, the exhibition will travel to several U.S. museums.
Both believe that the body speaks. Their work embraces gesture, posture, naturalism, and expressive distortion as "elements in a visual language for subjective experience." In their search for psychological meaning the artists found that a broad history of art became useful and that historical references could speak to contemporary experience. Pondick's animal/human hybrid sculptures have a long lineage across many cultures, and many of Feintuch's paintings play with historical mythological and religious imagery.
Interested in how the physical makes psychological impact, Pondick has a history of using a mix of both cutting edge and age-old technologies, including 3-D scanning and computer building, hand modeling and traditional metal casting to make her work. Feintuch's process of preparing for a painting has often combined hand drawing from life with drawing using photographic material on a computer.
Influences have moved back and forth between the artists, and both have paid close attention to heads, hands and feet in their separate searches for embodied metaphoric meanings based in lived experience. Feintuch paintings have been described as combining myth and cartoons to make images that are "tragicomic," "tender," and "subversively ironic," and Pondick's sculptures have been described as "a dreamlike melding of human, beast, and steel," "visceral metaphors" that are "excruciatingly unique," "provocative and psychologically charged."
About her work, Pondick stated, "It started when I combined my head and arms with the body of a dog and then with the bodies of a cougar and fox. These pieces immediately made me think of mythology, science, and an image of a mouse I recently saw in the newspaper. This mouse had an ear growing out of its back. I had two immediate thoughts: that the image looked just like my work and that the mouse photograph was of something real. This was produced in an actual scientific experiment. How interesting, exciting and terrifying. Biological experiments raise so many important philosophical questions. Cloning, for example redefines questions of self. These experiments provoke lots of fears and desires."
In describing his images, Feintuch states "I've worked with images of Hercules for a few years. I think he was seen as a symbol of protection by the powerful. I made him fat, propped up with a crutch, with a limp club in his hand."
"I turned sixty and I was feeling a little beat up. In cartoons from my childhood, when a character got punched, their legs went up over their heads and they ended up in the clouds. There was a sort of endless cycle of characters flattening each other, only to spring back to life, to be resurrected. A lot of that sort of vaudeville stuff seems very life-like to me."
"It was probably not a coincidence that, around that same time, paintings of the Assumption of the Virgin or the Ascension of Jesus began to really interest me. What a beautiful fantasy, to be enveloped in clouds, somewhere above it all. The heroic, aspirational part of it seemed really wonderful and really ridiculous. So I thought I would anoint myself."
Rona Pondick has exhibited extensively throughout the U.S. and abroad, including solo exhibitions at DeCordova Museum and Sculpture Park, Lincoln, Mass.; Galerie Thaddaeus Ropac, Paris; Groninger Museum ,Netherlands; Museum of Contemporary Art, Cleveland; Sonnabend Gallery, New York; Stiftung Mozarteum, Salzburg; and Worcester Art Museum, Mass., among many others. Her work has been included in numerous group exhibitions at institutions including Los Angeles County Museum of Art, Philadelphia Museum of Art, Whitney Museum of American Art, and in the Venice Biennial.
Robert Feintuch has also exhibited extensively. He has had solo exhibitions at Akira Ikeda Gallery, Berlin; CRG Gallery, New York; Miller Yezerski Gallery, Berlin; CRG Gallery, New York; Miller Yezerski Gallery, Boston; Sonnabend Gallery, New York; and many others. His work has been included in numerous group exhibitions at institutions including Addison Gallery of American Art, Andover, Mass.; Ca' Pesaro International Gallery of Modern Art, Venice; Peggy Guggenheim Museum, Venice; National Academy Museum, New York; and Portland Museum of Art, Maine. He is Senior Lecturer in the Department of Art and Visual Culture at Bates.
There is a fully illustrated catalogue with 96 pages and 48 color reproductions, with essay by Terry R. Myers and interview with the artists conducted by Phong Bui. Funded in part by the Bates Faculty Development Fund. For more on the artists:  http://www.ronapondick.com, http://www.robertfeintuch.com