Celebrating Peoples History: Iraq Veterans Against the War – Ten Years of Fighting for Peace and Justice
April 6 – May 26, 2018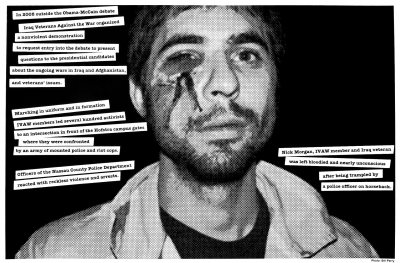 This exhibition of posters and related materials showcases the portfolio Celebrating People's History: Iraq Veterans Against the War – Ten Years of Fighting for Peace and Justice. Iraq Veterans Against the War (IVAW) was founded in July 2004 at the Veterans for Peace Conference in Boston. The group was started by veterans, Michael Hoffman (Marines), Kelly Dougherty (National Guard/Military Police), Alex Ryabov (Marines), Isaiah Pallos (Marines), Diana Morrison (National Guard/Army), Tim Goodrich (Combat Support), and Jimmy Massey (Marines).
Iraq Veterans Against the War is an advocacy group of military veterans and active-duty personnel, Iraq War veterans, and Afghanistan War veterans from all branches of the military who have served since the September 11, 2001 attacks and who were opposed to the U.S. military invasion and occupation in Iraq from 2003-2011. IVAW advocated withdrawal of all coalition forces from Iraq, reparations and rebuilding for the Iraqi people, and better healthcare and mental health services for returning servicemen and women. With 61 chapters in all fifty states, including active duty bases in the U.S. and Germany, the group aims to provide a voice to service men and women, allowing them to share their experiences fighting in Iraq and Afghanistan. IVAW have also participated in events such as a nationwide Truth in Recruiting campaign and protesting the military's Stop-Loss Policies.
The portfolio features contributions from IVAW members, Justseeds Artists' Cooperative members, along with allied veterans, artists and writers. It highlights key ideas, moments, projects, tactics, and individuals from IVAW history in order to support IVAW's ongoing efforts to inspire others to take action, and preserve the movement's history for future generations. Published in 2014, Celebrate People's History: Iraq Veterans Against the War – Ten Years of Fighting for Justice and Peace was created to document and celebrate successful moments in the ten year history of IVAW. The portfolio was published by the Booklyn Artist Alliance in collaboration with IVAW, JustSeeds Artist's Cooperative, Civilian Soldier Alliance, and Repetitive Press.
Curatorial assistance for this exhibition by Sophie Jensen '19
Portfolio Organizers
Kevin Basl of Iraq Veterans Against the War, Aaron Hughes of Iraq Veterans Against the War & Justseeds, Josh MacPhee of Justseeds, Siri Margerin of Civilian-Soldier Alliance, Jesse Purcell of Justseeds & Repetitive Press, and Marshall Weber of Booklyn Artist's Alliance.
Contributing Writers
Jan Barry, Kevin Basl, Donna Bassin, Chantelle Bateman, Clare Bayard, Phyllis Bennis, Amadee Braxton, Lovella Calica, Terry Davis, Bernardine Dohrn, Kelly Dougherty, Stephen Duncombe, Lynn Estomin, Shawna Foster, Amy Goodman, Aaron Hughes, Antonia Juhasz, Kathy Kelly, Nicolas Lampert, Sarah Lazare, Nan Levinson, Lisa Ling Josh MacPhee, Maggie Martin, Logan Mehl­Laituri, Ramon Mejia, Geoff Millard, Demond Mullins, Walt Nygard, Jovanni Reyes, Suraia Sahar, Jonathan Smucker, Vietnam Veterans Against the War, Jose Vasquez, & Ann Wright
Associated Artists
Aaron Hughes, Colin Matthes, Erik Ruin, Jesse Purcell, Josh MacPhee, Kevin Caplicki, Mary Tremonte, Melanie Cervantes, Nicolas Lampert, Paul Kielland, Pete Railand, Roger Peet, and Sanya Hyland
Other Artists
Jesse Albrecht, Kevin Basl, Tamar Beja, Christopher Cardinale, John Carr, Tings Chak, Ian Cozzens, Joseph DeLappe, Sarah Farahat, Shawn Ganther, Edger Gonzalez­Baeza, Jerome Grand, Ryan Griffis, Ryan Hayes, Katie Hargrave, Ryan Holleran, Lily Hughes, Ash Kyrie, Steve Lambert, Nathan Lewis, Laurie Macfee, Siri Margerin, Chris May, Malachi Muncy, Becky Nasadowski, Zeke Penya, Mark Pinto, Jon Orlando, G. Scott Raffield, Michael Rakowitz, Red76, Sarah Ross, Heath Schultz, Suellen Semekoski, David Solnit, Jeremy Stainthorp Berggren, Ehren Tool, Jon Turner, Joyce Wagner, Eleanor Warner, Julia Warner, Marshall Weber, & Eli Wright