Kate Gilmore: In Your Way
June 9 – October 7, 2017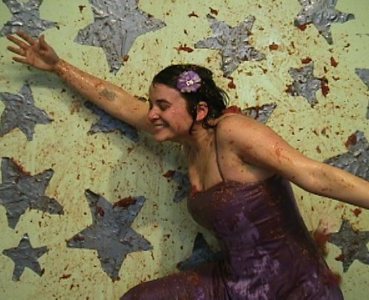 KATE GILMORE: IN YOUR WAY
Kate Gilmore '97 is an artist who synthesizes multiple mediums including performance, video, sculpture, and painting. Kate Gilmore: In Your Way features ten works—nine performance-based videos and one live performance/sculptural installation that invites audience participation and that was commissioned by the Museum. Gilmore's videos focus on herself or several women, wearing stereotypical feminine clothing and footwear while persistently performing difficult, labor-intensive tasks within self-constructed spaces.
According to exhibition catalogue contributor Amy Smith-Stewart, "The videos, performances, and sculptures of Kate Gilmore forge relational encounters that rearrange our thinking about structures of power. Gilmore's protagonists, exclusively female, and within the videos, almost always herself, attack the ways in which we perceive gendered notions of strength, authority and control in our social arena."
In her videos, Gilmore critiques and also inserts herself into male dominated movements such as Abstract Expressionism and Minimalism, exploring feminist themes and modern and contemporary art tropes, all the while exhibiting relentless determination. The spilling and splattering from her work are an ode to Abstract Expressionism or 1950s stripe paintings. Her works are mischievous and political, as well as humorous and critical of the heroic language and absence of women in these artistic movements. The physical situations and actions Gilmore creates for herself and her performers are metaphors for challenges women face culturally and socially.
Some of the noted videos in this exhibition include Gilmore's performance My Love is an Anchor, 2004, in which the artist is urgently attempting to remove her foot from a bucket of hardening plaster with a hammer, Standing Here, 2010 (Whitney Museum of American Art), which features Gilmore in a red and white polka dot dress, black gloves, and black heels, punching and kicking her way through a sheetrock and plywood enclosure, and Sudden as a Massacre, 2013 (Portland Museum of Art, Portland, Oregon), featuring five female performers wearing matching floral print sundresses who, using only their hands, tear apart a huge cube of wet clay, and hurl it by the fistful at the surrounding yellow wall and floor.
The performance/sculpture commissioned by the museum for this exhibition consists of five red and pink enamel painted metal cubes, set atop gray carpets. Between one and two p.m. each day, audience members are invited to whack the cubes with a sledge hammer, transforming the minimal forms into expressive sculptures during the course of the exhibition.
Kate Gilmore was born in Washington D.C. in 1975 and lives and works in New York, NY. Gilmore received her MFA from the School of Visual Arts, New York, NY (2002) and her Bachelors degree from Bates College, Lewiston, ME (1997). She has participated in the 2010 Whitney Biennial, Whitney Museum of American Art, New York, NY; The Moscow Biennial, Moscow, Russia (2011); PS1 Greater New York, MoMA/PS1, New York, NY (2005 and 2010); in addition to solo exhibitions at The Everson Museum, Syracuse, NY; The Aldrich Contemporary Art Museum, Ridgefield, CT (2014); MoCA Cleveland, Cleveland, OH (2013); Public Art Fund, Bryant Park, New York, NY (2010); Institute of Contemporary Art, Philadelphia, PA (2008); and Contemporary Art Center, Cincinnati, OH (2006).  She has been the recipient of several international awards and honors such as the Art Prize/ Art Juried Award, Grand Rapids, MI (2015); Rauschenberg Residency Award, Rauschenberg Foundation, Captiva, FL (2014); Rome Prize from the American Academy in Rome (2007/2008); The Louis Comfort Tiffany Foundation Award, New York, NY (2009/2010); Art Matters Grant, New York, NY (2012); Lower Manhattan Cultural Council Award for Artistic Excellence, New York, NY (2010); the Franklin Furnace Fund for Performance, New York, NY (2006); "In the Public Realm", Public Art Fund, New York, NY (2010); The LMCC Workspace Residency, New York, NY (2005); New York Foundation for The Arts Fellowship, New York, NY (2012 and 2005); and the Marie Walsh Sharpe Space Residency, Brooklyn, NY (2010). Her work is in the collection of the Museum of Modern Art, New York; Brooklyn Museum, Brooklyn, New York; Whitney Museum of American Art, New York, NY; Museum of Fine Arts, Boston, MA; San Francisco Museum of Modern Art, CA; Rose Art Museum, Waltham, MA; Indianapolis Museum of Art, IN; and Museum of Contemporary Art, Chicago, IL.  Gilmore is an Associate Professor of Art and Design at Purchase College, SUNY, Purchase, NY.
The exhibition catalogue, which will include documentation of the live performance, will be available later in the summer. Until then, the catalogue essay is available at the front desk. Many thanks to Amy Smith-Stewart for the informative essay. Thank you to Kate, who has been a pleasure to work with throughout the process of preparing for this captivating exhibition.
Dan Mills, Director