Flourishing Folk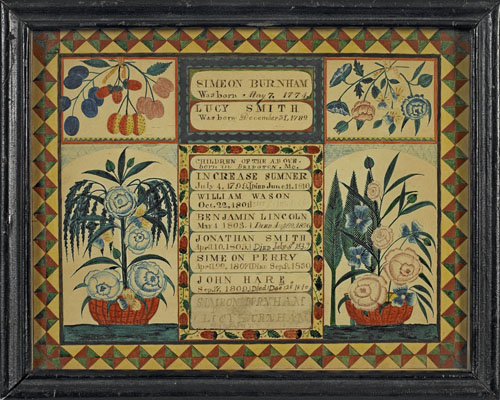 Flourishing Folk: New England Decorated Works on Paper and Document Boxes from the Deborah N. Isaacson Trust
June 7 – December 14, 2008
Maine is the repository of numerous outstanding pieces of traditional American folk art. Many have never before been seen by the public. These objects either have significance to the heritage of thestate and/or are among the finest examples of New England folk art in the country.
Traditional American folk art celebrates the work of ordinary people who, with little or no academic training, have produced things of extraordinary beauty and charm. The term folk art embraces useful objects, hand crafted and embellished with aesthetic intention, such as pottery, quilts and weathervanes. It also includes decorative objects, made to adorn or commemorate, such as portraits, models, carvings and needlework.
The Maine Folk Art Trail 2008 will have broad appeal. A catalogue, published by Down East Books, containing over 100 images of some of the best examples from ten of the museums will be available by mid-May.
Participating museums include:
Bates College Museum of Art, Lewiston
Colby College Museum of Art, Waterville
Farnsworth Art Museum, Rockland
Saco Museum, Saco
Sabbathday Lake Shaker Museum, New Gloucester
Maine Maritime Museum, Bath
Rufus Porter Museum, Bridgton
Museums of Old York, York
Penobscot Marine Museum, Searsport
Maine Historical Society, Portland
Maine State Museum, Augusta
For further information on participating museums and exhibitions please go to: www.MaineFolkArtTrail.org.