Wild­ness within Wild­ness without
Exploring Maine's Thoreau-Wabanaki Trail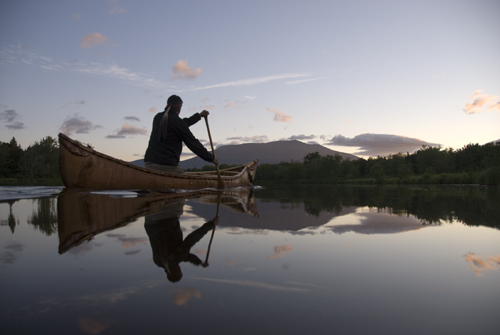 January 18 – March 4, 2008
The exhibition is part of the Thoreau-Wabanaki Trail celebration in 2007. Henry David Thoreau made trips to Maine in 1846, 1853 and 1857, each of which followed ancient Wabanaki canoe routes through vast, primitive wilderness. He climbed high on "Ktaadn" in 1846, visited Chesuncook Lake with Penobscot guide Joe Attean in 1853, and reached distant Eagle Lake in the Allagash with Penobcot guide Joe Polis in 1857 before returning to Indian Island via the East Branch of the Penobscot River.
In The Maine Woods he wrote of Katahdin, "I looked with awe at the ground I trod on…This was the Earth of which we have heard, made out of Chaos and Old Night. Here was no man's garden, but the unhandseled globe." Far more ambitious than his rambles around Massachusetts, Thoreau's experiences in Maine "left such an impression of stern, yet gentle, wildness on [his] memory as will not soon be effaced."
"Wabanaki" translates as "people of the dawn land" and refers collectively to the Penobscot, Passamaquoddy, Micmac, Maliseet and Abenaki Tribes. For thousands of years, the Wabanaki people traveled extensively by canoe throughout what is now northern Maine. Travel was made possible using the overland portages connecting the numerous watersheds in this vast wilderness. These ancient canoe routes would later be used by explorers, lumbermen, and recreational canoeists. Changes to the land and rivers caused the Indigenous People to adapt to a different lifestyle, reducing their dependence on canoe travel. Even in the midst of great change and adaptation, the Wabanaki spiritual connection to the land and their canoeing culture still exist today.
Maine Woods Forever was founded in 2004 by Roxanne Quimby, Will Lapage, and Mimi McConnell because of their concern for the growing level of threats to the integrity and accessibility of the Maine Woods. Their first on-the-ground initiative is the Thoreau-Wabanaki Trail, involving many people and groups interested in the historic, cultural and spiritual aspects of Henry David Thoreau's Maine journeys, guided and influenced by the Penobscot Indians. In the spring of 2005 Maine Woods Forever commissioned photographer Bridget Besaw to create a series of photographs depicting the Thoreau-Wabanaki Trail and organize an exhibition.
Artist Bio: Photographer Bridget Besaw's current focus is on creating imagery for use as an advocacy tool for environmental protection. This desire has led to large-scale projects for organizations such as Maine Woods Forever, The Nature Conservancy, Maine Farmland Trust, The Sheepscot Valley Conservation Association, NOAA, and National Fish and Wildlife Foundation.