Maine Moderns: Drawings by Marsden Hartley and Carl Sprinchorn
June 8 – October 6, 2018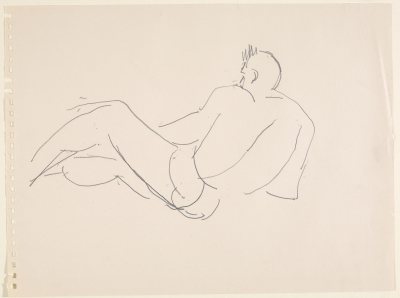 Drawn from the museum's Marsden Hartley Memorial Collection and a recent major gift of works by Carl Sprinchorn, Maine Moderns brings together figural drawings by artists who were longtime friends. Marsden Hartley (1877-1943) was born in Lewiston, Maine and is recognized as an innovative and important figure in American Modernist painting. He is best known as one of the members of the Alfred Stieglitz circle and the gallery known as 291, in New York City. The Hartley drawings included in the exhibition are from a series of later figural works, circa 1940, and are all from the same sketchbook.
Carl Sprinchorn (1887-1971) was a Swedish/American artist who immigrated to New York when he was just sixteen years old. At different times, both Sprinchorn and Hartley studied at William Merritt Chase's New York School of Art. Sprinchorn was also a longtime student of Robert Henri, a leading figure in the Ashcan School of American Realism. Hartley met Sprinchorn in New York, in 1916, when Hartley happened to visit Sprinchorn's first New York exhibition.
The Sprinchorn drawings in the show include works that were in Hartley's personal collection as well as several from a recent gift that were among those in Sprinchorn's first New York show, where he met Hartley. These particular works are a sampling of recent major gift to the museum of drawings and paintings by Sprinchorn, which includes an extensive archive about the artist.