Osucha, Eden K.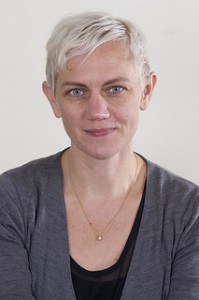 Eden Osucha is an Associate Professor of English and member of the American Cultural Studies and African American Studies Programs at Bates College.  Her research and teaching focus on U.S. literature and culture, from the late-nineteenth century through the present, and critical approaches to the intersecting histories of U.S. citizenship, sexuality, and racial formation. She is currently completing a book manuscript, The Post-Racial Past: Race, Privacy and Identity Before the Obama Era, which examines historical productions of post-racial discourse in U.S. law, literature, and media. The Post-Racial Past argues that  contemporary discourses of the "post-racial" originate deep within the very past whose transcendence the term would seem to herald: in the legal history of "privacy."  The book examines how, over the course of this history, the "right to privacy" evolved in relation to emerging technologies of publicity and surveillance and dramatic revisions to the traditional public/private distinction, and how these meanings shaped—and were in turn shaped by—contemporaneous discourses of race.  An essay based on the book's analysis of interrelations of privacy and racial whiteness in nineteenth-century visual culture and law appears in a special issue of the journal Camera Obscura on "Race and/as Technology."  Forthcoming publications include an essay examining the contradictory deployments of blackface and passing performances on the FOX reality TV mini-series Black.White.
At Bates, Professor Osucha teaches introductory and advanced courses in U.S. literature and culture, critical theorizations of gender, sexuality, and race, and creative writing.  Her courses  cover a wide range of materials and topics–from the Gothic novel of the late eighteenth century to early twentieth-century "realist" fictions, from 1960s gay and lesbian pulp fiction to the graphic novel and electronic literature, and from queer and feminist theories to legal studies and U.S. case law. Recently taught courses include "Nineteenth-Century American Literature," "U.S. Fiction," "Poetry Writing" (a workshop), and advanced seminars (cross-listed with American Cultural Studies) on "Privacy, Intimacy, and Identity: American Selfhood from the Puritan 'Soul' to Facebook" and "Frontier and Border in U.S. Literature and Culture: Chicana/o and Native American Literatures and Cultural Theory."
Professor Osucha is the recent recipient of several prestigious teaching and research awards, including the Mrs. Giles Whiting Fellowship for Teaching Excellence, Ford Foundation Dissertation Fellowship, and Postdoctoral Fellowship from the Pembroke Center for Teaching and Research on Women at Brown University.
Professor Osucha is also co-curator of the English Department's "Language Arts Live" reading series, which brings poets, fiction writers, and authors of creative non-fiction to the Bates community and into English classrooms.  Guests whose visits Professor Osucha has personally arranged include: novelists James Hannaham, Emily Barton, Courtney Eldridge, Samantha Hunt, Magdalena Zurawski, Paul LaFarge, and MacArthur Fellows Colson Whitehead and Dinaw Mengestu; the poets Brian Kim Stefans, Aracelis Girmay, Christopher Vitiello, C.A. Conrad, Gabriel Gudding, and Dorothea Lasky; and nonfiction writers Ander Monson and Sarah Manguso.