---
Joel M. Babb: Color Theory in Painting Practice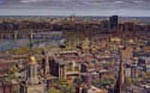 Thursday, February, 25, 2010 at 7:00 p.m. in Olin 104
Joel M. Babb, who's work is featured in the current exhibition The Process Revealed, will discuss his approach to utilizing color based on years of research and practice.
Babb graduated in Art History from Princeton in 1969, studied with George Segal and George Ortman and spent a year in Munich and Rome before going to Boston to get an MFA from the Museum School and Tufts. There his style changed from abstraction to a contemporary realism. He has exhibited with Vose Galleries and Gallery Naga in Boston, Sherry French, Gerold Wunderlich, The National Academy in New York City, Center for Maine Contemporary Art, Portland Museum of Art, the Ogunquit Museum in Maine, Arnot Art Museum, Frost Gully Gallery, Trudy Labell Fine Arts in Florida, and was the subject of a major exhibition at the Bates College Museum of Art (link to http://store.batesbookstore.com/inwimalabyjo.html)
---
Contact Us
Hours
Monday – Saturday, 10 a.m.-5 p.m.
Wednesday evenings until 7 p.m. during the academic year
Closed between exhibitions, see exhibition page for dates.