Student Employment
Interested in working in DCCE?
Working in Dining Conferences & Campus Events offers rewarding, real work experience for your resume. Work schedules are compatible with your class schedule and we offer flexible hours! No previous experience required.
Not sure where to start?
Are you new to campus or have you recently made the decision to find an on-campus job? Don't know where to start? Please see Welcome, New Bates Students.
*REMINDER: To work on campus, you must have received your Bates Work Authorization* 
If you have not received your BWA please click

here

to get started.

If you have your BWA, apply to open positions

here

. 
Have questions? Contact the Student Employment Office at seo@bates.edu
Questions for DCCE or a current position? Email dccestump@groups.bates.edu
Position Descriptions
DCCE offers many different types of positions. From a cashier in Commons, to a grill cook at the Bobcat Den, DCCE has it all! To find an open and available position, log into your account on Handshake. 
Not familiar with Handshake? Here are some Handshake Tips & Tricks!
Frequently Asked Questions of Students Working in DCCE
What do I do if I am running late, sick or have an emergency?
When you are sick (other than last minute absences due to illness or emergencies) we expect at least a 2-hour notice before the start time of your shift. Never leave a voicemail, text or email as these may not be received prior to your shift.
It is imperative that you call us at 207-786-6301 ext. 1.
Ask to speak with a supervisor or manager, give them your name, the shift you cannot work and why you cannot work.
You must speak with an actual person when calling out.
What do I do if I cannot work one of my scheduled shifts?
It is your responsibility to try and find a replacement for your shift.
Email your fellow student co-workers at commonscats@groups.bates.edu to find coverage for your shift. 
This must be completed as soon as you are aware of a conflict, with no less than 48 hours notice.
How do I get paid?
Fill in the Sign In/Out Sheet at the Beginning and End of Every Shift.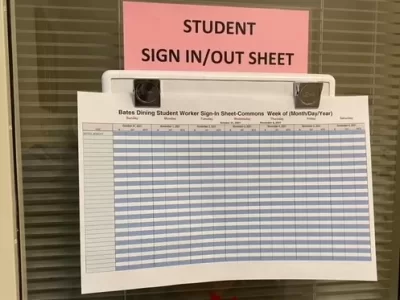 Enter Your Time Worked Into Your Timesheet on The Garnet Gateway
*Note: Time Must Be Recorded In Quarter Hour Increments (ie: .25 / .5 / .75)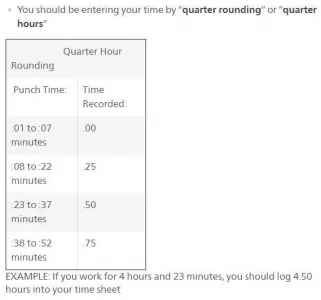 What should I wear to work?
You will need to wear a hat or hair net. 
Closed toe/closed heel shoes are required (no sandals, flip flops or clogs).
Pants (no holes, no shorts) and shirts with sleeves (no holes and no derogatory sayings or pictures allowed). 
*Note: If you are not properly dressed when you arrive to work, you will be sent back to your room to change.
Can I eat or drink while I'm working?
Eating is prohibited at all workstations. You may arrive early to eat before your shift, or you may eat on your break if your shift includes one.
While working, you are allowed to have a closed lid beverage container.
Can I use my cell phone or headphones while working?
Use of cell phones and/or technology during your shift is prohibited.