News from the Harward Center for Community Partnerships – Winter 2018
In This Issue
---
Dear Friends,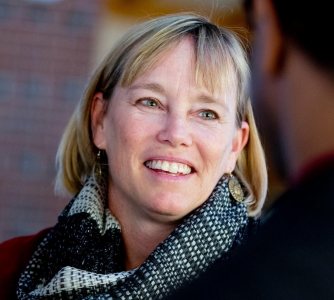 It has been crazy-cold in Maine lately, but this newsletter should warm the heart. It includes a story about an Anthropology class's research into a potential Somali-Bantu farm-to-table restaurant in Lewiston; a story about the incorporation of community-engaged learning projects in several First Year Seminars; an overview of a new public policy series launched by the Harward Center; an update on voter registration and other election engagement activities at Bates; and an overview of the extensive college aspirations programming with local youth that took place on campus last semester. These are only a modest handful of the stories that could be told about the publicly-engaged liberal arts at Bates, including dozens of other impressive community-engaged learning, research, and leadership projects undertaken during the fall semester.
The Harward Center contributes in vitally important ways to the Bates mission. We are proud to share this small sample of our work with you, and as always, we are grateful to all the students, faculty, staff, off-campus partners, and generous donors who make this work possible. Have a question or suggestion, or want to support our work? Give us a holler — we'd love to hear from you!
In community,
Darby
Darby Ray
Harward Center Director
Donald W. and Ann M. Harward Professor of Civic Engagement
---
Theory to Action, Farm to Table: A Community Engaged Anthropology Course
Professor Elizabeth Eames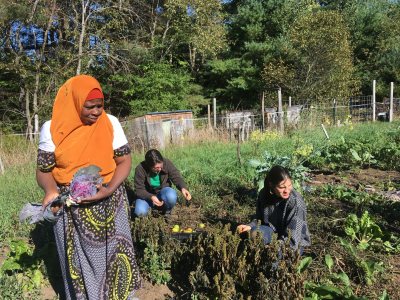 Every autumn I include some sort of community-engaged research project in ANTH339 Production and Reproduction: Economic Anthropology, the anthropology department's required junior/senior seminar (and an economics elective).  Over the decades, students have embarked upon many distinct ventures, touching upon such themes as workforce development or financial literacy or Islamic banking.  Past partners include the chamber of commerce, the middle school, a local bank, as well as several ethnically-based non-profits.  Typically, I generate my own projects.
Last summer, though, the Harward Center's Sam Boss proposed that we partner with an existing cooperative of Somali Bantu farmers known as The Sustainable Livelihoods Relief Organization (a.k.a. The Isuken Co-op).  He knew they were initiating the creation of a farm-to-table restaurant and market in downtown Lewiston and that they had already enlisted the assistance of Jonah Fertig-Burd, Director of Cooperative Food Systems at The Cooperative Development Institute (CDI).  Could we help them in this effort?  I jumped at the chance!
I knew this project would resonate with a multitude of course themes, such as reciprocity, redistribution, maximization, resource allocation, labor mobilization, social networks, general purpose currency, and social enterprise, just to name a few.  Moreover, I was confident that the insights of such thinkers as Marcel Mauss, Bronislaw Malinowski, Karl Polanyi, and Karl Marx, again to name just a few, would become substantially more legible to learners through this community work.
In full consultation across constituencies, we devised a plan.  Each group of students would delve into one of four topics identified by the members of Isuken:  Location; Farm-to-Table Best Practices; Ethnic Restaurant Comparisons; or Promotions.  On the evening of November 28th we would convene at St. Mary's Nutrition Center for a celebratory presentation of our results. By all accounts, it went very well.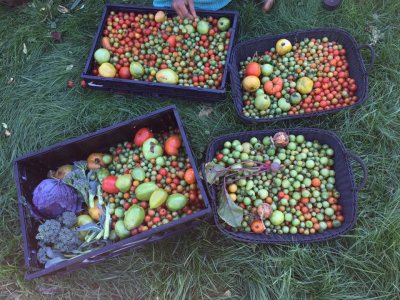 Reflecting on the collaboration, Jonah Fertig-Burd of CDI commented: "Through working with Dr. Eames' class at Bates, Isuken Co-op and the students learned about restaurants, cooperatives, and each other's cultures.  The work that the students did will be very helpful for Isuken and the Cooperative Development Institute as we continue to grow the co-op and Lewiston's (and the Nation's) first Somali Bantu farm-to-table restaurant."
In their final papers, every student responded positively to their being asked to work for, and under the direction of, members of the local community. They appreciated not studying people, as is so often the case in ethnographic fieldwork projects, but rather working in a non-exploitative way with a group to build something totally new—as one junior put it, "reframing how anthropology can be useful in the real world."  Another student noted: "Our final dinner presentation was one of the coolest community events I went to during my entire time at Bates. It…came together better than we could have hoped." Still another student reported, "the close connection between the class material and our community work made this class feel particularly important…and…was one of my favorite parts about it."  Finally, a junior expressed gratitude to the project's community partners: "Thank you to the members of SLRO for feeding us, teaching us, and letting us be a part of your team.  Getting to know each of you made my semester better, and going forward I will continue to be astounded by your dedication, creativity, and generosity."
Well, I, too, am continually astounded by my students' dedication, creativity, and generosity.  I look forward to next year's cohort working with SLRO to see the Isuken Co-op Restaurant and Market through to fruition.
Here is a link to the full written report: https://www.bates.edu/anthropology/files/2010/07/AN339-CEL-Presentation-at-Nutrition-Center-on-November-28-2017.pdf
And here is a link to the students' short promotional video:  https://vimeo.com/244762789.
---
Diving Right In: Community-Engagement in the First Year Seminar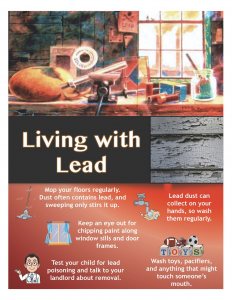 This past fall, ninety Bates students in six different First Year Seminars learned about their new home of Lewiston, Maine through community-engaged learning (CEL) assignments. Two of these courses were taught by Education professors. In a course called Exploring Education through Narratives, students gained glimpses into the local education system through fieldwork at an after-school homework help and enrichment program, Tree Street Youth, and a school-based elementary reading program, Montello Book Buddies. Bronwyn Sale, the course professor, reflected on the course and the inclusion of community-engaged learning in a First Year Seminar: "These placements provided students with opportunities to contribute both to their own and to others' emerging narratives of education. Through mentoring, reading, and interactions with students and teachers, course concepts moved from theory to practice and were made "real" through CEL experiences. Including CEL in a First Year Seminar, in particular, supports students in learning the how and why of CEL early in their Bates education." In the other education-related FYS, Environment and Social Justice, students worked closely with the Police Activities League (PAL) Center of Auburn and the Auburn Public Library's teen program to develop educational materials about the hazards of lead poisoning and simple steps that renters can take to make their homes safer for children.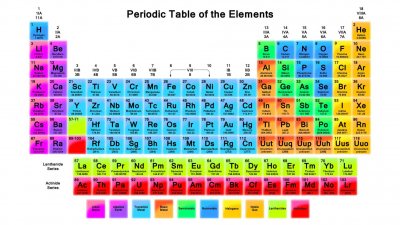 In the natural sciences, two First Year Seminars were community-engaged. In Communicating Science to the Public, taught by Biology professor Andrew Mountcastle, students first consulted with students and teachers at Lewiston Middle School to identify science topics of interest or importance to them, and then developed engaging presentations on those topics for presentation later in the semester. Presentation topics included the Periodic Table (Who knew there was such a compelling logic behind its organization?); the question of how trees travel (Did you know trees can actually move from one spot to another?); and the differences between aerobic and anaerobic exercise. In First Year Seminar taught by Physics and Astronomy professor Aleks Diamond-Stanic, Race, Gender, and Identity in STEM, students visited a science classroom at nearby STAR Academy, an alternative 9th grade program, to share what they had learned about the importance of a growth mindset for academic success.
In an extra-disciplinary course, Reconsidering the American Dream, instructor Ellen Alcorn's students considered questions of success, justice, and freedom in a variety of community contexts, including a community-based ethnic organization serving African refugee adults and a low-income elementary school. Finally, students in a First Year Seminar taught by Psychology professor Georgia Nigro, entitled Strangers in the House, worked at the Social Learning Center, a day center for adults with disabilities. Students provided enrichment activities for the adults, such as painting, karaoke, and drumming. "The community-engaged experience was meaningful for students on many levels," reflected professor Nigro. "It forced us to think about disabilities beyond childhood. It introduced students to the community, and importantly, to a very isolated group within the community that welcomed them."
Among the student feedback on their First Year Seminar community engagement experiences was this endorsement articulated in a final paper: "Volunteering at these organizations has enhanced my education. There is a richness in going outside of my 'lifestyle enclave' that I wish more people experienced… I have learned about different cultures, which has made me better understand my own culture… I am very grateful for what I have gotten out of the community-engaged learning part of this course."
---
Public Policy Comes Alive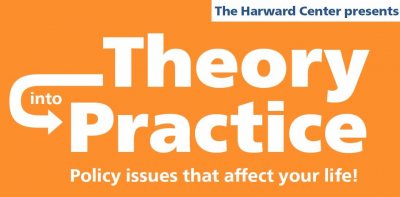 The Harward Center initiated a new public policy series this past fall entitled, "Theory into Practice." The purpose of the series is to provide students with the opportunity to learn more about some of the important policy debates taking place in the U.S. Congress, the Maine State House, and in the City of Lewiston, and to learn more about how all of us can have a voice in these debates. The program is designed to help students more fully understand how the theories they study in class translate into policies and laws, how these policies and laws affect people's everyday lives, and how we can most effectively advocate for laws that are important to us. Our intention with the series is to inform, stimulate ethical reflection, and motivate people to act.
The first panel focused on poverty and featured presenters from Maine Equal Justice Partners. The second in the series brought Hilary Schneider '96, Maine Government Relations Director for the American Cancer Society Cancer Action Network, Inc., and Erin Guay, Executive Director of Healthy Androscoggin, to campus to speak about public health policies.  The final program focused on environmental issues and featured presentations by Beth Ahearn, Political Director of Maine Conservation Voters, and Kristin Jackson, Federal Outreach Coordinator for the Natural Resources Council of Maine. In each instance, presenters not only shared information about specific policy debates and initiatives but also presented opportunities for students to engage in a policy-related action such as writing a letter to an elected official or signing a petition. Students seemed to appreciate the chance to learn and act.
---
Rockin' the Vote, Bobcat Style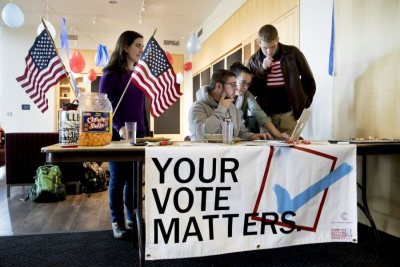 Recognizing that all elections are important, the Harward Center partnered with others on campus this fall to encourage students to exercise the most basic form of civic engagement by voting in the 2017 local elections.
An energized, bipartisan voter registration drive started during First Year Orientation in early September and continued throughout the fall. Through the Harward Center website, nonpartisan information was made available about the candidates, state bond referenda, and the ballot question regarding the potential merger of the cities of Lewiston and Auburn.
There was also a spirited Get Out the Vote effort as election day approached. Students fully engaged social media, chalked sidewalks with reminders to vote, put up signs directing students to the local polling place, organized teams to escort first-time voters to the polls, and stormed the Bates library on election eve to remind students to vote.
Because none of the mayoral candidates received a majority of the votes in the November 7th election, a run-off was required by the Lewiston City Charter, and thus election season continued into December. The Harward Center remains committed to helping the college live up to its mission of cultivating "informed civic action" and to ensuring a thriving democracy through student participation in the electoral process.
---
K-12 Invasion!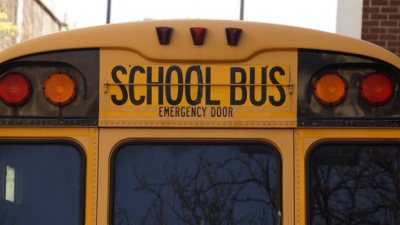 During September, October, and November, over 1,200 students from Lewiston Middle School, Auburn Middle School, and four Lewiston elementary schools came to the Bates campus for college aspirations field trips. Students participated in a variety of programs with the goal of building teamwork skills, connections, and excitement about college.
Each of the six Lewiston Middle School teams visited campus on separate dates for a full morning of activities. The Blue, Red, and Orange Teams were the first to arrive, visiting campus the last week in September, while the Purple, Green, and Pink teams visited during early November. While on campus, the LMS students participated in team-building activities in their homeroom groups and small groups, scavenger hunts around campus, and goal-setting activities (especially relevant at the beginning of the school year).
Auburn Middle School's Tumbledown, Sugarloaf, and Katahdin 8th grade teams also visited campus in early November. AMS students took a campus tour, visited the Olin Art Museum, completed an art activity inspired by the current museum exhibit, enjoyed lunch in Commons, and participated in a college Question & Answer session with Bates student volunteers.
In early December, students from Martel, McMahon, Geiger, and Longley Elementary Schools visited campus for an evening of team-building activities and dinner in Commons with Bates students.
To ensure each of the ten days of campus visits went smoothly for this raft of K-12 guests, Bates students from the Squash, Football, Field Hockey, Softball, and Women's Ultimate Frisbee teams helped out. In addition, students from several residence hall groups (shout-out to Page Hall 4th floor, 280 Mountain Side and Street Side, Parker 2nd, 3rd, and 4th floor, and Rand 3rd floor First Year Centers) assisted with lunch and dinner in Commons and on the Quad. In all, 122 Bates students volunteered.
One focus of the Harward Center during the past five years has been to develop compelling pathways — beyond the academic program — for Bates students to access meaningful community engagement experiences. The Community Liaison program, according to which every student club and athletic team at the college has a student leader for community engagement, is one such pathway, and the Residence Life community engagement program is another. Together, these programs make it easy for students to learn about and connect to off-campus community partners and projects and hence to embrace the college's civic mission through their co-curricular activities.
---
In The News
---
Want to know more about something in this newsletter, or have questions about the Harward Center or the civic mission of Bates College? Please contact Kristen Cloutier or visit us online.