Mobilizing for the Midterm Elections
The tally board posted in the Dining Commons on election night told the story of the Get Out the Vote efforts at Bates this semester. 595 students had voted that day—a figure that did not include students who voted early at Lewiston City Hall in the days leading up to November 6th or those who chose to vote absentee in their hometown.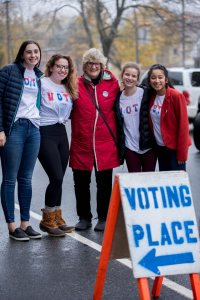 There was a festive atmosphere in Commons on Election Day as students gathered by the tally board, enthusiastically greeting fellow students with, "Have you voted yet?"  "Don't forget to vote!" Throughout the day on both the hour and half hour, student leaders guided groups of their peers from Commons to the polling place, just a short walk from campus. President Spencer led the group at noon, and some athletic teams went together as a team to vote. For those who might have been anxious about voting for the first time, Patrick Sheils '19 and Tyler Baum'19 created a short video featuring the presidents of the Bates Republicans and Bates Democrats, who provided a virtual tour of the polling place and explained how things would work on Election Day. Students roamed through Ladd Library and other parts of campus reminding people to vote, and they chalked the campus with messages such as "Voting is Sexy." Posters and napkin holders in Commons sported images that said, "Are you Bobcat Ready? Then I will see you at the polls on November 6th!"
The Get Out the Vote effort on Election Day was the culmination of months of work encouraging students to register to vote, to become informed voters by accessing non-partisan information on candidates and ballot issues, and finally to cast a ballot. While many students were passionate about particular candidates and issues, the Get Out the Vote effort was non-partisan and entirely student driven, with support from the Harward Center for Community Partnerships. The message shared with the student body was, "We don't care where you vote or who you vote for; we just want you to vote!" Encouraging students to develop habits of electoral participation not only aligns with the Bates mission to "cultivate informed civic action," but it is also an essential building block of a thriving democracy.
With an eye toward inspiring widespread electoral engagement in the midterm election, strategizing began in September. Student leaders, including Community Liaisons from student clubs and athletic teams, met with staff from Student Affairs and the Harward Center to talk about putting together a campus wide, non-partisan effort to get students to vote. Voter registration training was offered to interested students, who then went back to their teams and student organizations to register others. Registration opportunities were offered during lunch time every day in Commons. There was even a registration table at one of the football games, with the announcer reminding everyone that "Bobcats vote!" There were requests from many faculty as well to have students come into their classes to pass out registration cards.
Throughout the fall semester, the Politics and Rhetoric Departments and the Environmental Studies program offered programming that considered different aspects of the election and issues that were on the ballot. Local, state, and federal candidates for office came to campus to meet students. In a show of bipartisan cooperation, which marked this election cycle on campus, the Bates Democrats and Republicans jointly sponsored the campus visit of U.S. Senator Angus King. Many students were actively involved in working on campaigns, particularly with two Bates grads on the ballot, State Senator Nate Libby and Congressman-elect Jared Golden. Once again, a campus highlight was professor Stephanie Kelley-Romano's course, Presidential Campaign Rhetoric, which engaged students in a semester-long mock election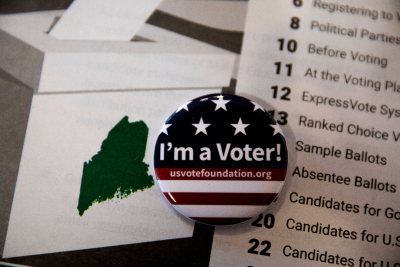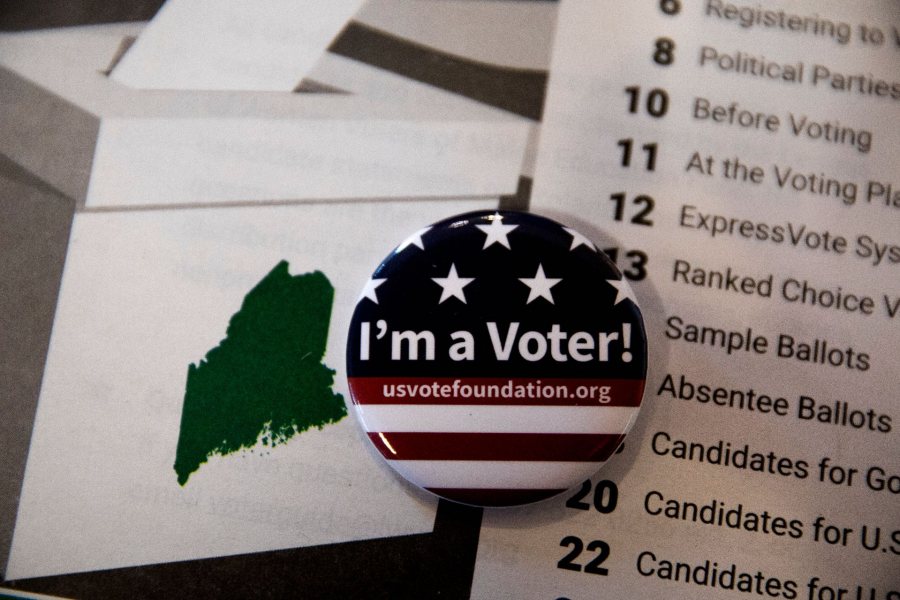 Bates also participated in many national non-partisan efforts this fall, including National Voter Registration Day, the ALL IN Challenge, and Tufts University's National Study of Learning, Voting and Engagement. We are also participating in the NESCAC Challenge to see which NESCAC school can get the largest percentage of its eligible students to vote. While we are proud of all the election activity on campus this fall, the high participation rate of our students in the electoral process, and being named to the Washington Monthly's list of Best Colleges for Student Voting, we are still waiting for the official tallies of voter participation. Of course, we hope to come out ahead of Bowdoin and Colby!
A key component of the Bates experience is cultivating lifelong civic responsibility that is realized in many ways across time. Voting is a critical piece of this, and Harward Center staff enjoyed helping to equip students with the knowledge, skills, and inspiration to participate fully in the electoral season, including considerations of where and how to register to vote, how to access non-partisan information in order to make informed decisions, and how to have civil and respectful conversations about political differences.