A senior moment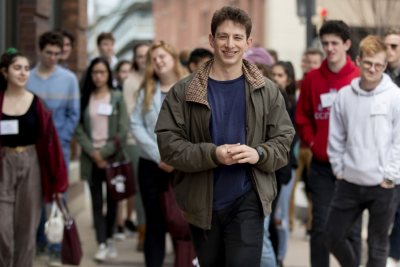 I first heard of the Harward Center in summer of 2015 when I received an email from Ellen inviting me to apply to the Bonner Leadership program. I applied because I was interested in the program and community engagement, but also because I wasn't coming to Bates as a member of a sports team or any other group, and I knew only one other student in my incoming class. I figured the Bonner Program would be a great way to ease the transition and find a purpose at Bates. I was right. . . The only problem was that I didn't get accepted into the Bonner program.
Even so, I remained committed to working with the Harward Center, and even though I wasn't in the program, Ellen and Marty remained committed to me. They helped me find my first placements with the Maine Volunteer Lawyers Project at the Lewiston District Court, and with the basketball team at the Boys and Girls Club in Auburn. Due to our mutual commitment, when a spot in the Bonner Program opened up in the winter of 2016, I was invited to join.
The Bonner Program and the Harward Center in general have given me the opportunity to work with so many different community organizations, meet so many friends, and learn from so many mentors—whether they are faculty, staff, students, or community members. As a result, community engagement has given me the ability to work and focus on issues of injustice—in particular, environmental justice—in tangible and serious ways, while still being able to recognize myself and confront my own privilege and identity in the appropriate spaces.
I will soon begin working in the for-profit sector as a litigation legal assistant at a corporate law firm. This new world will probably feel antithetical in many ways to the community-engaged experiences that have characterized my Bates years, but even in this context I hope to apply what I've learned from community-engaged scholarship, such as how to collaborate with and learn from the communities around me, how to identify and validate non-traditional sources of knowledge, and how to work for social justice.
As I reflect on Bates as part of my personal history, there are many moments and people who have shaped me. However, the one constant that has most defined my identity as a Bates student is community engagement through the Harward Center. For that I want to thank Ellen and Marty, as well as Darby, Kristen, Sam, Francis, Paige, Zsofia, all of my peers, and all of the community partners I have had the privilege to work with. I have learned so much from them. They have my endless gratitude.
Click here to watch Dylan in Voices from the Class of 2019, a video created by Phyllis Graber-Jensen in the Bates Communications Office.