The man, the myth, the legend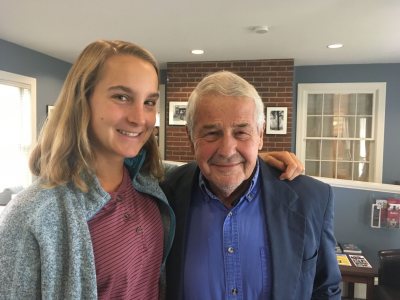 Last week I finally got to meet Don Harward, the Bates legend who transformed my life.
I've known President Harward in an abstract way for years, but to meet him in person at the Center named for him was momentous. The Harward Center has been at the center of my life for the past five years – first when I was a student, and now in my professional life as I serve as the liaison between Bates College and the wider Lewiston community.
My undergraduate and professional work in Lewiston through the guidance of the Harward Center has been profoundly meaningful. I have built a strong network of relationships, including partnerships with multiple public schools, the Center for Wisdom's Women, New Beginnings, Blake Street Towers, the Restorative Justice Institute of Maine, and the Lewiston and Auburn public libraries. These relationships are mutually rewarding, and I cannot thank Don Harward enough for creating the opportunity for me and for hundreds of other Bates students, professors, and professionals to engage with the city that hosts our college. The Center has given us a sense of purpose and belonging in Lewiston. For this, I will always be grateful.
Ella Ross '19, Civic Leadership Fellow