I'll Take "What is Rhetoric?" for $400
Although the oldest discipline, rhetoric may be the least understood. Aristotle defined rhetoric as "the faculty of observing in any given case the available means of persuasion." In professor Stephanie Kelley-Romano's "What is Rhetoric?" course, students conduct a historical survey of rhetorical theory from classical times to the present to critique the role of language in establishing, perpetuating, and challenging power. Rhetorical artifacts examined include political speeches, television programs, print advertisements, editorials, music, film, and social media.
In this year's course, professor Kelley-Romano asked students to craft voter engagement projects that would inform both their peers at Bates and the Lewiston/Auburn community on non-partisan topics and issues surrounding the 2020 campaigns, and elections in general.
Students were asked to create a stand-alone resource that was clearly directed at a particular audience and had a particular goal. Students were able to determine both the audience and the goal and to tailor their rhetoric accordingly. They were allowed to work alone or in groups, and encouraged to experiment with different project models, including videos, podcasts, apps, games, webinars, focus group directions, print materials, or any other independent product that conveyed information about elections or specific candidates and/or issues.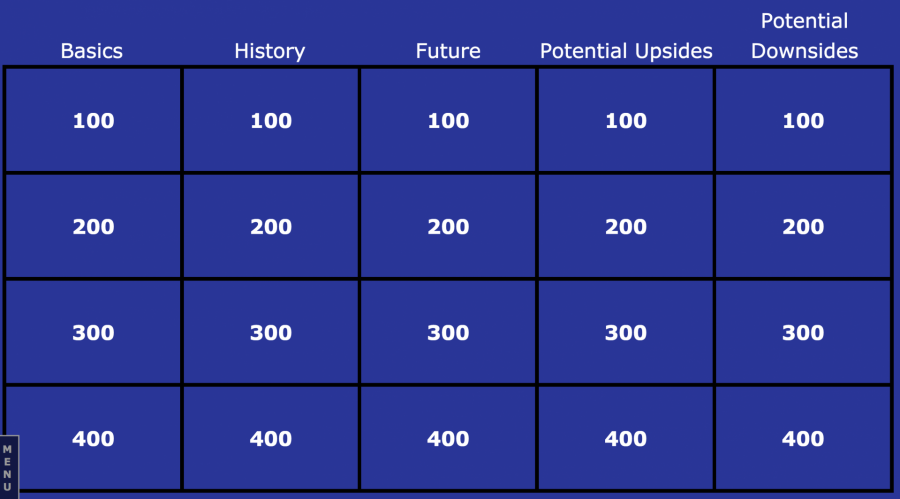 Nick Prawer '22, Chris Cimino '24, Dan Bileca '22, Baylen Manocha '22, and Wil Masterson '24 chose to focus their project on Ranked-Choice Voting and created a Jeopardy-inspired online game to help voters understand what it is and how it works. Categories include "Basics," "History," "Future," "Potential Upsides," and "Potential Downsides." In order to increase retention and commitment on the part of their audience, the team also conducted research and presented information in the form of an informative PowerPoint presentation that was designed to be read/experienced prior to playing the game.
"In creating this project, we hoped to inform students about the Ranked-Choice Voting system by providing a comprehensive account of how the voting system works, along with its advantages and disadvantages. Further, since Maine uses Ranked-Choice Voting, we wanted to show students how, if used correctly, this form of voting can lead to a more representative democracy. The U.S. Founding Fathers warned against the creation of political factions when crafting the Constitution; however, the political sphere has become very centered around two parties. Because of this, many students we talked to found it frustrating that they had to vote for one of the two mainstream candidates even if those candidates didn't fully represent their views and beliefs. Ranked-Choice Voting is a great way to encourage people to vote for third party candidates while also making sure their vote does not feel 'wasted'."
– Baylen Manocha '22
Click here to play!
Students in most of professor Kelly-Romano's classes complete community-engaged learning projects. Most recently, students in her "Presidential Campaign Rhetoric" course added Instagram slideshows to the various ways to engage an audience.
Want to see more? Follow #profskr on Instagram.