Democracy QuickBites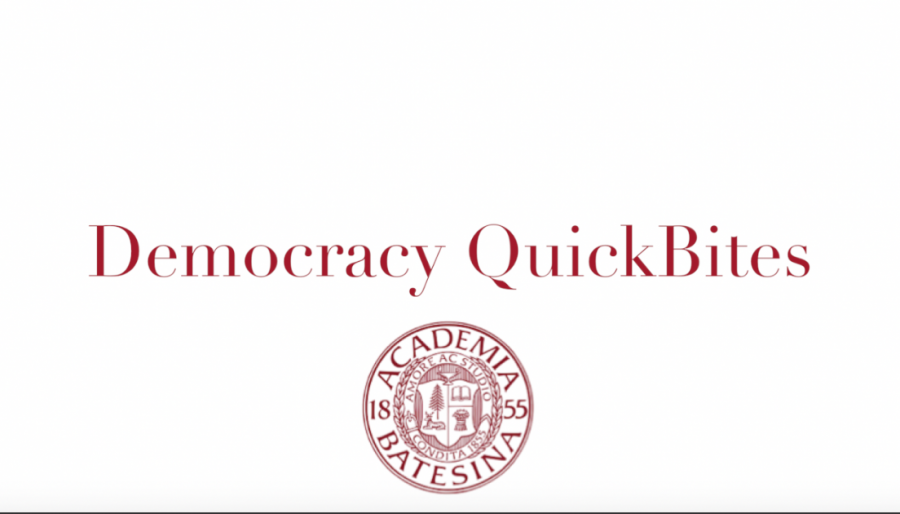 In a time of global pandemic, climate crisis, and racial injustice, it is more important than ever that we stay engaged with the hard work of protecting and strengthening democracy. Democracy QuickBites are designed to keep us asking and searching for answers to questions such as:
What are we learning about ourselves as a nation and a world during this pandemic?
What threats and opportunities related to democracy are particularly relevant right now?
How can we address the glaring inequities that the COVID-19 pandemic has underscored and exacerbated?
In what sense are public institutions (public schools, public libraries, etc.) central to democracy?
What role can the arts play in helping democracy flourish?
Are there any moments in history that are particularly instructive for the challenges we are currently facing as a democracy?
To kick off the Democracy QuickBites initiative, we invited public servants, artists, writers, government officials, educators, students, alumni, and others to respond to the prompts above in short videos that encourage reflection and further conversation. Please take a moment to watch and reflect on their submissions. Then consider some of the options below for deepening your own engagement.
Democracy QuickBites Videos
Peter Lasagna: We, the people…
Election Day is upon us, and we have heard time and time again that our vote is our voice. Lasagna reminds us that there are those who seek to disenfranchise and scare eligible black and brown voters and that we must do our due diligence to take care of all our neighbors, especially those most at risk. If we allow injustice to stand, can we even call our nation a democracy?
Governor Janet T. Mills: Students Getting It Done
As Americans we have a civic right and responsibility to vote. However, how you vote in this election may be more important to think about than in past years. Governor Mills takes time to lay out the 3 ways to vote in this election: by mail, in person absentee, and in person on election day. She implores people to consider how the pandemic might affect polls on election day; crowds and long lines won't provide safe options for some people. Governor Mills also reassures all eligible voters that they have a right to vote and should not fear voter suppression efforts as she has put together measures that will surely help every Mainer vote.  
Dar Williams: Local Participation, Access, Opportunity and Fun!
Democratic values of fairness, high standards, justice, and inclusion are supposed to work in favor of all citizens. However, they can sometimes be undermined or diverted to benefit narrower agendas. Join recording artist Dar Williams as she considers the role of coalitions and community projects in a thriving democracy. These tools have the potential to bridge entire communities in ways previously thought impossible.
Dr. Rachel Roberson: Direct Action
Voting is a vitally important way to make our voices heard, and while Dr. Roberson stresses the importance of voting, she also reminds us that voting is not the only means of accomplishing this goal. Direct action involves lifting up the experiences and stories that are not often told and applying pressure on those in power for the purpose of achieving equity. Dr. Roberson eloquently lays out five key components to successful direct action: power mapping, identification of targets, action engagement, delivery of demands, and negotiation. No matter how big or small the action taken is, progress can come with it.
President Clayton Spencer: Register and Vote!
President Clayton Spencer addresses Bates students on the importance of voting in our democracy. She urges all eligible students to register either in their home states or here in Maine. While voter suppression targeting Bates students' votes has been attempted on multiple occasions, she assures students that they have the right to register and vote in Maine if they so desire. President Spencer lays out the many resources available to students and stresses the importance of building a lifelong habit of exercising the right to vote.
Joyce Vance '82: Good Leadership
As we look to the future, we have a lot to overcome, whether it be the coronavirus pandemic or climate change. Vance argues that good leadership is vitally important in such a challenging context, and for a thriving democracy more generally.
Paul Giamatti and Maggie Siff: What is the Connection Between Art and Democracy?
Join Giamatti and Siff as they discuss their role as actors, the future of our democracy, and the long-lasting effects the pandemic will have on our world. Art is something that is truly unique yet captures the human experience. They focus on the importance of understanding the adversities individuals face; emphasizing the need for art that envelops the viewer in empathy.
Michael Sargent: A Free and Independent Press
Freedom of press is essential within democracy to know what those with power do in the name of their citizens. Follow along as Sargent retells a 2017 New York Times article written by Kevin Sack. Sargent uses this article as one example of how the press allows for deeper insight into issues that the general public might not be aware of. Sargent deftly stresses that journalism that is unaltered by government is an essential part of a functioning democracy.
Tae Chong: Citizens Making Change
Chong lays out how COVID 19 has exacerbated the unfortunate realities of the working poor in communities across the country. He questions how a nation driven by capitalist practices can continue to push for profit while millions of Americans struggle to find jobs, pay bills, and feed themselves. He stresses the need for people to question how governments support their citizens and to vote, especially if people want to see change.
Bob Goodlatte: Staying in Touch with Your Government
Federal, state, and local officials are elected to serve in the public's best interest. Goodlatte reminds us of the importance of reaching out to these officials and making our voices heard as it allows elected officials to understand what their constituents are facing and aids them in providing solutions.
Perla Figuereo: Perspective-Taking through the Arts
Artists can create works that focus on uplifting an individual's experience, and often this perspective is unique from that of the viewer's own lived experience. Figuereo encourages us to step out of our comfort zones and watch, read, and engage with pieces of art (e.g. film, plays, etc.) that highlight stories with which we are not familiar. In doing so she hopes we gain a fresh perspective that helps us contribute to a more equitable world via our power to vote for elected officials, ballot measures, and public policies.
Travis Palmer: Citizens Finding Their Voice
Palmer speaks to the realities that COVID-19 has created in exacerbating the long-standing, education-related inequalities that reside within his community of rural Maine. Now with students and parents at home, there is a marked rise in food insecurity and a lack of access to broadband connectivity and health care. These are only some of the adversities communities across the country are facing, and Palmer stresses the importance of using our voices to call for justice.
Senator Angus King: Shared Decision Making
Senator King invites viewers to consider which dimension of government should be making big decisions like reopening the economy and providing COVID-19 testing. He suggests that while state governments have a better handle on specifics, the federal government has a vital role to play in generating general plans of action. Understanding and appreciating the distinctive spheres of action with government is crucial to good decision-making and a functioning democracy.
Joseph Jackson: Challenging Unjust Structures
The Black Lives Matter movement, established in 2013, has seen a recent surge of support after the fatal death of George Floyd in May of 2020. In this short but powerful video, Jackson reflects on his own life as a formerly incarcerated black man who has waited a lifetime to hear that his life matters.
Lebanos Mengitsu: Working for Equity
Mengitsu, who is co-president of the Bates College student body, acknowledges that people coming together to support one another has been essential during COVID-19. Still, he brings to light that historically marginalized communities have fallen through the cracks.

Continue Your Involvement
Help register others to vote (email Peggy Rotundo)
Attend a City Council Meeting
Contact your local city officials