Third Times a Charm
It was about mid-July, and I finally realized that unfortunately my summer was not going to turn out quite how I planned. From my dream job, free reign at the Soumaya Museum in Mexico City, to sitting on my hands alone in a city of 30 million people, I knew I had to do something.  
Thankfully, because of the relationship I built during my internship at Bates Museum of Art last semester, I was able to continue my work in the Museum for the month of August. Although I was excited to get in the museum (and its controlled climate), I also was excited to finish what I had started. In the previous January, I began the laborious process of going through every single accessioned object file in the Museum's collection. I opened each, making sure there was a photo, accession record, and a deed of gift or sale invoice. Earlier in the year, I had made significant progress, but still had many letters of the alphabet to go. However working three hours a day rather than six a week, I was able to make significant progress, and ultimately finished ever file within the next couple of weeks. Although the regular internship is a great way to dip my toe in the water of many great opportunities, it was extremely satisfying to have finished an entire project.  
I then proceeded to finish a couple more projects over the course of the summer. I created exhibition files for all of the senior thesis exhibitions going back to 2003, as well as some more recent shows that had materials, but no summative file. I also cleaned up past exhibition files, organizing them in a more accessible order within the museum office. While I wrapped these projects up in August, I also started accessing some pieces from the Museum's recent Summit Art Advisory donations. From the prolific Donna Ferrato photographs illustrating domestic abuse, to vivid Joyce Tenneson portraits of strong modern women, I enjoyed working with a variety of works by different artists, seeing how they would have come together in an exhibition context.
Currently, I just finished constructing storage boxes for artifacts from the Marsden Hartley memorial collection. This was different from my usual duties, and was an additional skill that I enjoyed learning as part of my work. Beyond just exercising my fine motor skills, I was able to practice the seemingly insignificant skills of measurement, gluing, and visualizing the space I was going to be creating. It probably is the closest I will ever get to creating fine art. As of the writing of this blog, I have finished making boxes for the whole section of the collection I have been working with.  
Over the last three months of work, I have successfully complete five small projects, with the Summer Advisory accessioning still outstanding. All in all, I feel confident finishing this semester knowing I have made a dent in the work that is to be done in the Bates Museum of Art.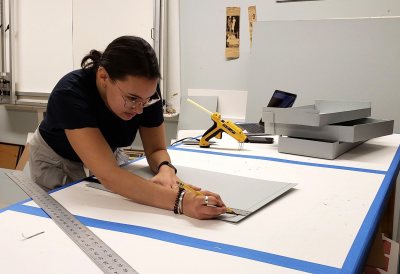 Art & Visual Culture and Rhetoric Major