To Be Framed: Curating Figures and Fruit by Beth Van Hoesen
I had an awesome semester at the Museum. It commenced with a research project on recently donated work from the Jane Costello Wellehan Collection (see our previous post). For the latter half of our internship, my fellow intern, Laila Stevens '21, and I were invited to curate a show with objects from the Museum collection. It's my inaugural curatorial project.
Education Curator, Anthony Shostak, and Museum Director, Dan Mills, introduced us to a handful of portfolios, which ranged from photojournalism to folk art. I selected the Museum's collection of seventeen objects by the esteemed San Francisco-based draftsperson and illustrator, Beth Van Hoesen.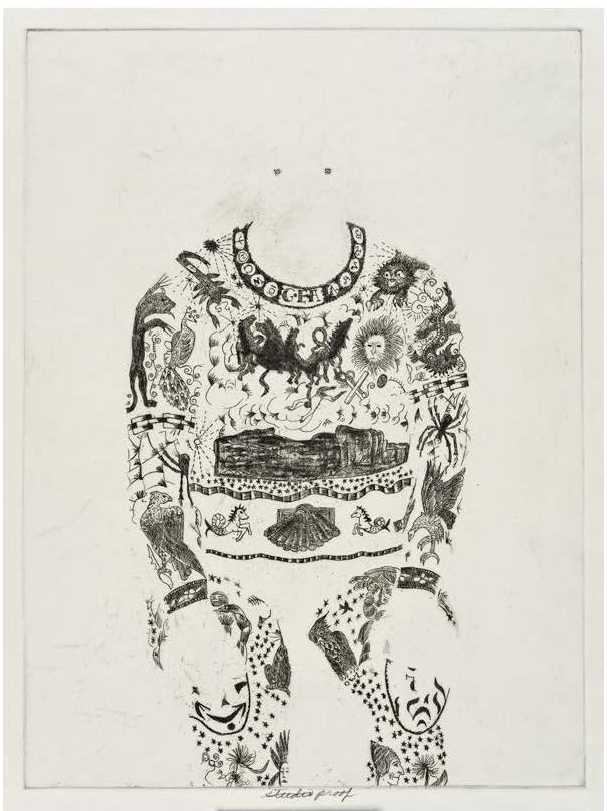 Van Hoesen's artworks were immediately intriguing. Upon first sight, her intaglios and illustrations were simultaneously calm and full of depth. Anthony dove into the various techniques used by the artist: aquatint to achieve the gradient background in the Punks series and drypoint for its depth in the figurative etchings. It was another enlightening tour of the collection.
The beginning stages of this project involved abundant research. I delved into Van Hoesen's personal and professional life, giving me a solid lens through which I can view her work. After earning her Bachelor's from Stanford University in the late 1940s, she largely remained in the Bay Area for the entirety of her life, continuing to hone and develop her work. The subject matter surely developed through the years as she moved through various printing portfolios, though she maintained her formal style quite consistently. I was especially able to capture this evolution by fortuitously finding the artist's Catalogue Raisonné in Ladd Library!
Given this background, my looking process deepened. The Van Hoesen objects in the Museum's collection felt even more familiar. I was able to settle into her work, returning to the objects several more times for close looking.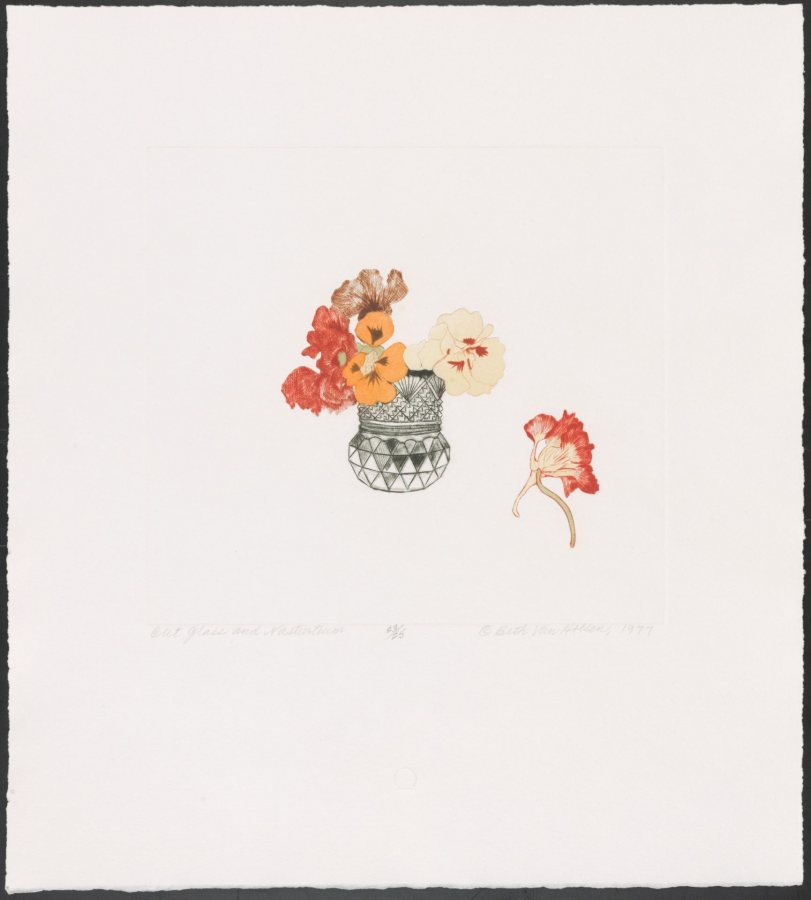 Indeed, Van Hoesen's work is heartwarming…pretty, even. It's a style which was in direct contrast to the time's burgeoning Abstract Expressionist movement. Among her seemingly disparate pictures, Van Hoesen promoted an all-encompassing minimalist objective that feels quite empowering. From sitters to stills, Van Hoesen carefully decides what details to include and what to omit. This treatment suggests deep appreciation – adoration, even – for her subject. Her formal printmaking experience may have promoted this marked conviction. Considering the burgeoning movements in feminism and greater equal rights initiatives in Van Hoesen's setting, her clear ownership of the figure seems all the more clear.
Drawing these themes together, I started preparing for the show. I was provided with the Museum's Synergy Space to present it and itched to fill the gallery walls. I gathered my ideas into wall text and identified ten key works to include. To get a better idea of how pieces would interact on the vertical, I even printed out test images and played with displays in my Chu Hall dorm room — a sweet little invention!
In sum, I had a rewarding, yet challenging, experience with this show, and, more broadly, my Museum Internship this past semester. Since we currently cannot be physically proximate one another, it felt like such a treat to be so close to art objects. In the coming years, I look forward to staying tuned into the College's Museum of Art by accessing its dynamic collections and exhibition spaces.
Anna Greenspan '22
Art History & Economics