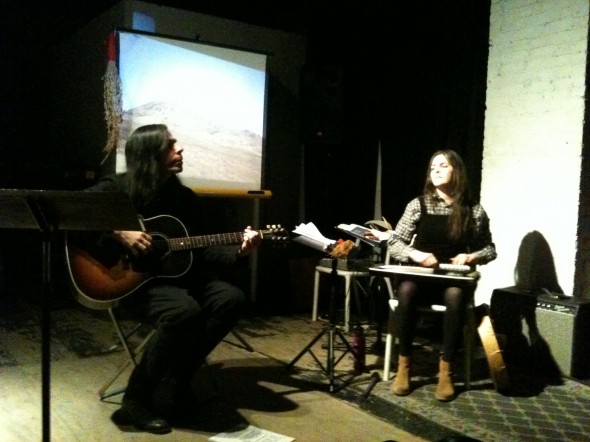 Brad Kahlhamer and Kelsey Barrett: "Yondering"
Friday, October 7, 2011 — 7:30pm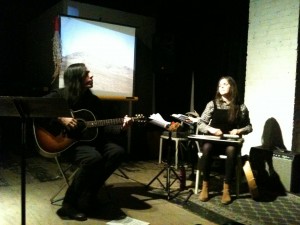 Friday, October 7 at 7:30 p.m. at the Olin Arts Center Concert Hall
Brad Kahlhamer and Kelsey Barrett's performance work has been described as path-minding stories, spirit meandering, signseeker-walkabouts that combine voice, guitar, drums, and sound. Their performances include pointed stage visuals, sound effects supporting grass-fed stories and desert tales gathered from personal experience, with occasional music vignettes hawk-circling the rising narrative smoke…at times with a few shreds of the words of Diné (Navajo) poet Sherwin Bitsui poetry woven in…
Kahlhamer and Barrett recently performed "Yondering" at The Stone in the East Village, a New York space dedicated to the experimental and avant-garde, as part of Laurie Anderson and Lou Reed's month of curated performances.
Brad Kahlhamer has been long active in the lower Manhattan music scene, and has played at CBGB's, Zebulon, SouthPaw, and many other NYC/Brooklyn venues. He was commissioned by the Smithsonian National Museum of the American Indian to write a score for the silent film Red Skins, 1929, which he performed as National Braid (Kahlhamer and violinist Laura Ortman) at film festivals in the US and Europe. For more: http://www.bradkahlhamer.net/
Kelsey Barrett resides between the music and fashion community of NYC and Esalen Institute in Big Sur California.  Drawing inspiration, breath, and prayer from the dependent co-arising of industrial city playgrounds and nature based communion.  Kelsey has been preforming and recording since 2006 providing chilling vocals for world-psych band EFFI BRIEST.  She cut her teeth touring the vast lands of America, Europe and British Isles, and slews of festivals.  At present Kelsey engages with song-birthing in ritual sound healing ceremonies.
Kahlhamer's work is featured in the current Tale Spinning exhibition at the Bates College Museum of Art through Dec. 17. His visual art fuses expressionist painting with the visionary tradition of Native American art, comics and urban street culture to create narrative work that blurs the line between autobiography and invention. He has exhibited extensively internationally, and was represented by the fabled Deitch Projects in New York from 2001 until Jeffrey Deitch closed his doors to direct the LA Museum of Contemporary Art in 2010. Kahlhamer is based in New York.