Fransje Killaars: Color at the Center
January 26 – March 22, 2013
Saturday, January 26 at 5-8pm, Opening reception at both Museum of Art and Museum L-A. A shuttle to transport visitors back and forth between locations will be provided. The artist will be present.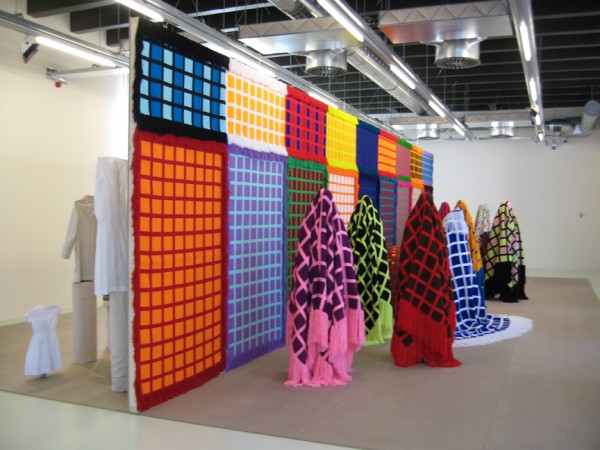 I am fascinated and deeply affected by the power and effect of color.  –Fransje Killaars
Fransje Killaars: Color at the Center will present the work of this noted Amsterdam-based artist to North American audiences through an exhibition of a number of significant installations and a new work commissioned by the Bates College Museum of Art. Killaars (b. 1959, Maastricht, The Netherlands) is a remarkable colorist that approaches her medium—textiles—in challenging and innovative ways that are as much cultural statements as they are vigorously conceptual. And she places color at the center of her practice, production, and viewer's experience.
Killaars' installations exist in a space that merges art, architecture and fashion, and interior design. With her primary media being textiles, her work is imbued with craft and its handmade and functional associations. Her installations may combine fabrics from Japan, blankets designed by the artist and hand-woven in India, and draped figures reminiscent of contemporary and historic representations of women. At the same time, Killaars has been placed in the context of deskilling, the continued removal of the artist's hand from the creation of art. Her most common 'formats' are carpets and bedspreads, or gridded pieces of fabric, which she has made in a women's cooperative in India. These, and periodic inclusion of the human figure in the form of mannequins, are the most frequent components of her dazzling installations.
For the Lewiston, Maine exhibition of Color at the Center, Killaars will create several installations in the Bates College Museum of Art, including the large and impressive work Figures. The MoA is also partnering with Lewiston-Auburn's Museum of History and Labor, to present some of the exhibition in downtown Lewiston. For this portion of the exhibition, Killaars will create several installations in Mill #1, in a large space within the Bates Mill Complex where Bates Bedspreads were once woven, one of which will be created out of materials woven in this space. For both venues, Killaars will be assisted by the Museum of Art staff and Bates student and community volunteers.
Fransje Killaars: Color at the Center is curated by director Dan Mills, and is organized by the Bates College Museum of Art. The exhibition will travel to the Ewing Gallery of Art & Architecture at the University of Tennessee. Fransje Killaars: Color at the Center is supported by Fransje Killaars, a profusely illustrated 176 hardcover book published in 2012 by 010 Publishers in Rotterdam, with essays by Sven Lütticken and Bianca Stigter. Designed by Thonik. Bilingual, Dutch and English.
Trained at the Rijksakademie in Amsterdam, Killaars began her career as a painter. Influenced by the works of Barnett Newman, Ellsworth Kelly, and Henri Matisse, Killaars is a Dutch artist with a recognizable, yet singular Dutch aesthetic. In 1984, the year she left art school, she became a studio assistant for the internationally recognized painter and sculptor, Sol Lewitt—another artist that left a lasting impression on Killaars. In 1990, just as Killaars was establishing a strong career as a painter in the Netherlands, she traveled to India on the advice of a friend, the first of a number of trips there that influenced her practice in profound ways. "Everything in this chaotic world [India] is colourful—the street is one huge overwhelming palette…through India I discovered the power of colour as a part of everyday life. I felt that it could be different, that you could live in those colours…"
Killaars' work has been exhibited extensively throughout Europe, and in Japan, China and the US, most recently at Galerie Zürcher in New York (2012) and MASS MoCA in North Adams, MA (2007). Her work is represented in many museum and private collections. Fransje Killaars: Color at the Center is curated by Dan Mills. It will travel to the Ewing Gallery of Art & Architecture, University of Tennessee, Knoxville, and Galerie Zürcher, New York. The book, Fransje Killaars (Rotterdam: 010 Press), 2012, accompanies the exhibition.
This project is supported, in part, by the Mondriaan Fund, and public funds from the Consulate General of The Netherlands in New York. Fransje Killaars' visit is supported by a Bates Learning Associates Program Grant. Her work is courtesy of Galerie de Expeditie, Amsterdam.
Fransje KIllaars Resume

New York Times Mass MoCA review
Fransje Killaars: Sculpting with Textile, by Paul Laster
Maine Sunday Telegram, February 24, 2013
In the Arts: Amsterdam artist's first U.S. show a rare opportunity, by Phil Isaacson

Design Art News, February, 2013
Fransje Killaars, Bates Colles Museum of Art & Museum LA, Lewiston, Maine
Orange Alert Dutch Art Events, January 25, 2013
Fransje Killaars solo exhibitions at Bates College Museum of Art and Museum LA, by Robert Kloos