David C. Driskell: The Doorway Portfolio
April 8 – August 27, 2016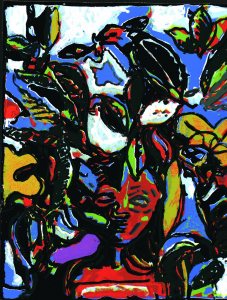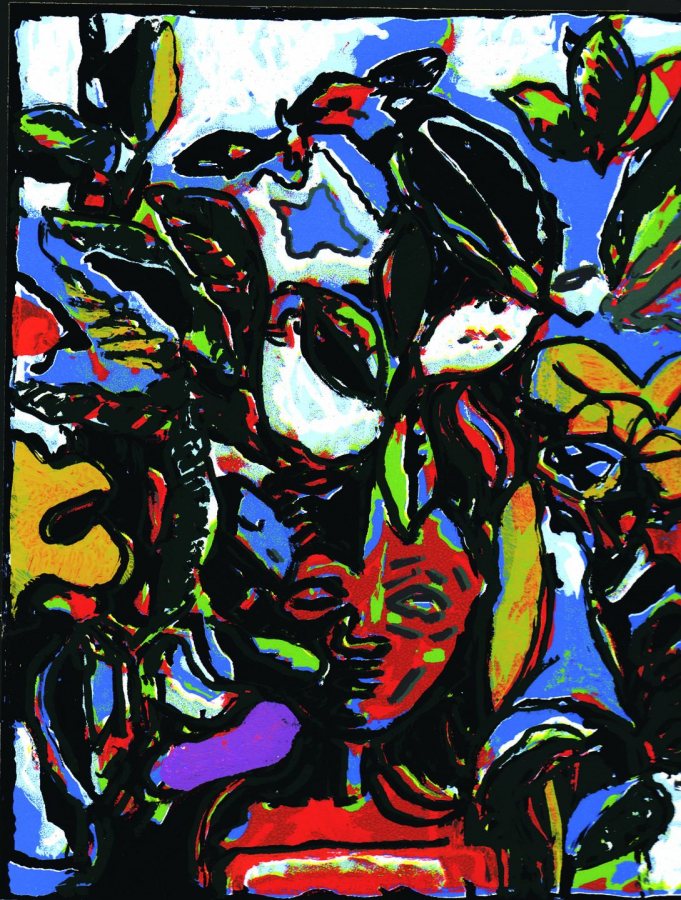 In the twelve sumptuous serigraphs in this portfolio, David C. Driskell " … represents the doorway as a passage between two worlds — interior and exterior, material and spiritual, real and imagined," writes Phillips Collection Curator, Elsa Smithgall. Colorful, and full of movement and rhythms, the images vary from recognizable pictorial views to highly abstract representations of the idea of a passageway.
The Doorway Portfolio contains twelve serigraphs by David C. Driskell, and twelve pages of handset letterpress prose by Michael Alpert. Driskell and Alpert worked independently of one another, so, as publisher Howard Greenberg states, "…neither medium is subservient to the other; the visual art is not illustrative of the text, nor is the writing directly descriptive of the images." For example, the following prose accompanies the first image below:
When her father died in the forest, his room became a room of refuge. . . . His was a time of Sweetness, of crimson flowers, orange light. . . .
Driskell (American, born Eatonton, Georgia, 1931) grew up in North Carolina. He completed the art program in 1953 at Skowhegan School of Painting and Sculpture, received an undergraduate degree in art from Howard University in 1955, and an M.F.A. from Catholic University of America in 1962. Driskell then pursued post-graduate study in art history at The Netherlands Institute for the History of Art in The Hague. Trained as a painter and art historian, Driskell works primarily in collage, mixed media, and printmaking.
Driskell is one of the world's foremost authorities on African American art. In 1976, he curated and wrote the catalogue for the groundbreaking exhibition Two Centuries of Black American Art: 1750-1950 which has been the foundation for the field of African American art history. Highly regarded as artist, curator, and scholar, Driskell has authored seven books on African American art, has contributed to many more, and has written numerous exhibitions catalogues. He has had solo exhibitions at museums and galleries throughout the US, and has been included in numerous group exhibitions throughout the US and in Africa, and is in collections including the Baltimore Museum of Art; Corcoran Museum of Art; Experimental Printmaking Institute, Lafayette College; Howard University Gallery of Art; National Gallery of Art; and The Studio Museum in Harlem, among many others. He received National Humanities Medal from President Bill Clinton in 2000.
Michael Alpert (American, born Bangor, Maine, 1945) received a B. A. in 1968 from the New School for Social Research and an M. L. S. degree from the University of Maine in 1972. Alpert is a writer, publisher, and visual artist. In 1979, under the imprint Theodore Press/Sarah Books, he began to publish letterpress books with significant texts and artist's books that focus on the structural/visual side of book-arts. Alpert has been the occasional designer and production manager for books published by Stephen King's Philtrum Press, including overseeing the 1997 production of King's The Plant, the first e-book published on the Internet by a major author. His publications have been awarded the Stephen Harvard Prize for Excellence in the Book Arts and First Prize for Book Publications from the New England Museum Association. Since 1995, Alpert has been Director of the University of Maine Press. A collection of Alpert's personal writing, titled A Night-sea Journey, was published by Constance Hunting in 2000. Since the late 1990s, Alpert's primary artistic attention has been photography, and his images have been the focus of numerous solo exhibitions. Alpert continues to work as a publisher, author, and visual artist. He lives in Bangor.
The Doorway Portfolio, 2009
Twelve serigraphs on Rives BFK paper, 12 x 15 inches each.
Twelve hand set letterpress pages of poetry by Michael Alpert.
Bates Museum of Art Permanent Collection
Press:
Maine Today, May 10, 2016
6 art-filled stops will infuse warmth this spring