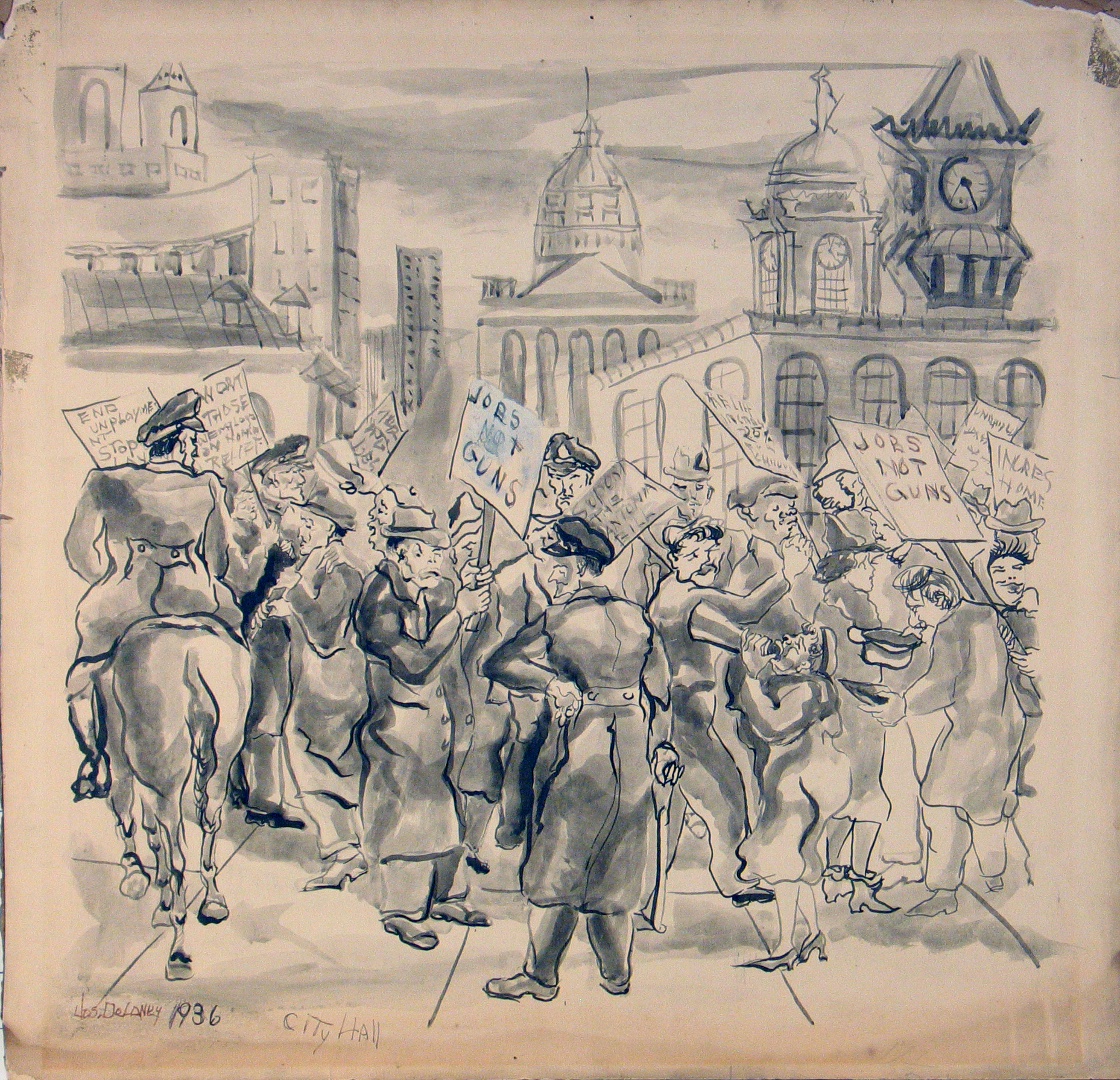 Joseph Delaney:
Taking Notice
June 11 – August 28, 2021
Organized by the Ewing Gallery of Art + Architecture, University of Tennessee
in partnership with the Bates College Museum of Art
African American artist Joseph Delaney (1904-1991) took notice of life around him. He was drawn to figurative art and lively scenes of urban life, and his work focused primarily on the people and environment of New York City, the place where he lived much of his adult life. Delaney was an acute observer of people and their activities, and he recorded them, sometimes in paintings, but more often in works on paper—drawings, pen and ink washes, watercolors, and in the notebooks that he carried and drew in everywhere he went.
Delaney, who created thousands of works in a life spanning every decade of the twentieth century, was recognized but never celebrated during his life. Since that time, institutions and collectors have increasingly taken notice of his work, which is now in collections including the Art Institute of Chicago and the Metropolitan Museum of Art.
Taking Notice is the first exhibition in New England devoted to the work of Joseph Delaney. Drawn primarily from the extensive holdings of the University of Tennessee and complemented with several works from private collections and the Bates Museum of Art, it features paintings and many works on paper, representing a breadth of subjects about life in the city that fascinated Delaney during his prolific life, including parades and protests, figure drawings and portraits, and monuments and parks in Manhattan.
---
Biography
Joseph Delaney was born in Knoxville, Tennessee, in 1904. The ninth of 10 children, his father was a Methodist minister, and his mother, who was born into slavery, worked as a laundress. Joseph, and his older brother, Beauford, were recognized for their drawing abilities, particularly in Sunday school. Delaney left Knoxville Colored High School at the conclusion of ninth grade. After a few years of performing odd jobs, he departed Knoxville and traveled for several years to places including Cincinnati, Detroit, and Chicago, and he served in the Illinois National Guard for three years. After returning to Knoxville briefly, in 1930 he departed for New York City, where Beauford had moved to several years earlier.
Soon after arriving in New York, Delaney became a student at the Art Students League. One teacher, Thomas Hart Benton, resonated with Delaney, and he developed into a mentor of the younger artist. He developed friendships with classmates including one in particular, Jackson Pollock. For the next 56 years, Delaney lived and made art in lower Manhattan, exhibited at places including the annual Washington Square Outdoor Art Exhibit, and continued to attend weekly drawing classes at the Art Students League until 1985.
In 1986, the Ewing Gallery of Art + Architecture organized the exhibition Joseph Delaney: A Retrospective. At the suggestion of his friend, author and faculty member Alex Haley, Delaney was invited to become an artist-in-residence at The University of Tennessee, Knoxville, a position he held until his death in 1991. According to Delaney's wishes, one third of the several thousand artworks Delaney made were left to the University of Tennessee, a third to the surviving family, and a third to programs for Knoxville's homeless population.
Unless noted otherwise, all works are collection of the Ewing Gallery of Art + Architecture, University of Tennessee