News from the Harward Center for Community Partnerships – Fall 2016
In This Issue
---
Dear Friends,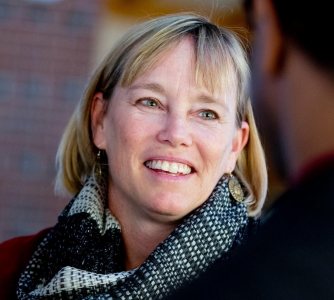 If the winter weather, political climate, or anything else has you feeling down, this is the newsletter for you! It is chock full of stories about how Bates students, faculty, staff, and alumni are engaging the challenges and needs of our day with intelligence, creativity, persistence, and empathy. It also reflects the wide range of community partners who so generously contribute time, expertise, and opportunity to help the college live up to its mission of cultivating "informed civic action," "the transformative power of our differences," and "responsible stewardship of the wider world." In addition to the newsletter's featured articles, don't miss the "In the News" links at the bottom of the page.
All best wishes,
Darby
---
Election Activity: Ensuring a Thriving Democracy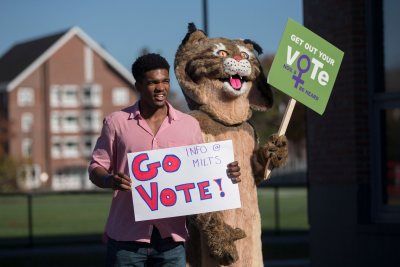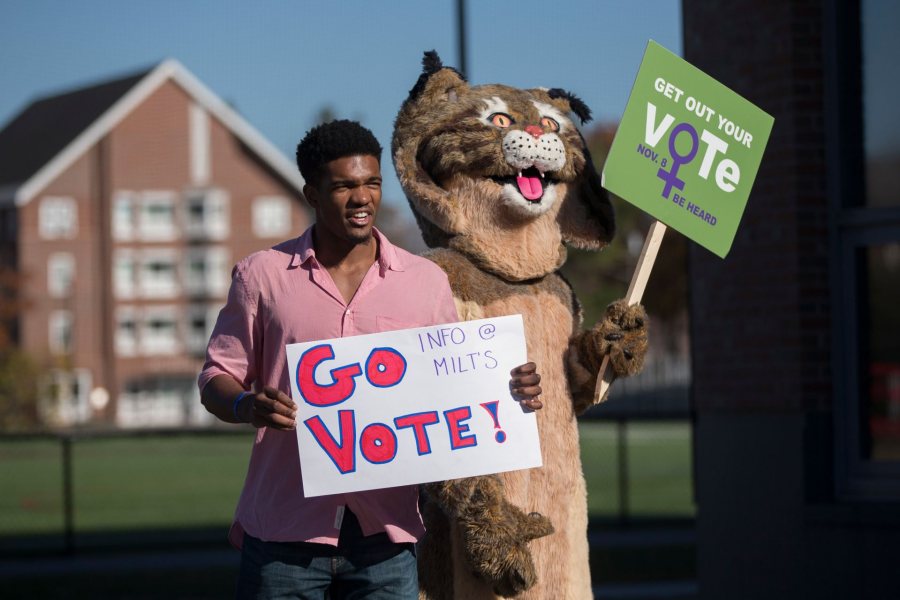 The Bates campus was alive with election activity this past fall. The Harward Center partnered with others on campus to coordinate a range of activities through which students could participate in the electoral process that helps ensure a thriving democracy. Since many students turn eighteen while in college, the 2016 election was the first opportunity many of them had to exercise their right to vote. Thanks to a major voter registration drive, Bates students won the Maine Secretary of State's award, besting all other Maine higher education institutions by registering the highest number of students on any college campus in Maine. There was also a huge Get Out the Vote effort on election day, with reminders to vote chalked on the sidewalks, and teams of students organized to escort first-time voters to the polls. Despite a local voter suppression effort, the Bates Bobcat and plenty of others encouraged students to vote via absentee ballot or in Maine.
Harward Center Post-Baccalaureate Civic Leadership Fellow and AmeriCorps VISTA member Brenna Callahan '15 blitzed the campus with non partisan information to educate students about the policy positions of local and national candidates and to provide background on the state ballot questions. The Politics and Rhetoric Departments sponsored the 2016 Election Series, which featured several lectures by visiting academics as well as a series of lively debate and election result watch parties.
Of particular note was the Presidential Campaign Rhetoric course offered by Prof. Stephanie Kelley- Romano, in which students not only learned to analyze past and present presidential campaign rhetoric but also ran their own mock presidential campaign, replete with debates, polls, campaign ads, candidate speeches, and even an inaugural ball. Students shared their learnings from the course with the larger Lewiston/Auburn community during a multi-media presentation at the Great Falls Forum at the Lewiston Public Library.
The evening after the election, U.S. Senator Susan Collins met with students as part of the College's Purposeful Work Unplugged series, talking with them about her career path as well as the consequences of the election. Numerous other opportunities for students to explore the meaning of the election were also available, including "What just happened?" – a standing room only forum featuring post-election analysis from Politics Department faculty members.
Voting is the most basic form of civic engagement. We are pleased that the College seems to have set a new record for student participation.
---
Community Engagement in the First Year Seminar Program and Beyond
Emily Kane, Professor, Sociology and Women and Gender Studies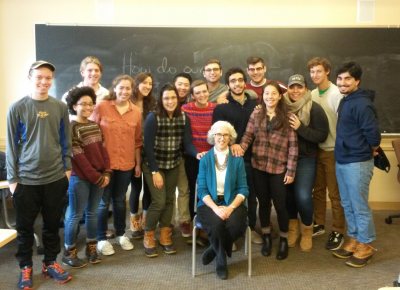 What role should colleges and universities play in building students' civic capacity? What are our obligations to make sure that effort isn't only about students, but that it's at least as effective in contributing to positive social change in our communities? How do various organizations in Lewiston and Auburn seek to engage community to pursue social justice and social change? And what are some of the many great shops, restaurants, and local attractions first year students might want to check out nearby campus?
These are some of the questions I explored with a wonderful group of smart, energetic, and dedicated students from the Class of 2020, in a first-year seminar (FYS) called "Community Engagement, Social Justice, and Social Change." Our goals ranged from introducing the expectations of college-level writing and academic support resources of the college, to understanding how sociologists think about social inequality and social change, to reviewing the scholarly literature on higher education's obligations to the public good. But the most central goals of the seminar involved engaging with our local community, exploring its many resources and working together with community partners to learn more about how local organizations address social inequalities.
Our very first day together, before classes or readings began, before they headed out on their orientation trips or athletic team retreats, I asked my fifteen new students to free-write in response to these questions: What is college for? Why are you/we here? They all focused on thoughts far beyond their own individual gain. Perhaps that is to be anticipated from incoming students who selected a first-year seminar with this title, from among a range of great FYS options. But even so, I was surprised by the degree to which they considered civic growth and contribution to the public good part of the purpose of college, and how much they knew about Lewiston/Auburn as a place to pursue that growth and learning.
Once they returned for the official start of classes, we spent the next thirteen weeks digging deeper into all of the questions that frame the seminar, and exploring the cities of Lewiston and Auburn. The centerpiece of it all was our community-engaged learning work with several local partner organizations: Lewiston Housing Authority, Maine Immigrant and Refugee Services, the Auburn Police Activities League, and the Center for Wisdom's Women. Watching these students demonstrate the many talents and capacities they brought with them, and watching them grow further as they learned from the people they met at their partner organizations, and struggled with questions about reciprocity, community impact, and the politics of knowledge, was truly a pleasure.
Students wrote about these topics in a variety of ways, from informal forum posts to free-writes to formal papers, and a quote from their final forum post helps convey the thinking they engaged in throughout the semester. In the last of several moments of reflecting on the Bates College mission statement, I asked them to focus in specifically on "informed civic action and responsible stewardship of the wider world" as elements of our collective mission here. One of them captured themes many others offered: "Bates understands that engagement is finding wisdom in its students and in the residents of Lewiston, and combining their talents and experiences to find new meaning in the civic."
The pleasure of taking this intellectual and civic journey with a wonderful group of first years was all the deeper because the writing aspect of the FYS was supported by a senior peer-writing assistant who had taken the same FYS with me back in her first semester at Bates. Bringing community engagement full circle, Ali Rabideau (Class of 2017) did an amazing job helping me introduce these fifteen first-years to our local community, to basic concepts in sociology, and to the mysterious art of college-level writing, as she simultaneously wrote her own community-based research thesis in sociology with me as her advisor. In that work, partnered with the Center for Wisdom's Women, Ali demonstrated the deeply heart-felt reciprocity and co-creation of knowledge and action that is foreshadowed in the quote from one of the first year students, and I hope also foreshadowed by some of what she learned as a participant in this same FYS back in the Fall of 2013. Thank you Ali, and thanks to all fifteen of our wonderful students, for reminding me yet again of the powerful potential for learning, civic capacity development, and progressive social change that come from well-supported community-engagement work. And thanks to the Harward Center and our many remarkable community partners for making it all possible.
---
Addressing Intergenerational Poverty through the Volunteer Lawyers Project
Dylan Metsch-Ampel '19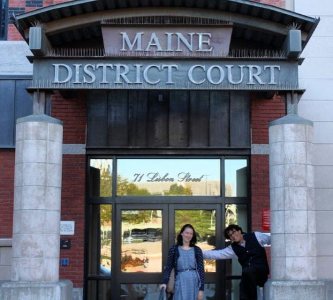 A common theme in our Bonner Leadership discussions is what kinds of community engagement work are "en vogue" compared to the kinds of work that need more attention than they're getting. Intergenerational poverty is one of the realities in Maine that seems to attract relatively little problem-solving energy. Even well-intended Bates students tend to avoid this work. The reasons for this avoidance include legitimate issues like the relatively small number of programs targeting this population. They also include issues of political or ideological differences that make many liberal arts students hesitant to work with generationally poor citizens. This is not to say that all Bates students are liberal or that the entirety of Maine's working class is staunchly conservative. However, such differences do exist and can become obstacles to people getting the help they need and deserve.
Every Thursday I take my weekly trip to the Lewiston District Court to work with the Volunteer Lawyers Project. While I do get to work with recent immigrants and people from various cultural backgrounds, the majority of the people seeking counsel are from families that have lived in Maine for generations. In spite of all of their differences, these people share common troubles and problems, and they deserve legal help even though they cannot afford the legal fees of a lawyer. By doing client intake, including determination of financial eligibility and summarizing their concerns, the other volunteers and I make sure the clients get to speak to a lawyer and get the guidance they need.
Now more than ever, it is essential that we shift part of the focus of our community- engaged work to intergenerational poverty and members of our community who have rightfully felt ignored for years. I have had such rewarding experiences working with people very different from myself at the District Court. Without the marvelous people at the Harward Center, the Bonner Leadership Program, and the Volunteer Lawyers Project's wonderful (and recently retired!) volunteer coordinator, Lin Martin-Hunt, I would not have had the opportunity to learn so much from the incredible community of Lewiston, and Maine as a whole.
Thank you!
---
The Long-term Impact of Civic Engagement Experiences: Insights from a Bates Alumni Survey
What difference, if any, do civic engagement experiences during college have on one's later life? That was the question Matt Gee '16 sought to answer last spring during the college's five-week Short Term. Matt worked with Harward Center director Darby Ray to develop a survey that was then sent via email to alumni from the classes of 2007-2015 who had participated in one or more intensive community engagement program while at Bates (e.g., Bonner Leader Program, community-engaged research, Davis Projects for Peace, Harward Summer Fellowship, two or more community-engaged learning courses, etc.). One hundred forty-six alumni completed the survey. Matt also conducted follow-up phone interviews with several respondents who agreed to talk further about their Bates civic engagement experiences and its impact on their post-baccalaureate lives.
Are there particular areas of life that seem to have been especially influenced by undergraduate civic engagement experiences? As the table below indicates, the vast majority of survey respondents reported that their Bates civic engagement experiences shaped their post-college work, attitudes toward diverse others, and overall world view.
Percentage of Participants Who Indicated Certain Areas of Life to Have Been Influenced by their Bates Civic Engagement Experience: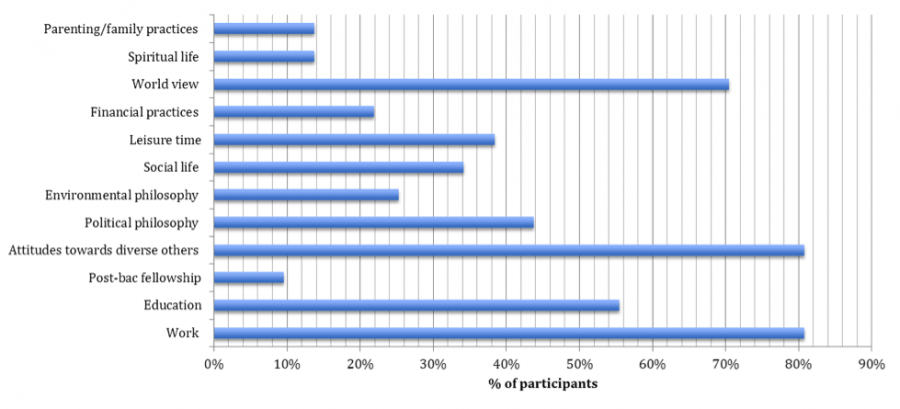 Interestingly, although survey respondents claim quite diverse career fields, more than two-thirds characterize their paid work as having a consistent civic mission or contributing to the common good. Not surprisingly, correlational analysis reveals that the more civic engagement programs one participated in while at Bates, the higher the reported impact on every sphere of life we inquired about.
When asked to identify the skills or capacities they developed through civic engagement experiences while in college, the most oft-cited were communication, cross-cultural understanding, collaboration, and self-awareness.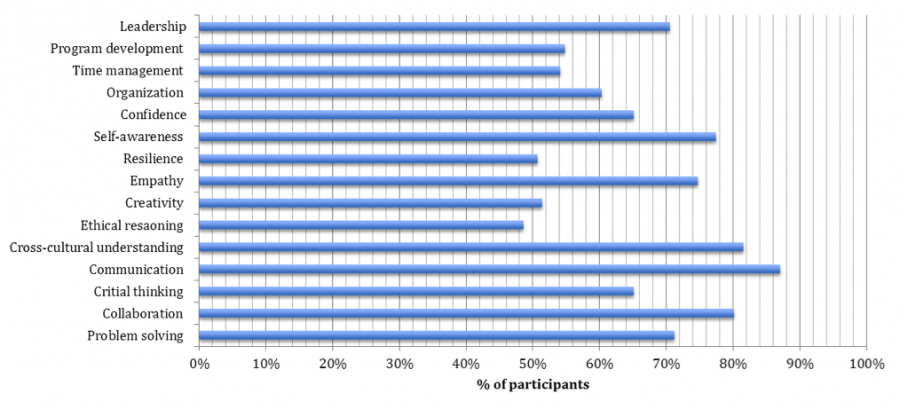 In terms of overall impact, 79% of respondents reported that their civic engagement experiences while at Bates have had a "very transformative" or "moderately transformative" impact on their lives thus far.
---
Student Learning + Community Benefit = The 2016 Environmental Studies Capstone Course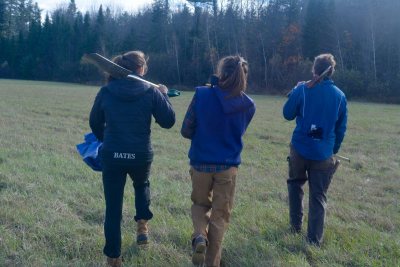 Every fall, the Environmental Studies program offers a capstone course in community-engaged research that empowers students to apply the skills they have developed to address real-world environmental issues at the state, local, and campus level. Working in teams of two or three, students act as research consultants to groups ranging from environmental advocacy organizations to refugee farmers, municipal officials, and the Bates Facilities department. Over the course of the semester, they conduct intensive research on the questions and challenges their partners have identified, while using class time to work through the ethics and methods of responsible community-engaged scholarship. At the conclusion of the course, students share their results with partners as research reports or presentations, with their projects often serving to inform key organizational decisions. After the deliverables have been shared, Environmental Studies faculty and Harward Center staff work with students and their partners to maximize community benefit by ensuring others can take up the work going forward.
This year's cohort of capstone students supported a wide variety of initiatives, and the research projects they completed yielded valuable results and opened avenues for further collaborations. A team featuring Halie Lange, Amy Katz, and Audrey Puleio helped develop a management plan for a new 55-acre property acquired by the Stanton Bird Club to expand the Thorncrag Nature Sanctuary in Lewiston. Through their fieldwork and consultations with the club's Board of Directors and Thorncrag steward Gary Maurer, the students analyzed both the financial and ecological arguments for different trail routes, parking options, and plant wildlife management strategies. Another team comprising Katherine Cook, Anna Marr, and Katherine Traquina partnered with farmers from the Somali Bantu Community Association of Lewiston-Auburn to develop a comprehensive marketing and distribution plan to allow Somali-Bantu refugees and immigrants to sell extra produce to local vendors in order to generate revenue. In addition to providing a strategic model for the group to follow, the students established connections with potential vendors and created a template for further outreach.
Other projects provided solutions for reducing waste, restoring habitat, promoting energy efficiency, and addressing food insecurity within Lewiston-Auburn and across Androscoggin County. Building on a project begun by a student last spring to analyze and improve Lewiston recycling rates, team members Jonathan Anderson, Brent Feldman, and William Sadlo developed curricula for local schools to promote environmental awareness and increase understanding of proper recycling practices. In collaboration with the Androscoggin Soil and Water Commission, students Elise Emil and Jess Wilson conducted an extensive ecological and economic analysis of the benefits and costs of remediating different sites. In still another project, Emma Katz, Misha Copeland, and Kate Cuthbert worked with Whiting Farm to develop a comprehensive system for reducing expenditures on water usage by developing harvesting systems that use gutters to catch and store rain that falls on the farm's eleven greenhouses. Team members Emma Egan, Jenny Rosenfeld, and Nora Stoner worked with St. Mary's Nutrition Center to assess the impact on local farming of an expanded Harvest Bucks program, which allows low-income individuals to use their Supplemental Nutrition Assistance Program (SNAP) benefits to purchase more healthy fruits and vegetables.
Finally, two groups in the capstone course focused on building understanding of local agriculture within the Bates campus community and reducing the carbon footprint of the college. Allison Berman, Zsofia Duarte, and Emma Marchetti created a model for developing a campus garden that would provide opportunities for students to learn about sustainable farming practices through special events and coursework, while also producing fresh vegetables for the Vegan Bar in Commons. To advance Bates' mission of global stewardship, Mac Reynolds, Matt Marcus, and Jack Martell evaluated options for installing a major solar electricity array that would reduce the college's demand on the electrical grid and our reliance on fossil fuels. Like all of the work undertaken through the Environmental Studies capstone course this year, the Bates garden and solar projects will serve as foundations for informed civic action and further research. Next year's capstone course promises to continue this work while embarking on another exciting array of projects.
---
Bates Students Step Up
Dylan Metsch-Ampel '19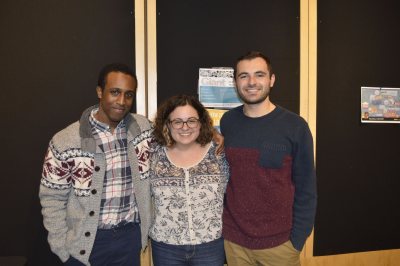 Bates College students are known for their commitment to social change through community engagement. Some make such important contributions to off-campus organizations that they are invited to serve on the boards of these agencies. Among current students serving on local boards are Cristopher Hernandez Sifontes, Jason DeFelice, Ahmed Sheikh, and Melody Altschuler. Collectively, they work with six different organizations including College Guild, Outright Lewiston-Auburn, Maine Community Integration, and the Autism Society of Maine.
Cristopher Hernandez Sifontes '18 – College Guild
College Guild is a non-profit organization headquartered in Brunswick, Maine, about forty minutes from Bates. College Guild offers free education courses to incarcerated people. Cristopher's participation began with Professor Cynthia Baker's community-engaged learning course, "Human Suffering." As a window onto human suffering, students in the class volunteered with different organizations whose work connected in some way to mass incarceration. Throughout the semester they put the text of their experience into conversation with other course texts. Cristopher and two of his classmates were trained by College Guild staff to read the work of incarcerated people and and offer supportive feedback. It was a powerful learning experience that prompted Cristopher to work with others to establish a Bates chapter of College Guild so more students could engage in this meaningful work. Now, as one of two Bates students chosen to sit on the board of directors, it is Cristopher's responsibility to maintain lines of communication between Bates and the organization, coordinate volunteers, and attend board meetings once every six weeks. Cristopher, along with another Bates student, have helped College Guild build a computer database and move toward paperless operations, which has helped the organization work with more inmates. There are over 800 people on the College Guild waitlist. Of his experience Cristopher said, "[It's] great to be a part of a project that can bring people together like this."
Jason DeFelice '17 – Outright L/A
Outright L/A is an organization serving LGBTQ+ youth in the Lewiston/Auburn area. It offers drop-in hours, advisors, and workshops with mentors from other non-profits.  Bates senior Jason DeFelice became involved when he applied for a Harward Center summer fellowship. He worked on the pilot program "Q and A," which is a summer camp at the Lewiston and Auburn public libraries for middle school and high school students ages 13 – 18. The camp offers arts and crafts as well as workshops focusing on sex positivity, healthy relationships, and transgender health care, among other things.
After the summer fellowship, Outright L/A asked Jason to join their board. He now focuses on strengthening the relationship between Bates and Outright, which included starting a peer mentoring program between local youth and Bates students. Jason, who is also a Bonner Leader, reports that the most rewarding part of his work was instantly bonding and becoming friends with two youth who entered the program with no prior support network and who were uncomfortable with their identity. Jason describes his relationship with them as a microcosm of Outright L/A's goals. After graduating, Jason plans to attend medical school with the goal of becoming a psychiatrist.
Ahmed Sheikh '17 – MCI, MIRS, & RaiseOp Housing Cooperative
Ahmed Sheikh is a board member of the organization, Maine Community Integration (MCI). He is also extremely involved with Maine Immigrant & Refugee Services (MIRS) and RaiseOp, a local housing cooperative. During his senior year, he served as a Harward Center Community Outreach Fellow for MCI and MIRS, which means he was responsible for helping Bates students connect to the work of these two refugee-led organizations. Ahmed first became involved with these organizations through two community-engaged learning classes, "Islam in America" and "Human Suffering," taught by visiting Professor Samaneh Oladi and Professor Cynthia Baker, respectively. Ahmed's involvement with RaiseOp, a local housing cooperative founded by Bates alum Craig Saddlemire, was prompted by his interest in local housing issues. As a member of one of Lewiston's many Somali refugee families, Ahmed's commitment to the well-being of the local community is not only academic.
Of his experiences Ahmed said, "All three organizations and their members and staff are so committed and engaged with creating active change in the community. Bates students have a lot to learn by working with local organizations, from how they run their co-ops to the level of commitment among their volunteers, many of whom have day jobs. They show growth from nothing."
Melody Altschuler '17 – Autism Society of Maine
After taking classes with psychology professor Georgia Nigro and working in the lab of psychology professor Michael Sargent during her first year at Bates, Melody Altschuler worked in a developmental psychology research lab in the summer before her sophomore year and discovered her love for research. According to Melody, "Professor Nigro inspired me to want to learn how to 'bridge the gap between research, practice, and policy,' as she eloquently describes it." Melody wanted to become involved with organizations that focused on autism in Maine so she could learn first-hand the issues facing individuals with autism and their families and translate her community work to a future career in translational "bench to bedside" research. Melody discovered the Autism Society of Maine (ASM) and emailed Bonner Leader director Ellen Alcorn of the Harward Center to discuss the possibility of getting involved. After Ellen's encouraging response, she applied and was voted onto the board for a three-year term that began the fall of her sophomore year.
For Melody, her most formative experiences while on the board of ASM have been "discussing the feedback we get from families and reaching out to connect them with the resources they need. Hearing their perspectives on issues they face is also very valuable…Outside of the committee and Board meetings, I really enjoy helping to lead a monthly social group for teens with autism. It has inspired me to study the underlying neurobiology of their social challenges and how to ensure treatments are grounded in research." Melody emphasized the importance of being a member of the Bonner Leader Program and the Harward Center's network as integral to her success and ability to be so actively involved with ASM. After graduating, Melody wants to gain additional research experience before applying to graduate programs in developmental cognitive neuroscience/clinical psychology.
The work Cristopher, Jason, Ahmed, and Melody are involved in is so important to the community, but it has also been integral to their growth as students and people. If you're looking to get engaged in the community, do it! You may find yourself on the board of an organization you love.
---
Kids on Campus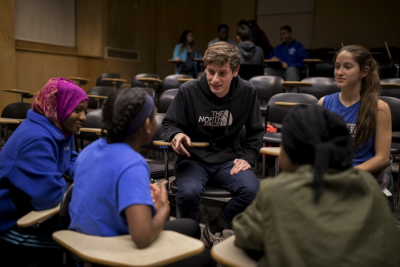 The months of October, November, and December saw more than 500 students from Lewiston Middle School, Auburn Middle School, and four Auburn elementary schools visit the Bates campus. Students who visited campus participated in a variety of programs including frisbee, art activities, planetarium visits, Olin art museum visits, campus tours, question and answer sessions with current students, and even a coveted meal in Commons.
In late October, Auburn Middle School eighth graders had their turn. Their day-long visits included a campus tour, a visit to the Olin Art Museum, lunch in Commons, and an art activity connected to their current classwork. To complete their visit, each group participated in a college-focused question and answer session with members of the Bates women's field hockey team, the Crosstones a capella group, and many other student volunteers.
Lewiston Middle School eighth graders visited campus throughout the first two weeks of November as part of their career preparation class. The focus of their visit was a "networking" lunch in Commons during which they practiced connecting to Bates students and honing their self-presentation skills. Members of the Bates men's and women's cross country teams, Brooks Quimby debate council, women's varsity and club lacrosse teams, and many other student volunteers served as table hosts and networking partners.
In early December, students in grades three through six who participate in the Community Learning Center programs at Auburn's Washburn, Sherwood, Walton, and Park Avenue elementary schools visited campus for an afternoon of activities. Students visited the planetarium for a show about the night sky. Afterwards, they walked to the Gray Cage to play frisbee and do crafts with students on the men's and women's ultimate frisbee teams and residents of the community engagement theme house. Finally, they finished off their afternoon with dinner in Commons with members of the 280 and Parker first year centers, among other student volunteers.
After walking through the gym, eating dinner in Commons, and seeing all the college athletes around him, one young student expressed his excitement about going to college and his goal of being on the Bates Basketball team in eight years. Though each group of students visited campus for reasons that ranged from experiencing the new exhibit at the art museum and learning about the constellations in the night sky, to finding the best dessert in Commons, all students left campus with a small taste of college life and, ideally, with a dose of excitement about their own college prospects.
---
In The News
---
Want to know more about something in this newsletter, or have questions about the Harward Center or the civic mission of Bates College? Please contact Kristen Cloutier or visit us online.