Our Civic Duty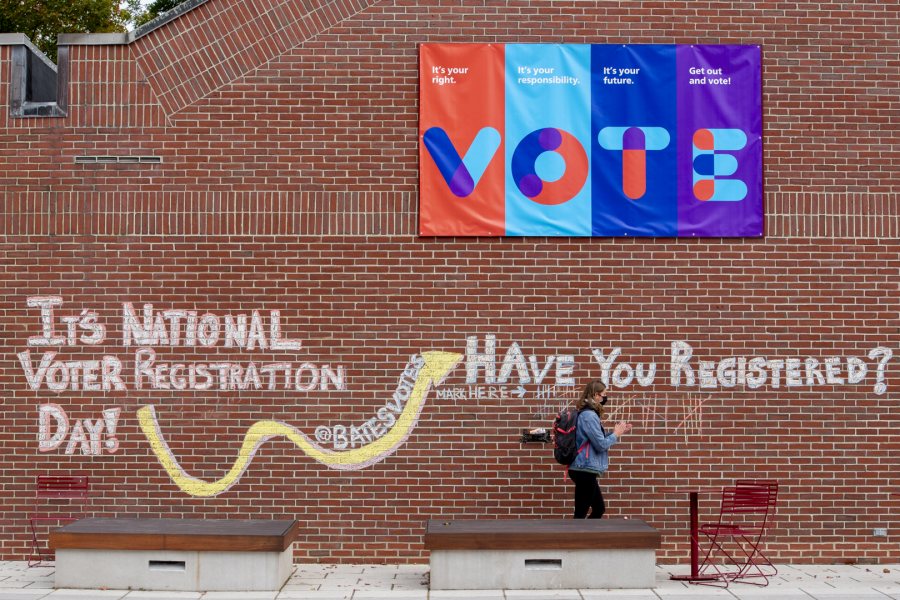 Bates Votes is a nonpartisan, campus-wide, student-led voter education and mobilization effort. Overseen by the Harward Center for Community Partnerships, it is designed to reach all eligible Bates students to make them aware of their right to vote and to support them in the process.
Bates Votes uses a relational model that features a host of student Vote Captains and volunteers who are specifically trained to register and educate voters. Together, they are undertaking a massive outreach campaign to their fellow students–reaching out to Bates clubs, athletic teams, residence halls, classes, and groups of friends to organize voter registration opportunities and support students through the voting process. Because of COVID and concerns about safety, all this work is being done virtually, with absentee voting and early voting especially encouraged.
So far, we have had wonderful support from all departments and offices on campus. This support reinforces for students the value of informed civic action, which is central to the College's mission and helps create a culture of democratic engagement on campus and beyond. We know the influence that a coach, professor, staff member, or mentor can have on a student when it comes to voting. Their example and encouragement are critically important in this work.
Bates Votes is one of numerous nonpartisan efforts taking place on campuses throughout the country. Bates has signed on to several of these initiatives, including Ask Every Student, Maine Students Vote, and NESCAC Votes. In all cases, the purpose is to help develop in students the habit of democratic engagement, which we hope will continue for the rest of their lives. At Bates, we often say that we don't care where students vote–here in Lewiston or in their home state–and we don't tell them how to vote, but we definitely care that they vote. Most students become eligible to vote during their college years, so it is a vitally important time to establish the habits of becoming educated about the issues and candidates and then casting an informed ballot.
For more information about Bates Votes, please visit our Instagram account @batesvotes. Additional information about the College's electoral engagement efforts is available on the Harward Center website at this link.
– Peggy Rotundo, Director of Strategic and Policy Initiatives
FOLLOW UP: Check out this slideshow on the Bates website entitled, "'Doing what I should' as students vote in their first presidential election."