We've made it to Guayaquil!
Hello from Ecuador's largest city, Guayaquil.
The class, 14 awesome students and 2 professors, have made it down to Guayaquil. Guayaquil is Ecuador's largest city and was an original port in South America due to it proximity on the river–keeping it safer from piracy.
Yesterday we had a relatively easy couple of flights down to the city, stopping only in JFK for several hours.

Once we arrived, it was smooth sailing getting through passport control, picking up our bags, and getting through customs. We met up with Greg's brother- and sister-in-law, Jorge and Judy, who live in Guayaquil at the airport and then motored into town and checked into our hotel, which has proximity to an amazing iguana park.

Jorge met us after we settled in and took us on a tour of the waterfront and then to an excellent meal. We all enjoyed an Ecuadorian feast, despite being up for nearly 20 hours in some cases!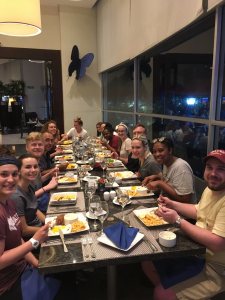 We're so glad to be here with a great group. Stay tuned for more!!!