Day 2: Exploring Samboróndon and Guayaquil, Ecuador
Blog post from Mackenzie, class of 2019, Neuroscience major
Today was an exploration of Guayaquil and Samboróndon, allowing us to uncover everything that makes these cities unique.
Today marked my first full day out of the country ever, and let me tell you, it is something that I will never forget. From the culture all the way down to the smiles that locals give you, everything about Ecuador is amazing. Life here is simple, and this way of a simple life is beautiful. Every turn, every corner, and every nook and cranny is filled with something that puts you in awe, making two days here feel like just seconds! The amount of life here, not only in terms of the wildlife but in the culture and the way that people hold themselves is astonishing. The pride that the locals wear on their backs and in their eyes is something like no other, making you want to know each and every one of their stories. Even the smallest gestures here seemed to make feel so welcomed, like seeing the younger children wave and say ¡Hola! while looking at you in awe, as if we were the excitement, rather than the beauty around them!

Ok, enough of my cliche rambling! Now onto today's activities! Walking the streets and markets of Samboróndon was one of the most eye-opening experiences I have ever witnessed. From the imported food in the grocery store, to my plate, and to my mouth is all I've ever known about my food, but seeing how the locals get their food here is incredible. There was not a single fresh fruit, vegetable, or type of meat (and when I say meat, I mean every single part of the animal, even the tongue!) missing from any of the vendors. The amount of work and time put into growing and selling this food is unimaginable, yet it was all there and as fresh as ever. Getting food onto your table for dinner is such a process, and to be able to see this process firsthand at a rice farm and factory today gave me a newfound appreciation for all that these local Ecuadorians go through, let alone where my food comes from at home!
My absolute favorite part of today, and most likely most of my classmates, was going to Parque Histórico de Guayaquil, a historical park and zoo that contains many animals native to Ecuador. To get up close and personal with many of these animals was something that I could never have dreamed of, but thanks to Greg's brother-in-law and their family, it was made possible! Once we explored the wildlife, we were taken through a tour of historical homes and the way people would have lived in Ecuador about one hundred years ago, giving us just that much more of a perspective on the wonderful country that we have been exploring.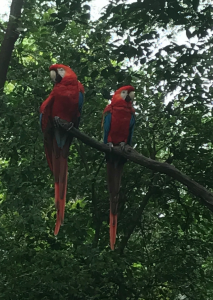 After a long and exciting day touring Guayaquil and Samboróndon, my classmates and I were treated to a traditional Ecuadorian meal made by Greg's sister-in-law and her family, which was nothing short of delicious!
I am loving life here across the ocean and there is many more exciting days to come! Off to the Galapágos Islands we go tomorrow! Buenos noches!