Library Archives
Monday
August 31, 2015 9:08 am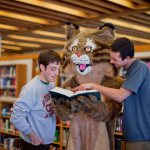 …from all the Library staff! See and hear from other students what they like about the library and what they use when they're here by clicking on this story to watch a Vimeo film produced for you.
Wednesday
August 19, 2015 10:24 am
Includes full calendar and link to registration forms.