COVID-19 Science Café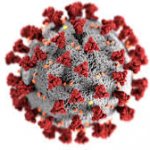 Dates and times as listed below.
Zoom link for all Cafés:     https://bates.zoom.us/j/92950649544
---
Everyone is invited to participate in a series of moderated conversations about the biology of the COVID-19 coronavirus and the ongoing efforts to understand its pathology and to control it.
---
The goals of the Café are to:
Provide accurate scientific information about the SARS-CoV-2 virus and the COVID-19 disease

Discuss evolving patient care

Highlight and describe health disparities of different patient populations in the United States

Describe vaccine technology and summarize SARS-CoV-2 candidate vaccines
For more information: Dr. Larissa Williams, series moderator  (lwillia2-at-bates-dot-edu)
SCHEDULE
2021 Series
Wednesday February 16 – 12:30 pm, Dr. Moncef Slaoui, Operation Warp Speed Co-leader
( with guest co-moderator Dr. Doug Ringler)
"COVID-19 Vaccine Development and Operation Warp Speed" –
View recording of the session:   COVID-19 Cafe Feb 16, 2021
Monday March 8, 4:15 pm, Dr. Matthew Avenarius, Assistant Professor of Pathology and
Associate Director of Molecular Pathology – The Ohio State University
"SARS-CoV-2 Mutations"
2020 Series (7:30 -8:30 pm)
Wednesday October 7, Dr. John Raimo MD, Forest Hills Hospital,
     How patient care and health care training has evolved during the pandemic.
Wednesday October 21, Lorian de Oliveira NP,  
     My experience as a pregnant and COVID-19 positive nurse in Boston during the pandemic
Wednesday October 28, Dr. Lorien Batt MD, Waterville Pediatrics, 
    Pediatrics and the pandemic
Wednesday November 4th, Dr. Lori Banks Ph.D., Bates College Department of Biology.
    Vaccine technology and development.
Wednesday November 11th, Dr. Stacey Rizza MD and Dr. Jack O'Horo MD MPH, The Mayo Clinic.
    The  SARS-CoV-2 vaccine: updates on its development
Wednesday December 2nd, Dr. Evelynn Hammonds Ph.D., Harvard University, and  Dr. Monique Brown '07 Ph.D., MPH, University of South Carolina, an epidemiologist focusing on HIV.  Co-sponsored by the Benjamin Mays Black Alumni Society.
     COVID-19 and Racial Disparities
Questions will be solicited during the Café from the audience via the Q+A function of the webinar.