October 1969: Muskie '36 speaks at the Bates Moratorium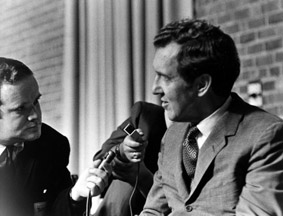 The national Moratorium on Oct. 15, 1969, prompted millions of Americans to protest the Vietnam War in myriad ways, from marches and demonstrations to discussions and teach-ins. Around the country, war critics speaking out against the conflict were given instant international media coverage. This month in Bates history, leading Democrat Sen. Edmund S. Muskie '36 returned to his alma mater to give his perspective in front of students, faculty and the media in Alumni Gym.
Historian Melvin Small has said that the overwhelmingly favorable media coverage of the Moratorium was the beginning of a "media offensive" against the Nixon administration. The anti-war movement was now seen as reasonable and intellectual, not radical, and Muskie took part by noting that "I regret that the president has not seen this day as an opportunity to unite rather than divide the country." Muskie and others noted, too, that anti-war opinions were not political blasphemy but could even be patriotic. "A sense of responsibility for what we say and do should induce some caution, but it should not impose silence," he said. "One of the most dangerous assumptions in a democratic society is to conclude that only the president, the cabinet, and his generals are competent to make judgments on the national interest."
Muskie came to Bates because he believed the Moratorium was "a time for learning." Noting three objectives for "a constructive policy," Muskie said the U.S. should end the fighting, support a political settlement and reexamine its interests in Southeast Asia.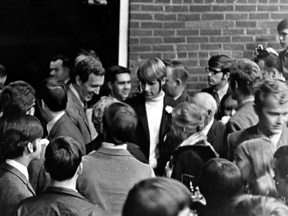 He concluded by telling the audience what he thought the Moratorium "means… I think it means that a very great number of Americans have decided that we should move much more vigorously than we have toward reducing our casualties, and toward ending the fighting and withdrawing from Vietnam…. We are arrogant and mistaken if we believe that we of the Western world are the sole possessors of the yearnings which motivated our own revolution. It is not our national responsibility or duty to stifle or prevent these yearnings elsewhere."
It is perhaps fitting that Bates College, noted for its sense of community, responsibility and participation, was where Muskie chose to make his points. The speech garnered praise from some students who appreciated his concern for international interests. One student called it a "celebration of unity, not a protest against the war in Vietnam." Another, however, mused with some cynicism that "bombs could be halted by cutting classes, that torture would be erased by a teach-in, [and] that our whole involvement in the bloody affair could be resolved by listening to a Senator speak."
The Oct. 15 schedule included a Chapel dedication of the day to "Peace Action," followed by the movie A Face of War. At 11 a.m. was a Lewiston-Auburn community march and rally, then a Chapel teach-in. After a resolution presentation and dinner came Muskie's address at 8 p.m. Students, faculty and staff with ID cards entered the Alumni Gym through the men's locker room side entrance for preferred seating, while the rest of the media and curious spectators packed in to witness the event.
In a way, Muskie's speech typified Bates' egalitarian roots and reinforced the College as a bastion of free thought. "I say that on the issues of Vietnam we have much to learn from each other, and we can only learn if we are willing to listen to each other and to reason with each other." Thirty-six years, students and faculty approach the classroom and perpetuate the spirit of Muskie. In an era when violence threatened to oust voices, a Batesie stood for the power of reason.
by Ted Bronstein '09, Office of Communications and Media Relations
Photos courtesy of the Muskie Archives and Special Collections Library.